Is a Lack of Clarity In These Vital Areas Slowing You Down?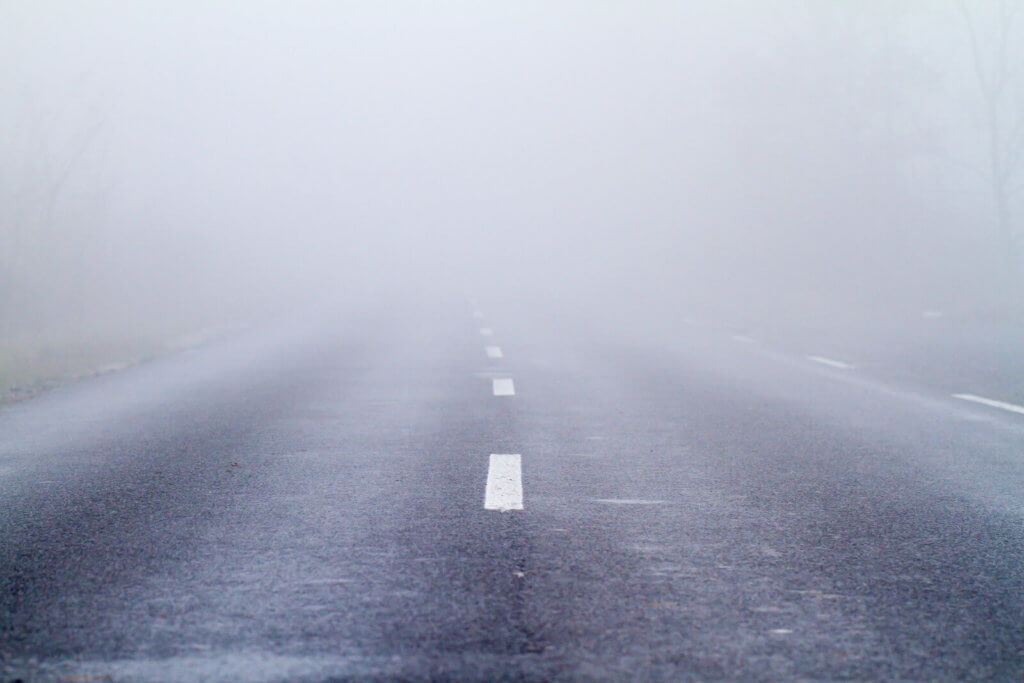 After carefully weighing all the options in Campus Life Magazine, I settled on Westmont College in beautiful Santa Barbara. It ticked all the boxes: it was a Christian college that offered a business major near the beach and it was five hours from home. It was perfect! And I had never been there, nor did I know anyone else who had.
Being independent and determined, I set out bright and early one Friday morning on a weekend adventure to check out the college of my dreams. It took a whole lot of convincing for my parents to let me take this trip because it was further than I had previously ever driven. And I would be going solo.
It was still dark when I drove out of the driveway and the fog was thick. Really thick! And it stuck around for at least the first hour – maybe even longer. Driving on the freeway in the pre-dawn dense fog was nerve-wracking! After all, if I ran into trouble with this trip, it might hamper my chances of my parents supporting my desire to attend Westmont the following fall.
So I plugged along at a speed that was crazy slow with my eyes straining! Needless to say, it was a little frustrating – I didn't want to miss out on a single minute of the college preview weekend. The soupy surroundings were seriously messing with the arrival time I was shooting for.
Visibility – that's an important factor when driving! In the same way, clarity is an important factor in life or as you lead. You may have a clear idea of where you want to end up, but you may lack a clear picture of your next steps. Or you may know what your next step is, but lack some clarity around where you are trying to go. Maybe you are clear on both of those aspects of your journey, but a lack of clarity is slowing you down in some of these vital areas:
1. Identity
Who are you? Do you have a clear understanding around your personality and how it impacts the way you communicate, lead, interact with others, or manage your time? What biases do you have as a result of your thinking preference and what might you be overlooking? What are your strengths, weaknesses, Spiritual gifts, and skills?
And if you are a believer, are you crystal clear on your identity in Christ?
Having clarity around your identity makes it possible for you to make choices that are in keeping with who God created you to be and to have more reasonable expectations for yourself and for others.
2. Purpose
What were you created for? That's a big question! I believe God has something for you to do, that you are uniquely created to accomplish -something that will bless others, glorify God, and be incredibly fulfilling to you. That's worth figuring out, right?
3. Passion
What motivates you? What makes your eyes light up and time fly when you are engaged in that activity?
4. Values
What's most important to you? What are your non-negotiables in life? For me, my top five values are relationships (with God, friends & family), learning, health, solitude, and communication. Typically, when something feels a bit out of sorts for me, one of these five areas is not getting the attention it needs.
5. Goals & Priorities
What SMART goals (Specific, Measurable, Attainable, Realistic, & Time-Bound) are you currently pursuing? And what's the best use of your time and energy right now? The clearer you are on your goals and your priorities, the greater chance you have of reaching them! Don't forget, you must be clear on what every day actions are needed in order for you to reach your goals – that's a must! That's strategy!
6. Culture
Officially or unofficially, the people around you make up your team. Successful people are clear about what kind of relationships they want to cultivate around them.  It is tempting to chase the bottom line and overlook the importance of relationships. When you focus on relationships first, the bottom line naturally follows. When it comes to nurturing the key relationships in your life or leadership, what qualities do you want to be modeling – qualities like, trust, transparency, communication, appreciation, and ________?
7. Your Wake
As leaders make their way through an organization, they leave a trail behind them. Dr. Henry Cloud describes this as "the wake" in his book Integrity: The Courage to Meet the Demands of Reality. The idea is that boats leave behind them a pattern in the water that is revealing about the size and speed of the boat. It doesn't lie! In the same way, leaders leave behind them "a wake" that reveals how they handle tasks and relationships. How aware are you of the wake that you leave behind?
Managing both tasks and relationships is not easy, yet it takes handling both well to be a successful leader. Having an awareness of the wake you leave behind is an incredibly valuable insight.
Navigating blind is dangerous! Limited visibility – that's risky too! Clarity provides the confidence you need to boldly move forward. Fortunately for me, I knew my destination – Westmont College. The college of my dreams where I would earn the business degree I desired while breaking out on my own and enjoying afternoons studying on the beach.  I am happy to report that not only did I arrive safe and sound for my college preview weekend, but I also achieved my goal of graduating from Westmont College with a degree in Business and Economics.
Clarity is not something you achieve one time and move full speed ahead. As you move down the road toward your goals, you will happen upon new areas in need of clarity. I work with leaders, professionals, coaches, entrepreneurs, and solopreneurs all the time who have bits and pieces of clarity, but have pockets of fog that once fleshed out make all the difference!

Where would more clarity make a difference for you?
© Can Stock Photo / NagyDodo