Solutions to Help You Stress Less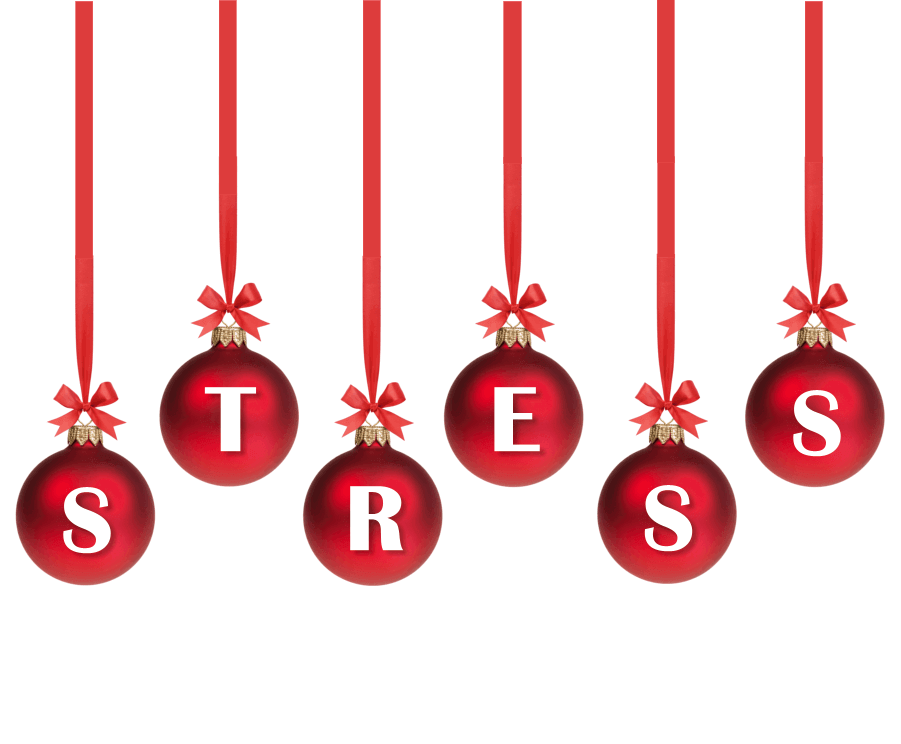 The most wonderful time of year is often the most hectic and demanding time of year! When you combine whatever typically occupies your time eleven months out of the year with the holidays and attempting to reach whatever goals you set for the year in December, it can spell STRESS and leave you filled with anxiety.
Sadly, that tension does not bring out your inner greatness. Quite the contrary! It awakens your Fear Monster, casting a dark shadow on this cheery time of year. Learning to respond to the pressures you feel in healthier and more constructive ways during the holiday season will serve you well all year around!
In order to lessen the effects of stress and anxiety you first have to realize where the stress is coming from. It's easy to fool yourself into believing that stress is coming from out there: that the circumstances or people in your life that are the root of your stress. When you recognize that you are actually the source of your stress then you can begin to do something to proactively deal with stress (and anxiety!)

The exciting news is that reducing the stress in your life IS possible! It's actually something you CAN control!
Here are some steps you can take to shrink that gap.
1. Identify YOUR Stressors
When you feel stressed, it can be challenging to pinpoint where it's coming from. That's why it's important to pause and invest the time to zero in on what's behind your stress. It helps to consider…
What's triggered your Fear Monster?
How are things not playing out like you think they should?
Where are your expectations creating stress?
What are the typical stressors for your personality type and how are they at work? – See the chart below to help you!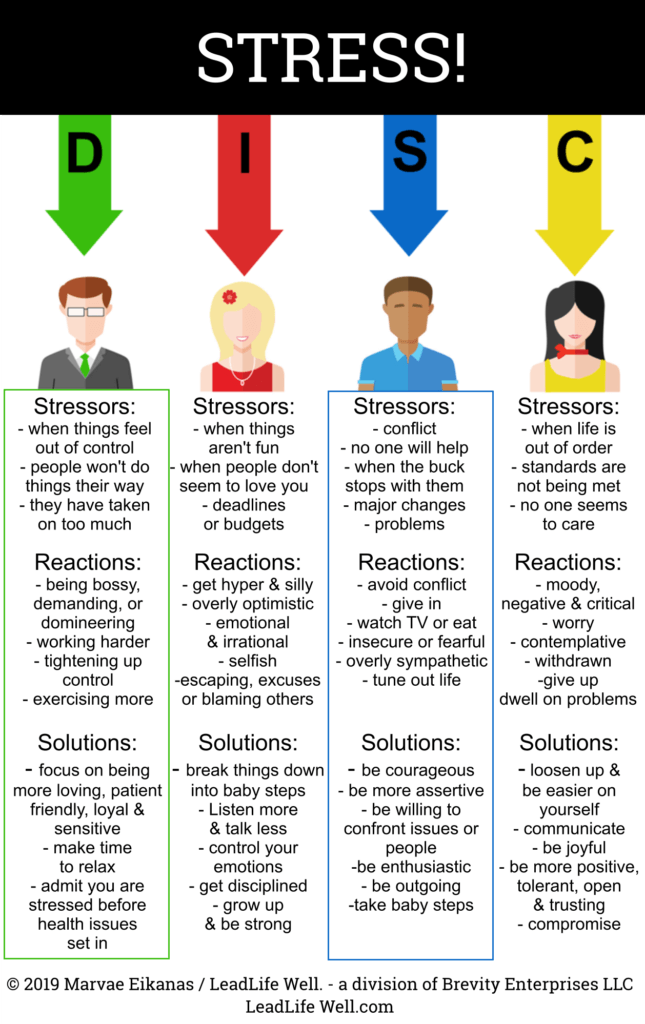 If you aren't sure what your unique personality profile is, consider taking a DiSC personality assessment. It will provide you with a host of applicable information and valuable insights to help you in your life and in your leadership.
Without knowing what's driving your stress, it's hard to make the changes needed to alleviate it.
2. Get More Realistic
As long as you're attempting to live your life in a way that exceeds your limits, you'll experience stress! Perpetually trying to do too much is stressful! It's OK to not be able to do it all. After all, you are human, not superhuman; a being, not a doing!
3. Switch Up Your Self-Talk
Whether you are tuned into it or not, you are perpetually talking to yourself. If your self-talk is positive and compassionate, it will help minimize the stress you experience. On the other hand, if your self-talk is negative, it will increase the stress you feel. Becoming aware of when you're feeling stressed and what you're telling yourself in those moments allows you to change your self-talk. Here are some examples: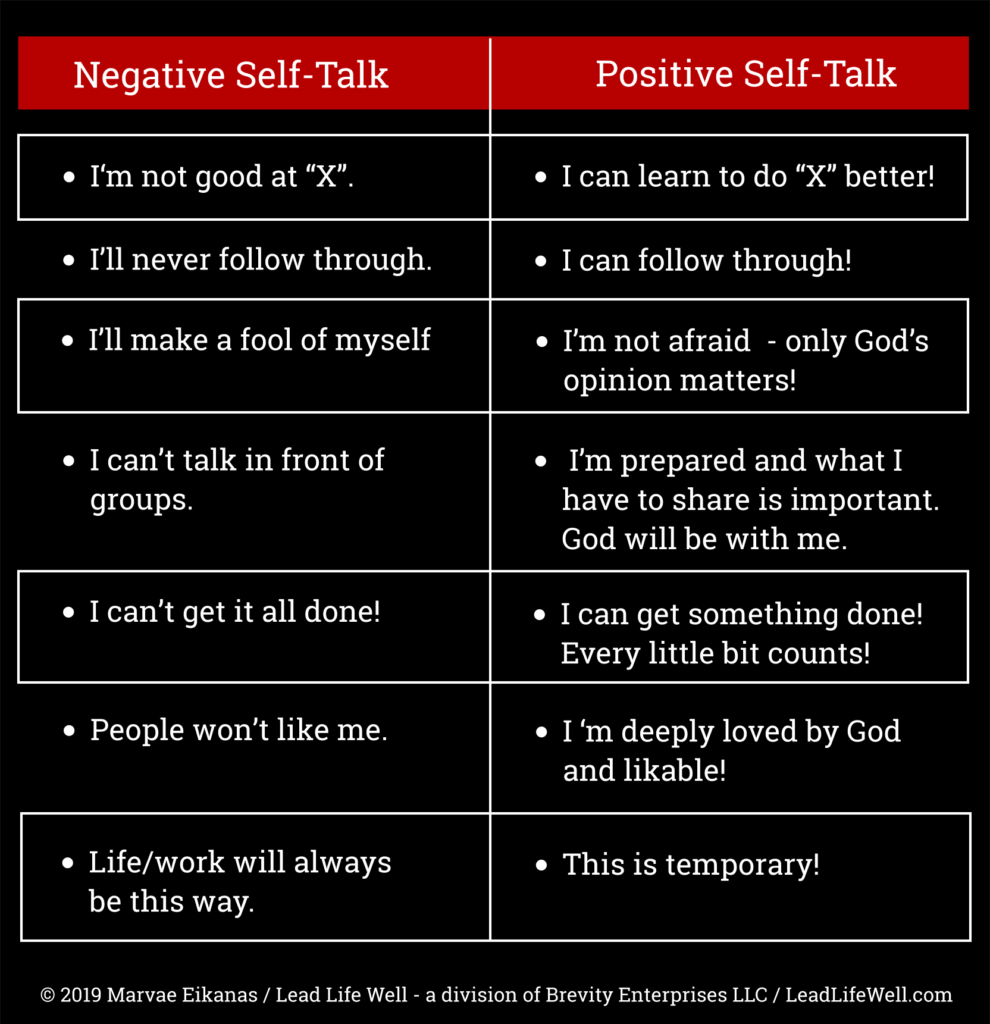 4. Maintain Your Rhythm!
When stress kicks in, the tendency is to abandon the very activities that will help relieve it, compounding the stress you feel. Rather than abandon your rhythm of life, consider adjusting it instead. For example, My regular rhythm for the day begins by spending …
30-45 minutes with God
5 minutes planning my day
1 hour exercising/yoga
30 minutes for breakfast
Typically my morning routine takes about 2-3 ½ hours when you include transitioning from one activity to the other. During particularly stressful times, however, I may decide I need to spend more time seeking God and hearing from Him in order to help me better align my perspective to His. Since my time is limited, I will have to adjust things and it might look like this:
45 minutes with God
5 minutes planning my day
7 minutes meditating – this is calming and a great way to beat stress!
50 minutes exercising/yoga
15 minutes for breakfast
The goal is to not skip any of these life giving, stress relieving activities, but to adjust the rhythm to fit your needs. That means I have to be in touch with what I need so that I can make the adjustments that are going to benefit me the most. On mornings when I have appointments early in the day, I might alter the flow of my morning and it might look like this:
30 minutes with God
5 minutes planning my day
30 minutes exercising/yoga
15 minutes for breakfast
The rhythm or flow of my morning remains the same, but the amount of time I devote to each activity might change. Maintaining the flow allows you to keep behaviors that serve you well. Being flexible allows you to adjust to the demands of life.
5. Develop New Habits
It's not easy to develop new habits. If it were, you would have already done it! It takes being intentional. The reward: more joy and peace so you can THRIVE! That's worth the effort! For tips on how to integrate new habits into your life download my free E-book: 12 Habits That Will Transform Your Leadership. The habits outlined in my book will not only make a difference in how you lead and do life, they will also help to lessen your stress!
A few additional habits you might consider to help you lessen your stress:
Delegate – you don't have to do everything!
Keep life simple – What can you eliminate altogether?
Be present – full where you are right now!
Live FROM God rather than FOR God – learn to depend on Him more!
Stress is a part of modern day life. Anxiety has almost become normal. The good news is that learning how to manage your stress and anxiety is possible! Wouldn't it be nice to be able to experience peace and joy during the holidays and all year long?
What's stressing you? What new habits do you need to embrace to reduce your stress?