8 Tips to Crank Up Your Confidence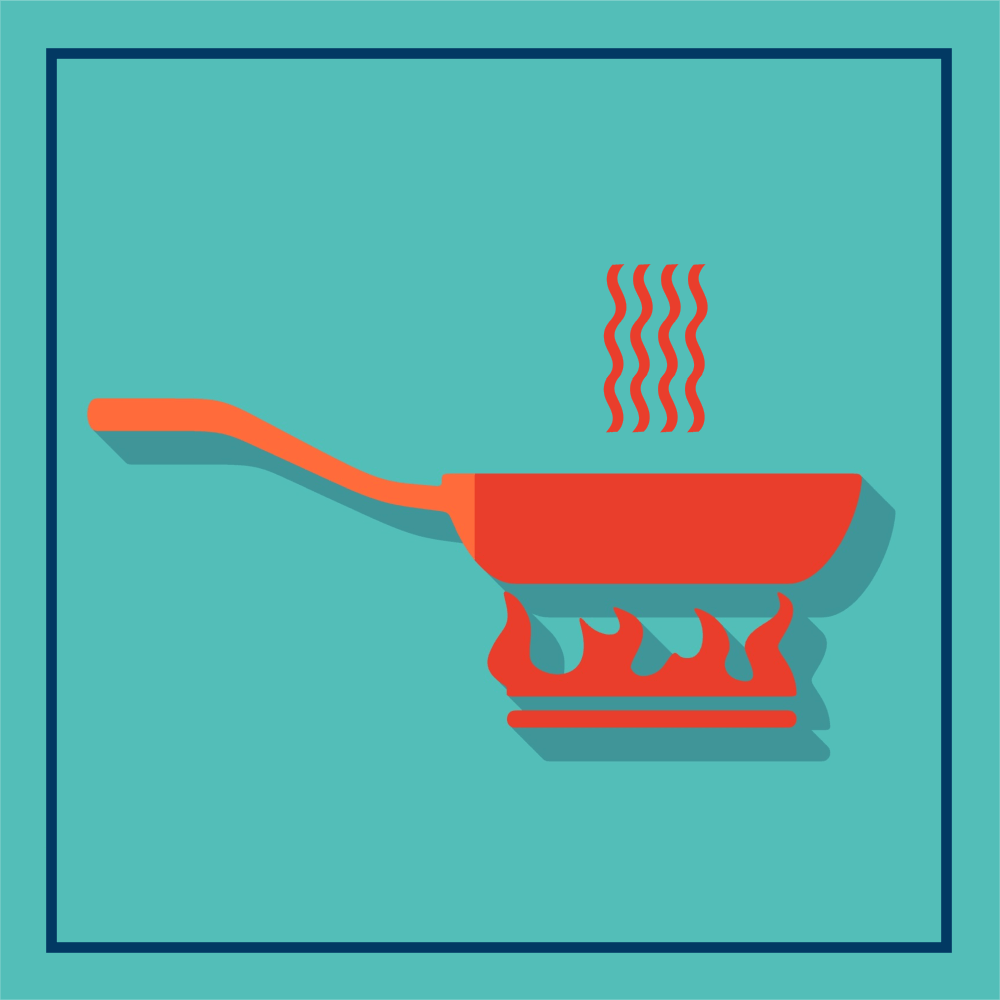 One of the TV shows my family and I like to watch together is Chopped. If you are not a foodie, perhaps you have not seen this show where chefs are given a baskets containing three to five ingredients, some of which are rather unusual, to incorporate into the appetizer, entrée, and dessert rounds. The chefs who best use the basket ingredients in each of these rounds move on in the competition. The one who isn't as successful is chopped and eliminated from the completion until only one of the four chefs remains.
More than once, the defining factor in the competition has boiled down to a reduction sauce. If done well, the reduction sauce not only boosts the flavor of a dish, but also makes for an impressive presentation.
Frequently, one of the random basket ingredients is used to create a reduction sauce. Most recently the basket ingredient was rose water, but I have witnessed candy melted down and turned into a reduction sauce, as well as red wine, balsamic vinegar, cream, and bourbon – the options are endless!
Just like the name suggests, the process of creating a reduction sauce involves cooking down a liquid so that it reduces in volume and thickens, intensifying the flavor. That takes time and some heat.
How do reduction sauces relate to leaders? The best leaders are confident leaders – leaders you feel good about following. Confidence doesn't just happen – confidence is the result of successfully undergoing some heat that reduces you down and intensifies your leadership skills.
James put it this way: Consider it a sheer gift, friends, when tests and challenges come at you from all sides. You know that under pressure, your faith-life is forced into the open and shows its true colors. So don't try to get out of anything prematurely. Let it do its work so you become mature and well-developed, not deficient in any way. James 1:2-4 (MSG)
This year God has been showing me that there is a "gift" in every circumstance – even those prolonged heat moments – if I chose to accept the gift. Those moments are a part of the "reduction" process that will ultimately make me into more of who I need to be to do what He has for me to be/do.
Surrender to it, and who I am as a leader will not only be enhanced in presentation, but also in flavor.
Fight it, and who I am as a leader will suffer. So will my confidence.
I bet you wouldn't mind being a more confident leader! Not a believing-more-in-yourself kind of confidence, but a believing-in-God's-ability-to-work-through-you kind of confidence.
A leader that operates with boldness; one that makes a difference – that's a leader who radiates confidence.
This isn't the first time I have tackled the topic of confidence. I have previously shared the role clarity plays in boosting confidence, as well as highlighting several things that undermine your confidence. I have also pointed you to connecting with God at a deeper level – after all, He is the source of your confidence.
You have a unique purpose to walk out. My desire for you is that you would walk in that purpose with confidence!
So consider the hard stuff that comes your way joy. Let it boil you down to who you need to be. Rely fully on God in the process and begin developing the following proactive habits:
1. Saying "no" a whole lot more often
Saying yes to something new means less time for what you are already committed to. Too many yeses and you will be overwhelmed (not the picture of confidence),letting everyone know you aren't quite sure what activities, opportunities, etc. are actually you. If you are unsure, get in the habit of taking at least 24 hours to decide.
If your decision is no, just say "no." No need to over-explain or get their approval. The more you say no the more you will enjoy the empowerment that comes from knowing exactly what's right for you.
2. Daily establishing your priorities with Jesus
I like to plan my day each morning as a part of my quiet time. You may prefer to plan the night before. Whenever you plan, make sure your priorities for the day are His priorities, and be willing to flex should He switch them up midway through the day!
Choose to invest your time in whatever will produce the greatest return. It may not always be a monetary return. It might be a Kingdom return.
3. Noticing your self-talk
Pay attention to your inner dialogue. You have the potential to be your own worst enemy: the one who is nibbling away at your confidence. Challenge your negative self-talk and replace it with God's truth for you. Dwell on that truth!
You can't expect others to treat you better than you treat yourself.
4. Setting realistic goals
I am the first to want to challenge myself and accomplish BHAGS (Big Hairy Audacious Goals). If you set goals that are too big, however, and you repeatedly fail to reach them, it will inhibit your confidence.
Create realistic, compelling goals and break them down into smaller steps. Each time you reach a goal your confidence will increase.
5. Honoring your values
Your values are what's most important to you – what you are willing to fight for. Operating out of your values strengthens the role they play in your life and increases your confidence.
6. Putting gratitude in writing
Part of my morning quiet time includes putting in writing five things about the previous day that I am grateful for. Some days I have six. Some days it is a struggle to reach five. Either way it helps me focus on the positive in a way that shifts my attitude and heart.
7. Doing what you have been putting off
Nothing will diminish your confidence more than putting off important tasks. In essence it is like letting yourself down repeatedly.
Stop feeling like everything has to be perfect, because you don't have to be perfect to be confident! If that were true no one would ever be confident! Overcoming these challenges shows you that you are more capable than you thought – especially with God's help!
8. Celebrate your progress
Finally, take a moment to notice how far you've come and celebrate your progress. I set monthly goals that I review at the end of the year. Seeing in writing what I've accomplished is incentive to continue. It builds my confidence.
On Chopped, more than one chef has been eliminated because they served up a less than tasty sauce plopped on a plate. That's unappetizing, and so is a wishy-washy leader.
What's your next step towards becoming a more confident leader?