You Need Clarity in These Important Areas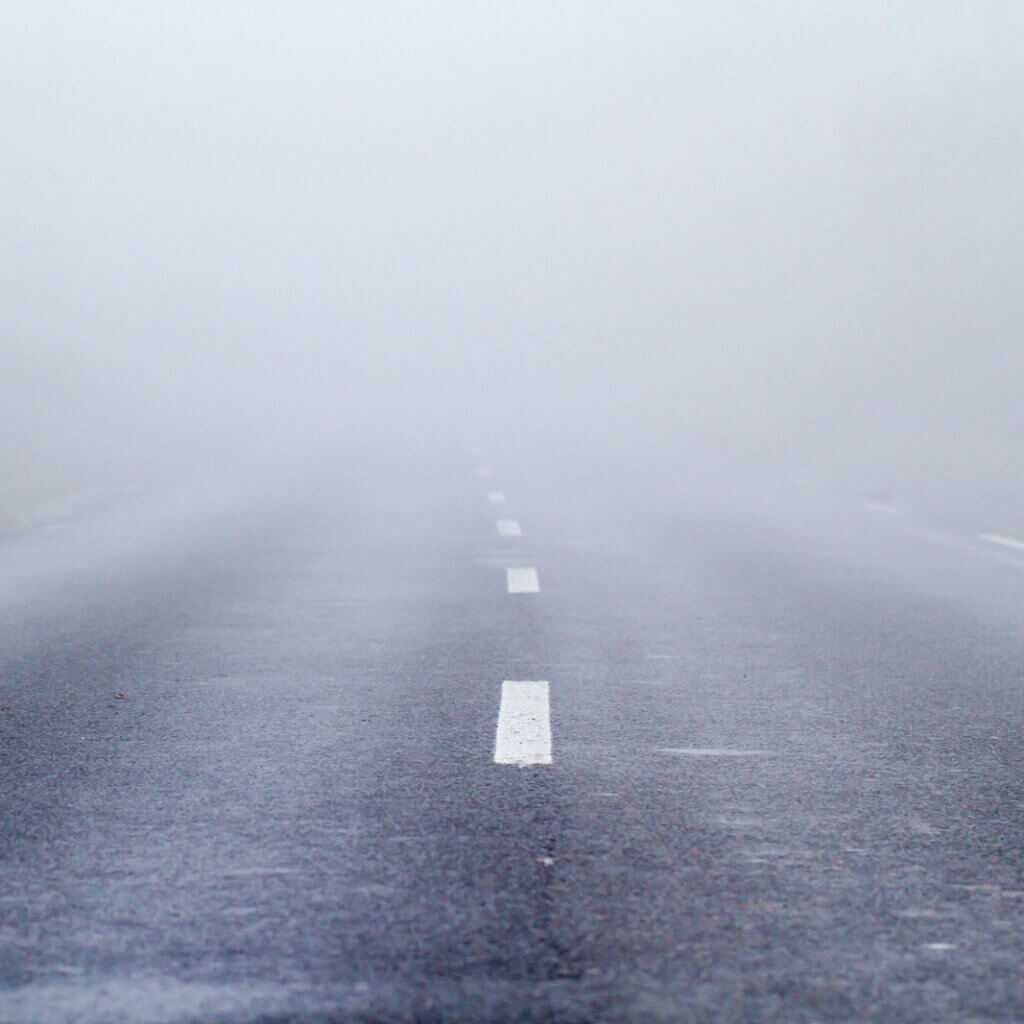 Clarity makes a notable difference when navigating life and work! Without clarity, your progress is hampered, your confidence is stifled, and you are prone to compromising what's most important to you.
Journeying Without Clarity
I was backing out of our driveway that Friday morning while it was still dark and the fog was thick – really thick – I was on my way to visit Westmont college for the very first time. The fog persisted for at least the first hour of my drive, maybe even longer. Driving in the pre-dawn dense fog was nerve-wracking!
I'd carefully weighed all the college options described in the college issue of Campus Life Magazine, and as a soon-to-be high school grad, I'd settled on Westmont College in beautiful Santa Barbara. It ticked all the boxes: it was a Christian college that offered a business major near the beach and it was five hours from home. It was perfect! And I had never been there, nor did I know anyone else who had.
I crept south on the 101 freeway at a speed that was crazy slow with my eyes straining! Needless to say, it was a little stressful. I was full of anticipation and didn't want to miss out on a single minute of the college preview weekend. Unfortunately, the soupy surroundings were seriously messing with the arrival time I was shooting for.
Navigating in foggy conditions is wearisome!
The Beauty of Clarity
Visibility – that's an important factor when driving! In the same way, clarity is an important factor when journeying through life, work, or leading. You may have a clear idea of where you want to end up, but perhaps your next steps are murky.
Or you may know what your next step is, but lack clarity around where you are ultimately trying to go.
Maybe you are clear on both of those aspects of your journey, but the lack of clarity in some of these vital areas is slowing you down:
1. Your Uniqueness
Who are you? Do you have a clear understanding around your unique personality and how it impacts the way you communicate, lead, interact with others, or manage your time? Do you know the aspects of your personality that might trip you up?
What biases do you have as a result of your thinking preference and what might you be overlooking?
What are your strengths, weaknesses, and spiritual gifts?
Are you aware of your attachment style? It doesn't just impact your personal relationships; it has an impact on how you show up at work too.
And if you are a believer, are you crystal clear on your identity in Christ?
Having clarity around the complex, unique, and wonderful person God created you to be enables you to make choices that are in keeping with your unique design. Clarity in these areas also encourages you to have more reasonable expectations for yourself and for others.
2. Your Purpose
As humans, we desire to have a purpose and the opportunity to make a difference in the lives of those around us. Do you know what that purpose is? That's a big question!
Perhaps when you think about purpose you think of it as being a specific task or something to be accomplished. I believe God has something for you to BE – a way of reflecting Him that naturally enables you to bless others, glorify God, and that is also incredibly fulfilling to you. Isn't that worth figuring out?
3. Your Passion
What motivates you? Breaks your heart? These are clues to what your passion might be.
What makes your eyes light up and time fly when you are engaged in that activity? This too will point you to your passion.
What experiences have you had that were life-changing? For me just a few of those experiences would be homeschooling my three kids, having Lyme disease, or owning businesses. Your experiences often become areas you are very passionate about.
4. Your Values
What's most important to you – the non-negotiables in your life? For me, those things would be relationships (with God, friends & family), communication, stewardship, creativity, and practicality. These are my Top 5 Values. Typically, when something feels a bit out of sorts for me it's because my life is out of alignment in one or more of my values.
Do you know what your Top 5 Values are?
5. Your Priorities
In light of your current goals, do you know what your priorities are right now, today, this week, this month – even this year? Your priorities allow you to make wise choices around how to best use of your time and energy in this season. They shed light on the everyday actions you need to take in order for you to reach your goals.
Each month I narrow my focus by consciously choosing three primary areas to focus my energy on. You may want to narrow that focus even more, but any more than three priorities and you will end up diluting your efforts.
In the same way, I deliberately choose my Top 3 every day – my priorities for my day.
How intentional are you about choosing your priorities?
6. Your Culture
Officially or unofficially, the people around you make up your team. Successful people are clear about what kind of relationships they want to cultivate. It's tempting to overlook the importance of relationships in the midst of your many responsibilities, but when you focus on relationships first, everything else naturally follows.
When it comes to nurturing the key relationships in your life or those under your leadership, what qualities do you want to be modeling – qualities like, trust, transparency, communication, appreciation, and ________? The qualities YOU live out are the qualities that are going to shape your culture.
7. Your Wake
Have you ever considered what it's like to be on the receiving end of you? Your team, family, neighbors, and the people closest to you, how do they experience you?
Dr. Henry Cloud describes this as "the wake" you leave behind in his book Integrity: The Courage to Meet the Demands of Reality. A wake – a pattern in the water that trails behind a boat revealing much about the size and speed of the boat. It doesn't lie!
In the same way, leaders leave behind them "a wake" that reveals how they handle tasks and relationships. Managing both tasks and relationships requires effort, and it takes handling both well to be a successful leader, professional, or entrepreneur.
Leaders aren't the only ones who leave a wake, we all do! When it comes to your wake, how clear are you?
Navigating blind is dangerous! Limited visibility – that's risky too!
Clarity provides the confidence you need to boldly move forward. I'm happy to report that not only did I arrive safe and sound for my college preview weekend that foggy Friday, but I also ended up successfully graduating from Westmont College with a degree in Business and Economics four years later. And the many trips home in that season – so much easier minus all the fog!
Want to use your time more effectively? Clarity makes that possible.
Clarity is not something you achieve one time and move full speed ahead. On your journey there will be numerous opportunities for greater clarity as you navigate new seasons, transitions, and new adventures! And you might be surprised how increased clarity makes a difference in how you navigate where you are right now.
The opportunity to gain greater clarity is just one of the many aspects of coaching that my clients appreciate. Having a safe place to explore, examine new perspectives, and more is priceless!
Where do you need greater clarity personally and/or professionally in the important areas above?
Originally posted on 5/17/17  – this post has been revised and updated just for you!