Are You Aware of Your Thinking Preference?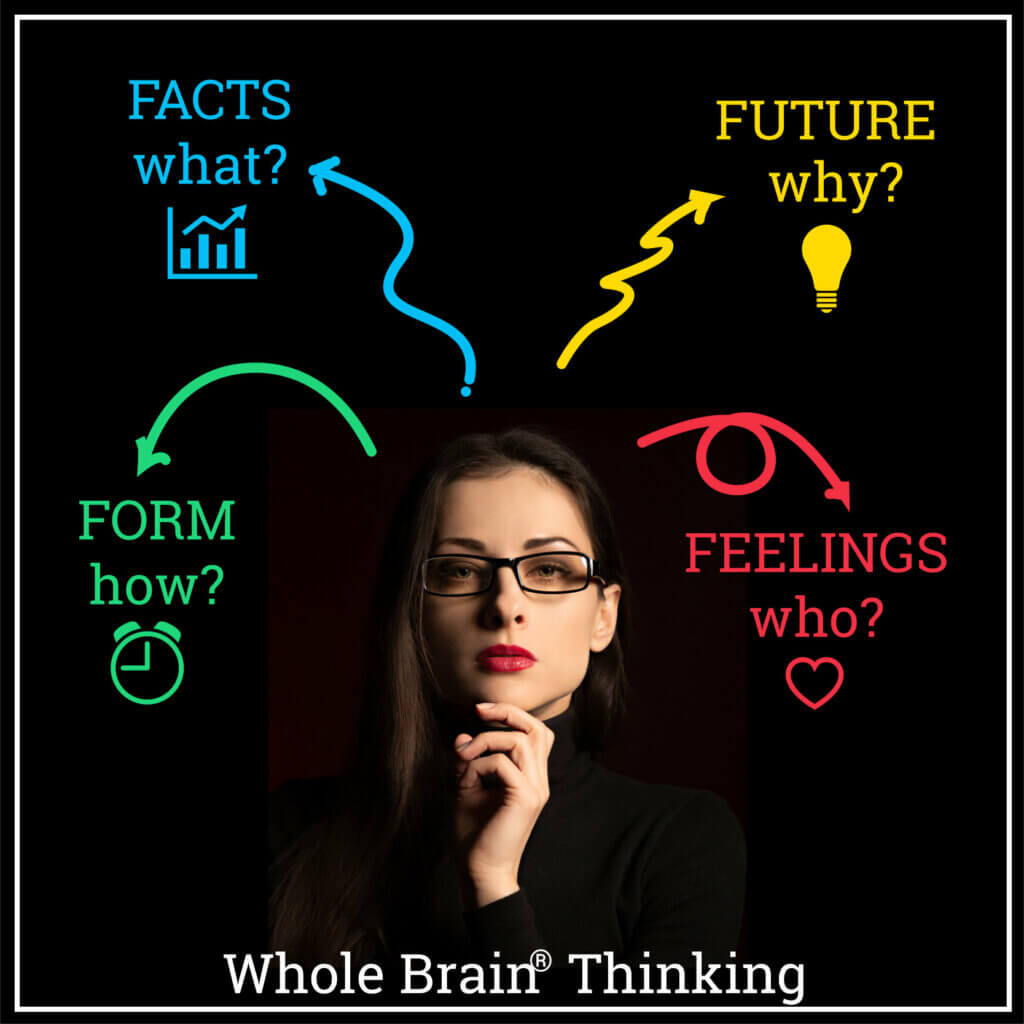 Your "thinking preference" comes naturally – it's your favorite way to approach what you do and process what's before you. The way you think is unique to you.

It might surprise you to learn that those around you don't think the way you do.
But…do you know what your thinking preference is?
And just as important, do you know what your thinking preference isn't?
Your thinking preference is at work even if you have no idea what it is. However, armed with that information, you are then able to…
Harness your own preferred way of thinking
Develop, expand, and adapt your way of thinking so that you operate in more of a "whole-brain®" way
Communicate more effectively by learning to "walk around the brain" – communicating to all four quadrants
Better collaborate with others
Assemble and leverage the thinking preferences on your team and in your organization
Understanding how your brain works is like a secret weapon to enhance your success personally and professionally.
And knowing the thinking preferences that make up your team – a game changer! It is a gateway to improved communication, productivity, problem solving, conflict resolution, and so much more!
A Personal Example
Many years ago, when my husband and I were newlyweds, my husband casually mentioned while reading the newspaper one Saturday morning that he might like to move to the Middle East to work. Up to this point, the desire to live abroad or idea of making a big move had never been a topic of conversation. I confess the sudden introduction to this concept got my heart racing!
You see, I know now that the way my brain works I immediately began thinking through all the many details that would have to happen to make such a move possible. The nuts and bolts of such an adventure. The prospect was incredibly daunting and overwhelming to me! And the questions raced through my mind: What would these mean for our relationships with family and friends? What would I do for work in another country? Would it be safe?
Now I know that my "green" brain was doing it's thing!
If I'd known then what I know now, I would have recognized my husband's "yellow brain" at work – his strong preference to dream and imagine what could be.
These days when he drifts into dreaming, I can relax knowing that only a select few of those dreams actually become a reality. And I can relax knowing there's no need to figure everything out until then.
Becoming aware of our thinking preferences has made a world of difference! And rather than our ways of thinking leading to wild moments of stress and uncertainty like it did back then, we are able to recognize our unique ways of thinking when they are at work and apply them in ways that allow us to partner more effectively in our marriage, businesses, and more!
HBDI®
So, how do you identify your thinking preference?
By using the Herman Brain Dominance Instrument (HBDI®) assessment which was developed by Ned Herrmann nearly 40 years ago. Fascinated by how the brain affects the day-to-day, Ned began doing research while overseeing GE's Management Education. He was curious about the role the brain played in business and performance.
The four-quadrant Whole Brain® model that Ned initially developed along with the HBDI® assessment has come a long way since those early days. However, at its core, it remains the same!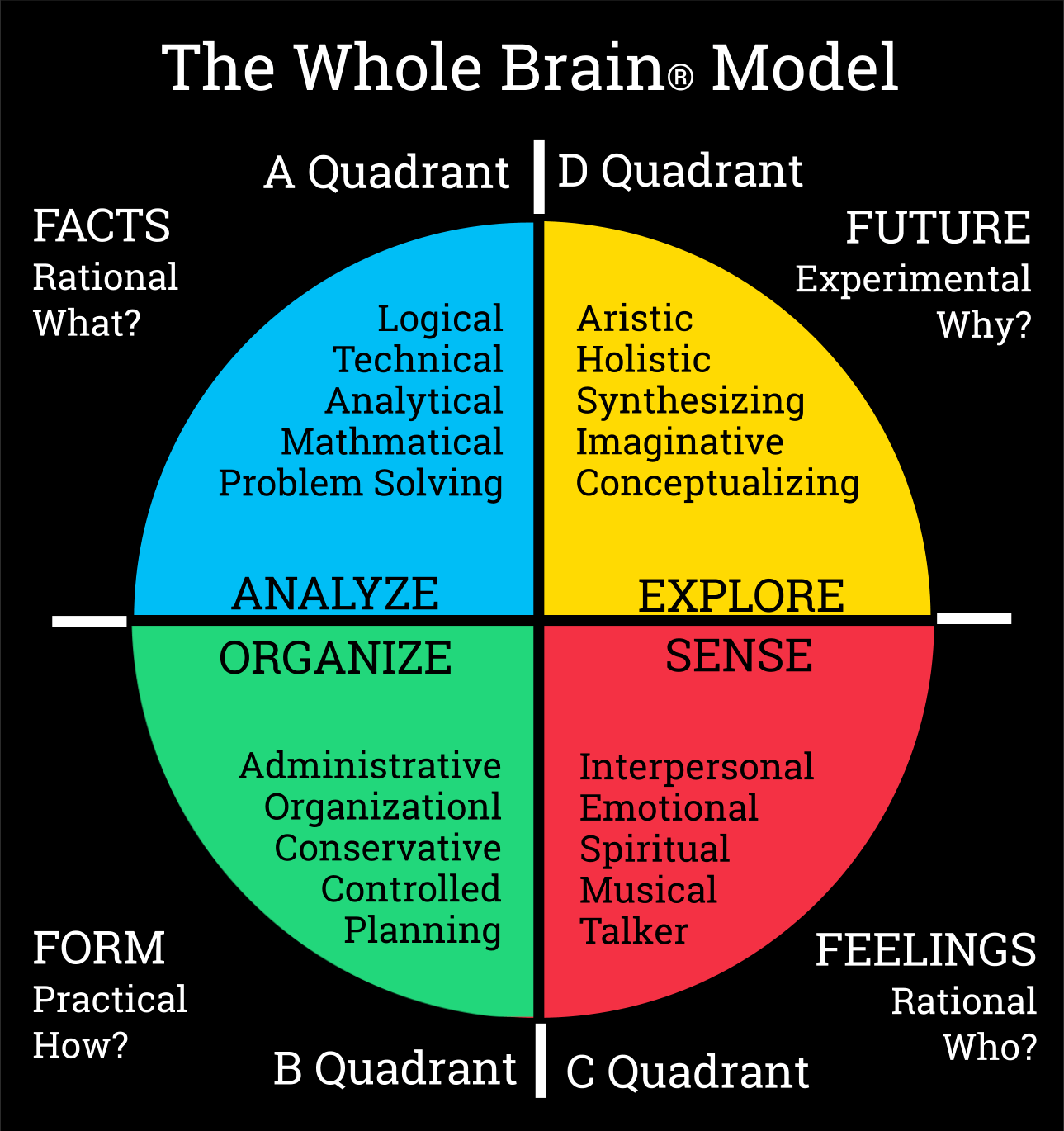 The HBDI® assessment reveals…
A ranking of your thinking preferences from very strong to very low in each of the four quadrants.
How you prefer to think under normal circumstances, as well as how you tend to think under stress. Yes! Stress has the potential to powerfully impact your thinking. When you know how YOUR thinking shifts under stress – that's invaluable!
The specific "clusters" you prefer within a quadrant. Two people who have similar thinking preferences can still have significant thinking differences depending on the "clusters" they prefer in a quadrant.
What If I Don't Know What My Thinking Preference Is?
As valuable as the HBDI® assessment is, you don't have to take the assessment to begin operating in a more "Whole Brain®" way.
The truth is that we ALL have access to all four quadrants. While you have a habit of using some quadrants over others, you are also able to grow and develop the less preferred quadrants in helpful ways. That's one way that thinking preferences differ from personalities or behavioral styles. And the more you access each of the quadrants the more you operate in a more Whole Brain® way.
An Exercise
Imagine printing your name on a sheet of paper using your dominant hand. Then write your name with the opposite hand. If you are like most people, not only does your name looks better when written with your dominant hand, it also felt more natural to write that way.  Writing with your non-dominant hand feels awkward, but if you were to practice using it every day, over time your penmanship would improve and it would feel easier. Give it a try!
The same is true with the way you think. It feels natural to think the way you do, but you can choose to flex and access the quadrants that are not your preference. It may feel awkward at first, but given time, intention, and practice, thinking in those less preferred quadrants will come easier.
Benefits Galore!
The beauty is, as you increase your awareness and begin to think in a more Whole Brain® way, there are a myriad of beneficial ways to apply that information including…
Resolving conflict
Planning better meetings – meetings that will appeal to all the thinkers in the room
Communicating more effectively
Assembling better teams
Utilizing your team members more strategically
Relating in a whole new way
Selling more successfully
Marketing in a way that speaks to more of who you want to reach
Solving problems and making better decisions
Beyond YOU!
Your individual HBDI® profile is packed with additional information that you'll find invaluable! And the HBDI® assessment has the ability to provide additional resources to you including…
A couple's profile – a profile created for two people. It offers additional information not found in the individual profile.
A team profile – it plots the thinking preferences of your team so that you understand your thinking voids as a team. It also enables you to align your people and their thinking preferences in the most strategic way. And it enables you to intentionally adapt the way the individuals on the team interact leading to greater productivity.
The opportunity to work with a certified HBDI® Practitioner and coach like myself to assist you in applying Whole Brain® Thinking so that you can experience more success in whatever you do.
How would operating in a more Whole Brain® way benefit you?
Originally posted on 8/30/16 – This post as been updated & revised just for you!