Feeling Overwhelmed – A Surprising Contributor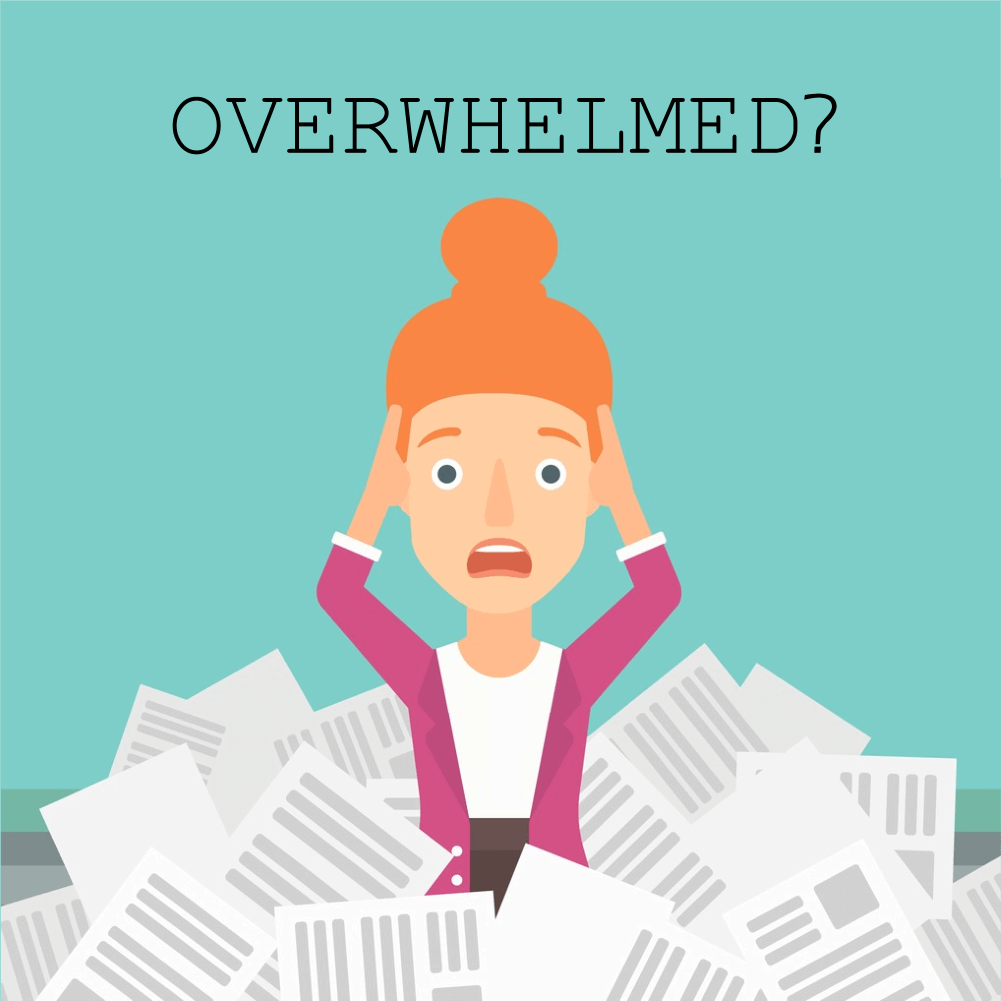 I loved my treadmill. We enjoyed countless sweaty hours together: mornings when it was still too dark to be out and walking on narrow roads, rainy days, freezing days (yes, I am a wimp!) or when my time was significantly limited. I would play my favorite tunes and happily tackle my cardio.
About 15 years into our relationship, my treadmill began to play some rude tricks on me from time to time. I would be walking or running with gusto and suddenly the treadmill would speed up to unhuman paces and then shut off. A few restarts and it would once again cooperate – we had an understanding.
These little sudden bursts began to get more and more frequent and I confess my feelings for my beloved treadmill waned. Just in case you need a visual… it was a lot like this even though Taylor's adventure was more her own doing!
In the middle of this mini war, we moved, and never again would my treadmill share sweaty moments with me. It did not survive the move. RIP.
That sudden, wild, out of control feeling that my treadmill treated me to is similar to the feeling I have when I am overwhelmed. Can you relate? Everything seems to be happening at once, too fast, and it feels like there is nothing I can do about it.
The truth is that you do have choices – not always easy choices, but you do have choices none-the-less! Technology, social media, and shifts in thinking, including the idea that woman can do it all or that being busy is honorable are just a few.
But you don't always make the choices! If you are like many of the people I talk to, you are exhausted, frustrated, anxious, and experiencing very little peace or joy in your life. Your overwhelmed feelings are more of an ongoing thing than a sudden burst. Maybe you find it difficult to even pinpoint when that overwhelmed feeling even kicked in because you have been living that way so long.
So what's behind feeling overwhelmed? Maybe it's pride… and that can be so very hard to hear! I know, God's been talking to me about that lately and it has not been easy!
When we are proud you don't need God. You are capable enough without His help. However, as times goes on and if left unchecked, it will lead you straight to burn out, health issues, anxiety, fractured relationships and more.
Working through your overwhelmed feelings requires that you be ridiculously honest with yourself about the motivations behind your choices.
Recently, I heard a familiar scripture, and something new jumped out at me.
Search me, God, and know my heart; test me and know my anxious thoughts.
See if there is any offensive way in me, and lead me in the way everlasting. Psalm 139:23-24 -emphasis mine
You see, feeling overwhelmed leads to anxious thoughts… it just does! And pride – God doesn't dig it even a little bit!
Yet God is a God of interesting paradoxes; paradoxes that will bring meaning, satisfaction to you, and glory to Him. Here are just a few:
God does mighty things through unlikely people!
When I am weak He is strong. In other words, when I am feeling lease capable, He is most capable! That's when He works on my behalf doing what I never could do
Living a life in balance because you trust that the creativity and peace that comes by that lifestyle will positively impact your work and purpose.
Focusing on less, because you can't really do it all. That shift actually makes you significantly more focused and effective.
You will be less negative, resentful, and frustrated when you make time to do the things you love.
Learning to be still is more energizing that hurrying, despite the theory that energy creates energy.
The more connected you are to God, to your identity in Christ, and your purpose, the more it will give you the confidence to press forward and not care what others think.
So how will you take steps to becoming more humble?
1. Seek Him first
Diligently seek Him. Delight in Him! Crave Him and let go of the "duty" mentality. It will never satisfy you! When you deeply understand just how loved and accepted you are by God you don't have to hustle so much to impress everyone else! The only thing that matters is what His unique purpose for your life is. How does that purpose play out in this season of your life?
And when you grasp how small you are in comparison to God… that also lends a powerful perspective.
2. Declutter
Remove everything from your life that is not in alignment with your purpose. Carefully explore your true motives for the things you are doing. You might be surprised by the sneaky ways pride entices you into to doing something.
3. Work on balance
Allow God to show you how to live a more balanced life – a life that allows you to pour out and fill up. Make adjustments along the way to ensure that your life has a sustainable rhythm. Balance has a way of limiting what will fit in your life – keeping it just to the things that are supposed to be in your life. And maintaining that kind of lifestyle requires you to trust God!
4. Enlist the help of others
Asking for help is humbling, but also very freeing! The more you do it, the easier it gets! Delegate more often. Let others have a go at some of your tasks. Not only will they grow and develop, so will you!
5. Be intentional about serving others
At the heart of humility is putting the interests of others ahead of your own. That means you have to stop thinking you are all that and focus on others, not in an enabling way, but in loving ways.
6. Reflect on the concept of humility
Here are just a few questions to get you started:  How does a humble business owner plug their business? How does a humble leader lead? What does humility look like in your home or in your friendships? Keep exploring areas of your life through the lens of humility.
What role is pride playing in keeping you overwhelmed?