7 Reasons to Just Say NO!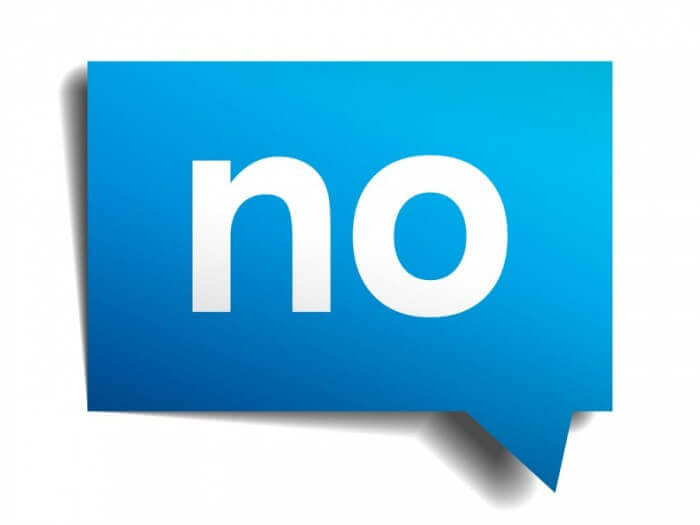 When was the last time you said "no?" Remember when you were a child and you dared to proclaim it boldly even though it often resulted in some form of correction? Today, that tiny, two-letter word is much harder to say – even when you really want to say it.
Last week, I said no to something. It was a good something – a tempting something. A few weeks earlier and I probably would not have said no, but God has been working on me. He has been teaching me things and revealing bits of me that I would rather not see.
He's asked me to look back and take note of the reasons I have agreed to do things in the past. Things like desiring significance, wanting to please others, not wanting to miss out on an opportunity. Sometimes my yes was to make someone else happy or to avoid disappointing them. Other times I felt obligated – after all, I had the skills, I liked doing that thing, and the biggest of all – there was a need.
Rather than finding my significance or identity in what I do, God is calling me to find my significance in Him. He wants to be what I build my life around. Recently, He whispered the word structure to me. He wants to be my structure.
Structure, or framework, provides form and stability to a building, a bridge or, in my case, my life. Structure makes it possible to resist stress and strain. Without God as my structure, my life will be unstable and prone to sagging or collapsing under stress. Without Him as my framework, my boundaries will be fuzzy causing me to say yes when the better answer is no.
Has saying "yes" led to frustrating complications and a strain on your life? As a result of saying yes, have you actually gotten further from where you hoped to be, where God desires you to be? Has your original vision gotten muddy over committed?
Consider these positive reasons to practice the art of saying "No!"
1. You already have enough
Leaders like you know how to get things done. You are capable. You love a challenge. You like to make a difference. That does not mean that you need to do everything you are capable of doing. Be selective. Choose to do only the things that you really enjoy, that best utilize your strengths, and that you believe God has called you to do. Learn to be satisfied and grateful. Get creative. Make more out of the opportunities you already have.
2. Less is more
When you can learn to say no to opportunities that are not right for you, it will allow you to focus more on the few things you know you are supposed to be doing. Increased focus translates to increased effectiveness and success. Saying no opens the door for someone else who may be a better fit or that can grow and develop by the experience.
3. Live in alignment with your values
What criteria are you using to evaluate the opportunities that come your way? If you have clarity around your values, then you can use them to help determine which options are best. Compromising will make you miserable. Better to just say no and avoid potential pain.
4. Allows you to focus on your purpose
Can you state your purpose in a concise phrase or sentence? Being crystal clear on your purpose naturally creates a filter that allows you to sort through the options that come your way. How hard have you worked to work to make opportunities fit God's purpose for your life?
5. Stay true to your season
The temptation is to believe that if you don't take advantage of an opportunity right now, it will never come your way again. Sometimes you even force things to happen rather than waiting, ignoring the ramifications of stepping into an opportunity prematurely. Often times those choices lead to unfortunate circumstances that linger long into the future.
Remember how Abraham chose to conceive Ishmael with Hagar rather than waiting for Isaac? Ishmael turned out to be the son that scripture describes as a "bucking bronco of a man, a real fighter, fighting and being fought, Always stirring up trouble, always at odds with his family." (Genesis 16:12 MSG).
6. Stretches your trust in God
Thankfully, Abraham had many other faith-filled moments, like when God called him to leave his home and venture to a new land or when God asked him to sacrifice his promised son Isaac. Saying yes to the right things will bring powerful opportunities and blessings. Saying no often requires you to trust God – trust that He will take care of you and orchestrate things in keeping with His promises.
7. Allows you to confront your fears
Ultimately, it is fear that causes us to say "yes" to the wrong things. Saying no forces you to face your fears. The more you say no, the more you will realize just how empowering that little word can be. It creates more space for the "right" opportunities, boosts your confidence and focus, and you will be able to pour more into the things that will ultimately matter.
After saying no I had peace. I was also given the chance to take advantage of the same opportunity later, when perhaps the timing and situation will be more favorable. I anticipate other positives popping up along the way as a result of saying no – things I would not have been able to see at the time.
How easy does saying no come to you? How would your life or leadership be different if you said no more often? What most frequently drives you to say yes when you should say no? What perk would saying no allow you to enjoy?
Struggling to clarify your values, purpose, or season? Why not partner with a Certified Christian Life Coach? I'd be honored to partner with you!
© Can Stock Photo Inc. / aquir