Organizing Your Life Made Simple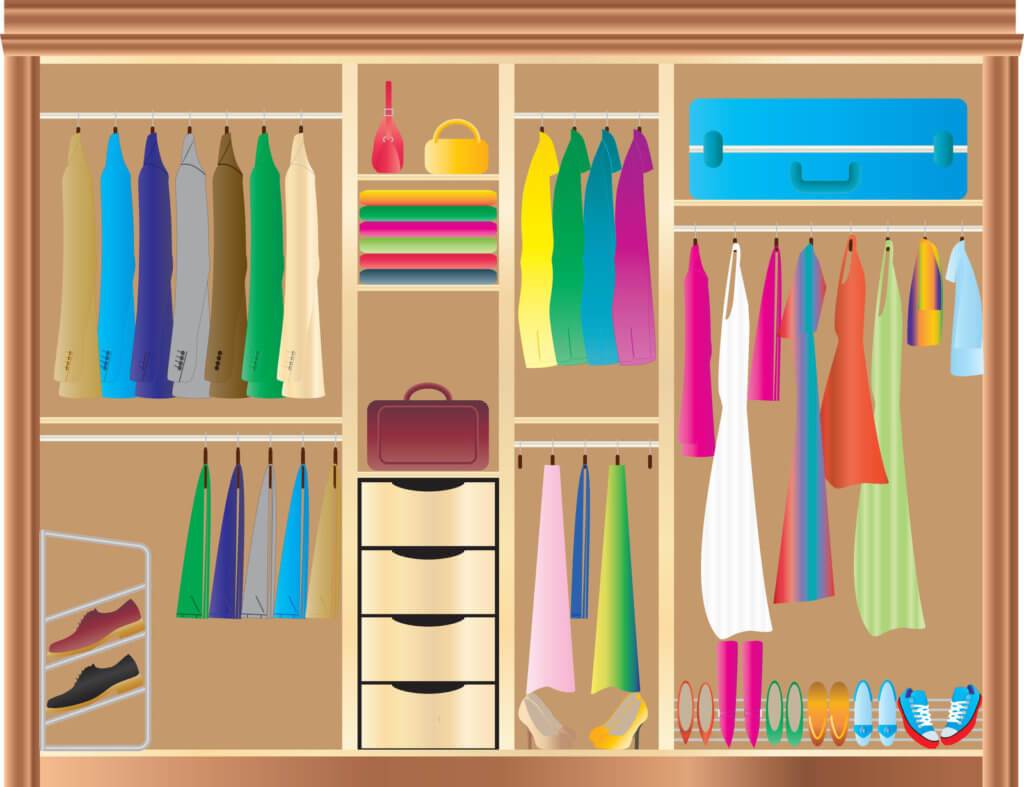 Consider I have a rule when it comes to my closet. If I purchase something new, something old has to go. I confess this is easier said than done.
My current closet is relatively small, especially in light of the fact that my previous closet was the full length of our three car garage. There was always room for one more thing. And then we moved! I know,  I was quite spoiled.
It didn't take long after our move to discover that looking for something specific in a jam-packed closet was a great big challenge, not to mention a time waster. That was the impetus for my aforementioned rule.
Our lives are much like my closet – they can only hold so much. Just about every day I speak with people who keep adding one more thing, and then one more thing to their lives and/or their work. Then they wonder why they are stressed out and overwhelmed!
A brilliant professional organizer I know uses the tag line: "Fit Your Life into Your Space". Sounds like a pretty decent mantra for most leaders and professionals too!
Taking the lead from an organizational expert, here are some awesome organizing tips that make a whole lot of sense for organizing your closet and getting the most out of life and work too!
1. Empty Everything
Yep! Take everything out and thoroughly clean the space.
What does this mean when it comes to life? Start with a clean slate. For a moment, allow yourself the opportunity to eliminate everything you are doing so you can start fresh as you intentionally select what gets to stick around.
2. Establish Limits
Determine what criteria items must meet in order to earn a place in your closet. Marie Kondo of the Netflix hit "Tidying Up" suggests that in order to stay, items must spark joy.
What are your criteria? Consider what will you allow in your life and/or work? What are the priorities and values that will prevail?
3. Keep or Toss?
With your criteria in mind, determine what's worthy of space in your closet and what needs to go – items you can sell, donate, or trash.
When it comes to your life, what tasks and/or responsibilities will you continue to do? These would be activities that only you can do or that are in your "sweet spot".
What can you delegate? What activities do not bring you joy? Just like donating or selling items in your closet allows you chance to gain some space and it allows others to obtain something they need or want, the same is true with tasks or responsibilities. Delegating allows others to learn and grow in positive ways. And it allows you to grow too as you learn to articulate your expectations and give feedback. A win-win!
What will you eliminate? Stop doing altogether? These would be activities that won't help you to reach your goals or that are no longer necessary.
4. Mind the Gaps
After a major closet overhaul, gaps may surface in your wardrobe. You may discover you need to replace a brown belt or that it's time for new suit. Maybe you need black or white tops or shirts – the basics.
In the same way, as you reorganize your life, you may realize that you've been spending too little time with friends and family, or that it's time to volunteer. Or maybe you've been neglecting self-care or intentionally developing yourself so that you can work more effectively. It's essential to spot the gaps so that you can fill your life with what you really need and want. This is an excellent opportunity to make sure that your life is in balance. If you are too focused on work or not focused enough on key areas of your life. That would be a like having a closet full of shirts, but void of pants, or shoes – necessary wardrobe items.
5. Assess Your Systems
Now that you know what's worthy of returning to your closet, it's time to determine the best way to organize and store it all. In an organized closet, there is a place for everything, and everything in its place!
What kinds of systems need to be in place for an organized life? Systems such as a…
Calendar (and don't forget to maintain a healthy margin between activities)
Process for setting yearly, monthly, and weekly goals
Daily to-do list that includes your top 3 priorities for the day
Way of evaluating at the end of each day, week, month and/or year
Means of visually tracking your progress
Boundaries and accountability if you are prone to straying outside your limits
Designated time for rest, refreshment, and doing the activities that makes your heart happy
You fill in the blank here ___________________________
6. Zero In On What Stays
Over time styles change. Our physiques change. What's a keeper in your closet today might be a no go in a year or two.
The same is true for your life and work. What's a good fit right now may not be a good fit down the road. It's important to periodically reevaluate what should stay and what should go.
Knowing who God created you to BE, your personality, strengths, values, unique talents, thinking preferences, and what brings you joy are all worth considering when determining what's worthy of earning a place in your "life closet." You want to operate out of your sweet spot free of fear and the pesky "P's" so that you can thrive personally and professionally.
Is your "life closet" in need of a professional organizer? What could you accomplish if you organized your life?
© Can Stock Photo / d40xboy