How I Set My Day Up for Success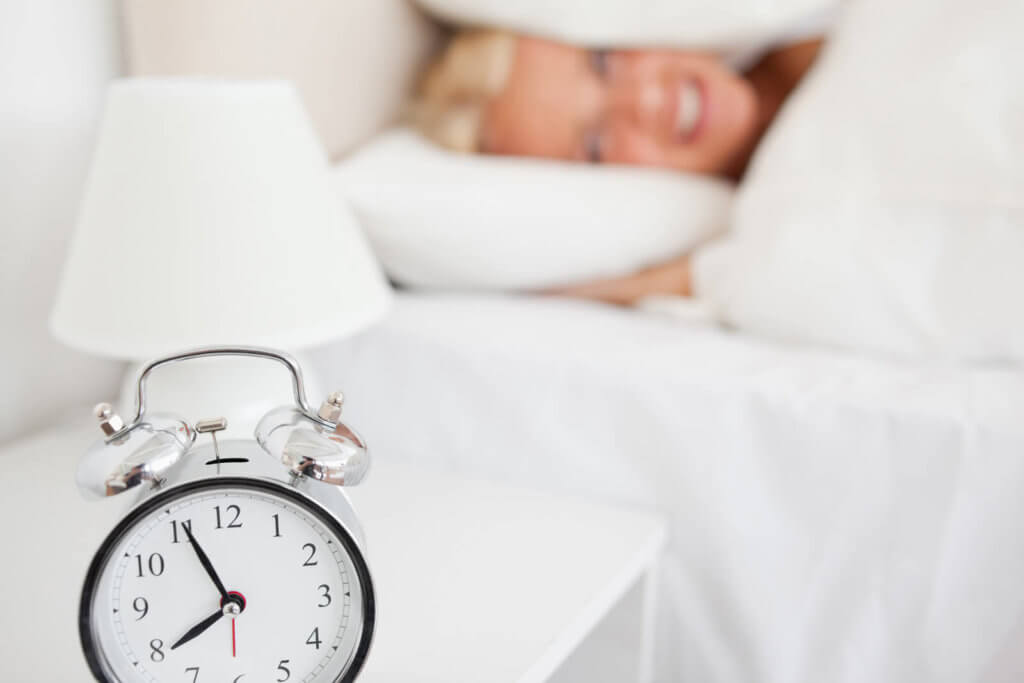 It's no secret – there are 24 hours in each day. Whether you are wildly famous or an unknown, you have the same number of hours in your day. How you choose to use your hours – that makes all the difference!
And how you choose to start your day – that has the potential to alter all that follows!
There's no one right way to start your day. Your morning routine must work for you. Here are the morning routines of some well-known folks:
Queen Elizabeth II: She begins her day by waking up at 7:30am. A cup of Twinning's English Breakfast Tea is brought to her by a maid in a bone china cup with a saucer of milk, no sugar – along with Marie cookies. After a bath, she joins Prince Phillip for a breakfast of cornflakes and then takes an hour to catch up on the latest horse racing news before she pores over government documents.
Marilyn Monroe: Her day began by getting out of bed and exercising for 10 minutes with light weights to keep the "right places" firm – nothing crazy. Next, she would warm milk while she showered, then whip in two raw eggs with a fork and drink it, and take a multivitamin while dressing.
Winston Churchill: His day began around 7:30am with a cigar and whiskey. He would stay in bed for hours after waking and would eat his "two tray breakfast" in bed. It consisted of a poached egg, toast with butter and jam, and cold meat along with coffee and milk on the first tray. On his second tray would be grapefruit with sugar, ice, and whiskey. He would dictate to his secretaries from bed and scan newspapers before taking a bath and strolling in the garden. Then he would head to his study or to meetings.
Beethoven: He started his day by counting out exactly 60 coffee beans for his morning cup O' Joe and would work at his desk writing music until mid-afternoon.
Ariana Huffington: After eight hours of sleep, she typically wakes up without an alarm and starts her day by breathing, being grateful, and setting her intention for the day before practicing yoga and meditating. She has a no phone policy for the first part of her day.
Ann Voskamp: Her morning follows a "Word in, Work out, and Work plan" routine. Her "Word In" time includes memorizing scripture and feels five minutes of working out is always better than nothing. She likes to light a candle first thing to remind her that she is to be a light to the world.
With this mini sampling you can see that how people choose to start their day varies widely! Here's how I like to start my day and why:
It Starts the Night Before
My morning routine starts the night before by setting out my workout clothes and trying to be in bed with lights out by 11:00pm. With the exception of Saturday, my alarm goes off at 5:15am every morning – that's the one day I sleep until I wake up which is typically 7:30am at the very latest.
I confess on weekdays I hit snooze a couple of times – there is something ridiculously sweet to me about having five or ten more minutes of sleep before getting up. And if I wasn't able to get in bed by 11:00pm the night before, I might hit snooze a few more times because getting enough sleep is important to me.
Getting Going
I am typically up by 5:45am; on rare occasion, 6:00am. Once I am dressed for my workout, I drink a glass of water, take a couple of charcoal tablets, and sort out my supplements for the day. Next is oil pulling, using coconut oil and clove oil for 20 minutes.
First Things First – Connecting With God
While oil pulling, I connect with God by reading through the Bible by alternating between an Old Testament book and a New Testament book. Right now I am reading through I Kings. Next I will be reading Philemon and then back to I & II Chronicles. Each day I also read a couple of Psalms or a chapter in Proverbs.
A spiritual book or devotional is also a daily part of my routine. Right now I am just finishing up I Am: A 60-Day Journey to Knowing Who You Are Because of Who He Is by Michele Cushatt, which I highly recommend.
Next I reflect on the previous day and complete these two sentences in my prayer journal:
Today I am grateful for…
___________________________
___________________________
___________________________
___________________________
___________________________
Thank you Lord, for helping me…
               ___________________________
These two sentences help me keep my focus on the good that is going on in my life and how God is working; I need that! When I struggle to come up with five things that I'm grateful for it is a tip off that something in my life needs attention!
Planning My Day
I like to include planning my day as part of my time with God. It changes how I view my tasks and my day. I like to use a lined notebook where I can set goals for each month and make a list for each day which makes it easier to look back at a glance and review my month.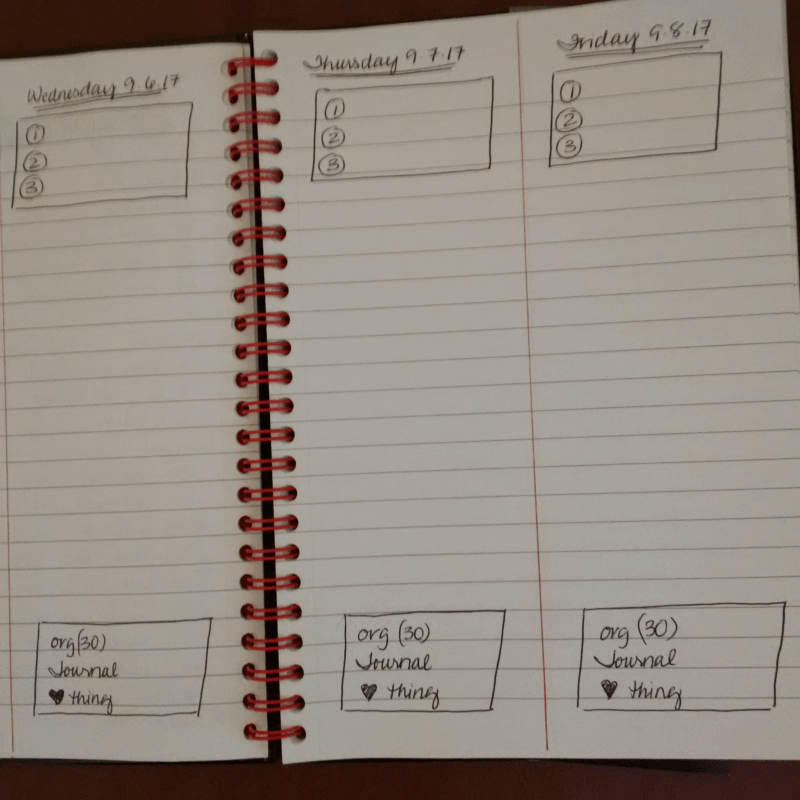 The first thing I do is identify the three most important things for that day. These are the things that will make the biggest impact in my life or business and what I will focus on first. Then I list all the other tasks that I would like to get done. At the bottom of the list each day I include these three things:
Organizing (30) – A few times each week I try to set aside 30 minutes to organize something – it could be files on my computer, a closet, or unpacking boxes that still need to be put away in my basement. It is an investment that saves me time later.
Journaling – In addition to my prayer journal I also keep a work journal as well as a health journal where I can reflect, evaluate, and be intentional about life.
My ♥ thing – A reminder to do something every day that I love, like chatting on the phone with someone I treasure, having lunch with a friend, taking time out to read, color, or do something creative – something that feeds my soul!
Sharing My Heart With God
After planning my day, I like to write out my prayers and share my heart with Him. It allows me to go back and be reminded of the many ways God has answered my prayers, notice the ways He's changed my heart, and to see the places that still need some work.
To keep my time with God fresh, some days I meditate on an aspect of God, listen to a worship song, or light a candle – whatever I'm feeling in the moment.
Moving!
Next, I make my bed (yep, every day – it just makes me feel better and I like climbing back into a neatly made bed at night!) and then on to exercise. I love variety in my workouts! I alternate between taking walks in my incredibly hilly neighborhood and workouts from my DVD collection that include Pilates, circuit training, boot camp style and more. Yoga is always a part of my workout, even if it is only 10 minutes. I love how calming it is and that it gives me a few moments to be still before breakfast and a full day of work.
Why My Routine Matters
More than anything, I know I need my morning routine to remind me that I am abundantly loved by God, that He is in control, and that whatever happens in the day ahead – He's got me! When my day starts in that place it changes everything!
While I plan my day carefully and make sure I have plenty of margin, I just never know what a day will bring. What I do know is that God knows what the day will hold and that when I trust Him everything works out – He's proven that over and over again to me. It might not be what I had expected or what I imagined, but it all works out when I make Him the first thing I focus on in my day.
What's your morning routine? What's working and what would you like to change? How can you make your 24 hours count and start your day in a way that maximizes how God created you?