4 Changes I'm Making This Year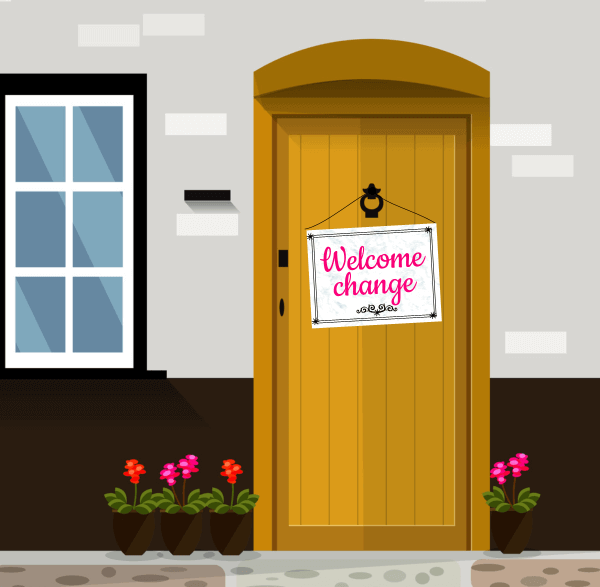 Change – is it something you welcome, or something you resist?
Does the idea of making changes motivate you or make you want to take a nap?

I'll be honest with you. Change has not always been an exciting concept for me. Like most people, I prefer the comfort of doing the same old thing. The trouble is doing the same old thing never yields the results I'm after!
Over the last few years, I've been more open to making changes – that's growth for me! I truly appreciate how making changes in my life and work encourages me to stretch in positive ways that make a difference!
Three years ago, I set out to make 4 changes in my life and work. Here's a quick update on how those changes have helped me. Additionally, I thought you might be curious what NEW changes I plan to make this year!
Three years later, did I successfully make the changes? If so, how did those changes impact my life and work?
1. Organizing Little By Little
My plan was to chip away at organizing in thirty-minute blocks of time.
What I've learned…
There will always be more to organize. In fact, it's kind of a never-ending project! The good news is that whittling away at it has allowed me to get a whole lot squared away. In fact, in the last year I've even taken it up a notch by organizing, really organizing, areas that pop-up in work and life that in the past I would have put off because I didn't feel like I had the time to tackle them. Not only have I felt sense of accomplishment, I've made huge strides in chipping away at organizational projects.
Good habits nurture good habits. Change nurtures change. And exercising my organizational muscle was a nifty way to practice being more decisive, prioritize more effectively, and face some of the reasons I tend to hang onto things. The best part about making organizing a way of life: I feel more at peace – I think more clearly in an orderly environment. And it's so much easier to find stuff!
While there is always more room to grow, I am quite pleased with how far I've come!
2. Stop Comparing
Comparing has a way of feeding my pride or knocking the wind out of me. Neither are beneficial!
What I've Learned…
I am human, and humans tend to compare, however, my focus has been more on how God is directing me personally and professionally and less on everyone else.
3. Hitting the Hay Earlier
While recovering from Lyme disease, I needed a whole lot of extra rest. My health has improved greatly in the last couple of years, yet I still continue to make an effort to begin my bed time routine around 9:30pm rather than at 11pm as I did previously.
What I've learned…
Retiring earlier each night forces me to prioritize and trust God more! And being well rested allows me to get up and have the energy I need to follow through with my morning routine. Unless there is something out of the ordinary going on, I've successfully made this change!
4. Doing What I Call A "Y Thing" Every Day
I love working, and when you own two businesses there is always more work to be done! It can easily squeeze out what I love to do, such as reading, being creative, enjoying a massage, spending time with family or friends, hiking, decorating, etc.
What I've learned…
Skipping the activities that bring me joy zaps my energy! I focus better when I am regularly engaging in activities that fuel me! I typically average between 20-30 "Y thing" activities each month.
So, in addition to the changes I've already made, what big changes will I be making in the coming year?
1. Practice Christmas All Year
Christmas is a big deal at my house and there are all sorts of delightful ways that my family enjoys making memories together. Even though the space between Thanksgiving and Christmas was shorter this past year, we did more than ever, and it all was nearly stress free for me! That's huge! I treasure this season so much that I am not in a hurry to take down my decorations. They remind me of the miracle of God's vast love for me (and you!). He gave us the gift of His Son, Jesus, many Christmases ago! That isn't something worthy of focusing on once a year. That's why I want to tackle something Christmas every month. My hope is that it will make next Christmas even more enjoyable!
2. Daily Encourage Someone
My One Word for 2020 is ENCOURAGE. I want to intentionally offer support, hope, and confidence to others.
3. Adopt Paul's Method of Praying
After reading The Praying Life by Paul E. Miller I was inspired to switch up the method of praying that I've been practicing for years. You can learn a bit about the old way here. Paul uses a separate index card for each person or situation he is praying for. Then he selects a scripture to pray over that person. Rather than praying for something different on each day in the coming year, I will work my way through my index cards and then begin again. I may return to my old way, but I want to give this a shot.
4. Spread Change Out
A new year is generally brimming with activity for me. That's why rather than dive into all of the changes I've shared with you and a few others I plan make, I will stagger the implementation of these changes in hopes that it will allow me to truly embrace the changes. After all, every single day is an opportunity for a new beginning! If you'd like to START FRESH and begin implementing some changes in your life right now even if it's not January, you can learn more here on how to do that. Trying to make a bunch of changes all at once tends to backfire. I don't want that to happen!
I know full well my habits make or break me! After all, it is the day in and day out activities I do, the cumulative power of my habits, that determine the quality of my life. If I keep doing what I've been doing I am going to get the same results. To expect different results…well, that's insanity, right?
How about you? What new habits you are cultivating in your life? Here are 12 habits you might want to consider adopting – one to add each month of the year!
Originally posted on 1/17/17. This blog post has been updated just for you!
© Can Stock Photo / LucyYa