4 Changes I'm Making This Year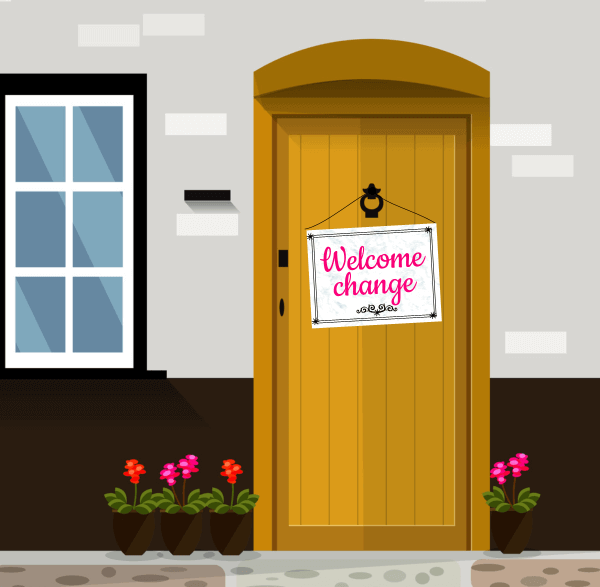 Change – is it something you welcome, or something you resist?
I have not always been thrilled about change. This year, somehow, making changes and developing new habits is something I am kind of excited about. It doesn't hurt that the changes are ones I am initiating, and I can see the ways they will rejuvenate my life and reinforce my One Word: REFRESH.
In spite of the desire, I am also fully aware of how change has a way of stretching me in uncomfortable ways. And I know cultivating new habits will teach me some valuable lessons about flexibility, learning new ways of doing things, and bringing a little adventure into my life.
I know full well my habits make or break me! After all, it is the day in and day out things I do, the cumulative power of my habits, that determine the quality of my life.
So without further delay… here are the new habits I working on:
1. Organizing little by little
If you came to my home, you would think I was neat and tidy, yet there are areas that are in disarray. Take my basement, for example; the boxes down there have been patiently waiting to be unpacked for almost three years! Now, in my defense, there was no point in unpacking the basement before we began having it finished, and that took almost a year. Once started, the refinishing project lingered far longer than the contractor said it would!
So for the last year and a half, the boxes have sat. From time to time, the boxes get shifted around when I am on the hunt for something, but I have not taken the time to go through them and toss what I don't need and organize what I want to keep. This has happened in part because there have been other things vying for my attention, and in part because the task is not small! The lack of organization in my basement is not only frustrating, wastes valuable time, it also hampers my creative side – many of my art materials are hiding in those boxes!
So, my plan is to chip away thirty minutes a day until the basement is an organizational paradise. Organize little by little – that's my new habit! It is a habit that I am applying to organizing my office, computer, and closet – anything that gets a little messy over time.
Good habits nurture good habits. Change nurtures change. Click To Tweet And exercising my organizational muscle has already encouraged me to be more decisive, prioritize better, and deal with some of the reasons I hang onto things. Another side benefit: it's so much easier to find things and to enjoy a space when it's clutter free!
2. Stop comparing
I have become increasingly more aware of how easy it is for me to slip into comparing myself to others. When I come out on the better side than someone else, it feeds my pride and that's never a good thing. When I come up short, it is discouraging. Either way, each time I choose to compare myself to someone else, it invalidates the plan God has for me; the unique way He wants to use me. Since God created me for a specific purpose, why would my journey be just like so-and-so's?
Every time I compare myself to someone else, I am whipping out the wrong measuring rod. Instead, I need to make it a habit to focus on listening to God and following closely what He has in mind for me, just for me. That's where I will find meaning and satisfaction.
And all the amazing accomplishments those around me are enjoying – I want to genuinely celebrate their successes!
3. Hitting the hay earlier
My head-to-bed routine takes a minute. As I've added more things to my end of the day process, it takes me longer, and I am getting to bed later resulting in less and less sleep. Because getting enough sleep is a key contributor to health, which is one of my top five values, it is time to make some changes! Develop a new habit! So I am opting to end my day earlier to get the sleep I need.
4. Doing what I call a " thing" everyday
I love working, and when you own two businesses there is always work to be done! It can easily squeeze out the many other things I love to do, such as reading, being creative, enjoying a massage, spending time with family or friends, hiking, etc.
The new item showing up on my to do list this year is "

thing" to remind myself to do something every day that I love doing. When I make time for the things I love, it energizes me! It makes my heart happy while I am engaged in the activity, and it helps me to focus more effectively when I get back to work.
Here's to a year of daily checking off the "

thing" on my to do list!
I am already discovering how my new habits are forcing me to trust God more. Adding new things to each day like organizing, doing something I love, and going to bed earlier shrinks the amount of time I have to work and keep up with other personal responsibilities.  These new changes are challenging me to be diligent and accept what doesn't get done, knowing that God is not in the business of overloading my days – His burden is light. And it is creating space for God to make up for my lack and to work on my behalf in ways that I previously have not allowed Him to do. Best of all, these new habits are bringing me joy! That's a good thing!
How about you? What new habits you are cultivating in your life?
---
Incorporating new habits is not always easy! Sign-up for my newsletter and receive my e-book 12 Habits That Will Transform Your Leadership – my gift to you! Included are 12 habits well worth adding to your life, as well as tips on how to make those habits stick! See the sign-up just to the right!
© Can Stock Photo / LucyYa