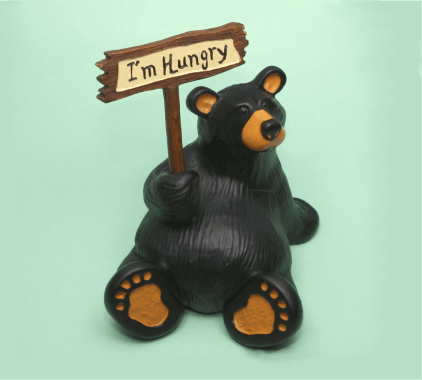 Being hungry makes me very cranky! I get quiet, my brain stops working, and it is hard to concentrate. I get shaky and feel like a big ugly bear foraging for food. The people around me start running for cover. It is not a pretty sight!
During our first year of marriage, my hunger issues created quite a few challenges. My husband could go days without eating and could not understand my incessant need to eat. Pausing to eat really hampered his style and slowed him down.
Thankfully, as I have gotten older I am able to manage my hunger issues better and my husband has gotten more understanding of our differences. One thing remains the same – I am better off when I eat regularly, and so is everyone around me!
My hunger issues are not limited to my physical eating – they spill over into my spiritual mealtimes as well. For many years, I skipped my time with God on Saturdays so I could sleep in and enjoy my family in the morning. Worthy endeavors, but my attitude on Saturdays was terrible. It became abundantly clear to me that I was demonstrating symptoms of being spiritually hungry.
Eating is something that must happen regularly. Yesterday's meal does little to feed me today! This is true for everyone, but especially true for leaders. Having a clear vision, making wise decisions, and operating in a life-giving way as I lead requires that I make eating, both physically and spiritually, a part of every day.
For me, seeking God and savoring time in His presence must be how I start my day. If I put it off, chances are good that it won't happen at all. My time with God includes a variety of things. I like to begin by reading the Bible followed by writing down at least five things that I am grateful for as I reflect on the previous day. Then I write down what I was able to accomplish with God's help to keep me mindful of how He is working in my life.
I find a brief devotional inspiring. If you are searching for a short, sweet, and amazing devotional, I highly recommend Jesus Calling: Enjoying Peace in His Presence by Sarah Young. After reading the devotional, I spend 10 minutes meditating on what God is saying to me through His Word and the devotional. This might seem like a long time for some and a very short time for others. It is a step of faith to sit silently in His presence for those ten minutes trusting that He will enable me to accomplish whatever needs to be done that day.
Following my time of meditation, I like to make my "to do" list. I want my day to be centered on His priorities, not mine. I wrap up my time by writing down what's on my heart and journal my prayer – my concerns, desires, and requests. Because time is limited, I focus on praying for something different each day:
Sunday – my country and its leaders
Monday – my husband, children and their spouses
Tuesday – my extended family
Wednesday – my church and its leaders
Thursday – my friends
Friday – my businesses
Saturday – whatever is on my heart
While this is my guide, if something is on my heart I do not let my schedule prevent me from sharing it with God.
God often whispers, and sometimes shouts, much needed words of encouragement during my time with Him. He urges me to stay on the path even though it often seems like nothing is happening. He gives me direction and ideas that end up saving me hours of frustration. It feeds my soul!
How I have chosen to start my day with God might not suit you at all. I share it merely to give you a glimpse of what it looks like for me. As an empty nester, I have the luxury of a slow start to my day. Your stage of life might be different from mine. Your unique personality and interests will color how you connect with God. The point is to make space for Him, not to make it a rigid, must-do thing, but to hunger for that time together like you would anyone you loved and adored. Your time of connecting with Him is the foundation of your life and leadership. It will enable you to stand strong.
The demands on leaders are great no matter what role you lead in. Time is valuable. God's economy of time is different from ours. When we make Him the priority and take time out of our busy lives to seek Him He has a way of giving that time back. I have experienced this phenomenon over and over again.
Want to make spending time with Him more of a priority this year?
1. Just do it!
There will never be a time that makes sense or seems possible. You just have to start.
2. Start small
Spending some time with God is better than no time with God. If you take the first step of carving out a little time for God, it is easier to add to that time.
3. Trust God
One reason you skip time with God is because you don't think you have enough time. It is a big step of faith to reserve time for Him. What if everything is taking more time because you aren't setting aside time with Him?
4. Let go!
You like to be in control. So do I! Some days you even feel like you are doing a pretty good job of running things. Letting go and allowing God to be more in charge is scary. What if spending time in His presence and allowing Him to be in control enabled you to accomplish things you never dreamed possible?
5. Watch and see
Why not give it a try and see the difference it makes?
What about you? How do you like to connect with God? How have you seen it make a difference in your life or leadership?
© Can Stock Photo Inc. / antmishch