Strong Leadership – It Takes Three!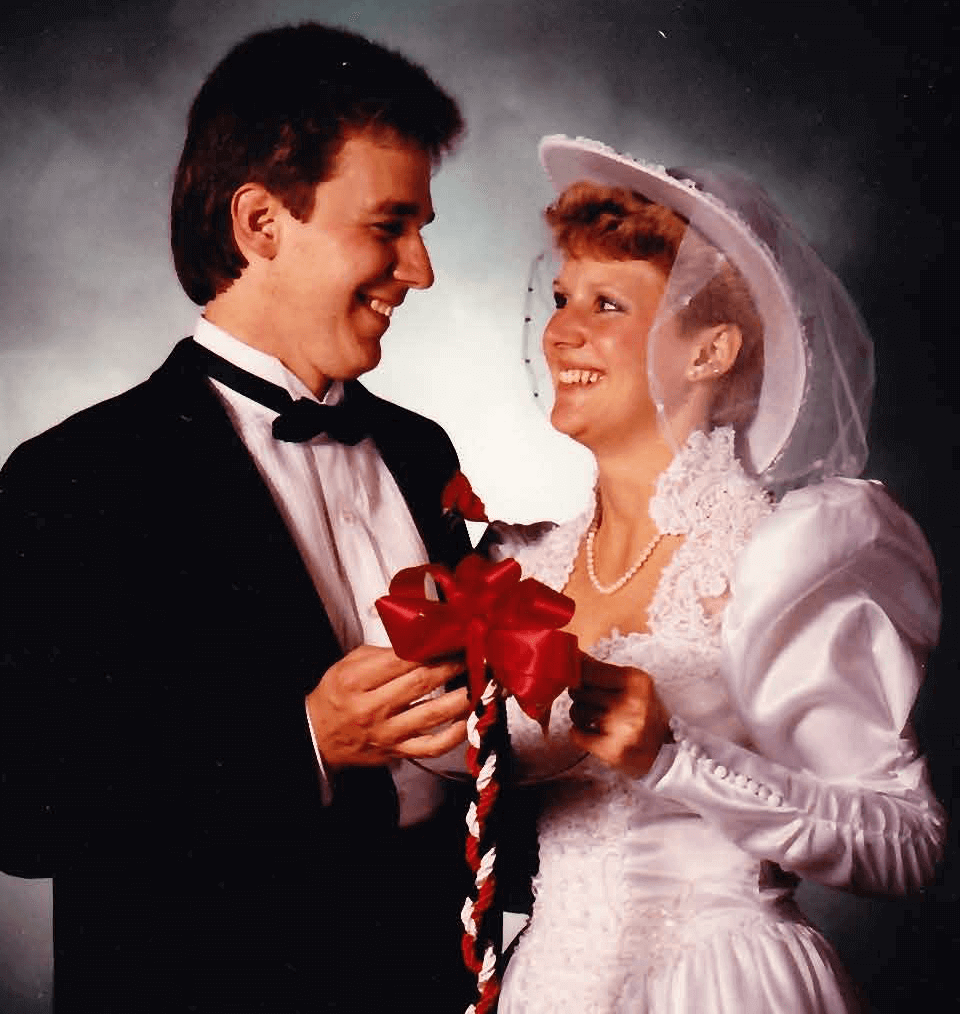 Curious about what makes for strong leadership…stick with me!
During the Today Show this morning, they were discussing the #sponCon wedding contest that Hotels.com has going right now. The prize: a free honeymoon. That sounds amazing, but wait until you hear the rest of it! In order to qualify for the drawing to win that free honeymoon, you have to record your vows AND mention Hotels.com in your wedding vows, then upload it to Twitter or Instagram with the @hotelsdotcom AND the hashtag #HotelsSpanConVows to enter the drawing.
A free honeymoon is pretty enticing, and this might be indescribably exciting to you if you are about to get married.
Personally, I would not want to put off the honeymoon or allow an entity that has absolutely nothing to do with my marriage in my wedding vows! Call me crazy!
More Than 30 Years Ago…
My husband and I wrote our own vows more than 30 years ago – vows we had not heard until that day. I can assure you no hotels were mentioned! I view marriage as sacred, so inviting strangers in would not be for me.
Our wedding included some non-traditional and creative moments. For those who know us well, this is not surprising! My favorite out-of-the-ordinary moment was braiding three cords together as the pastor read Ecclesiastes. 4:9-12 which says:
Two are better than one, because they have a good return for their work: If one falls down, his friend can help him up. But pity the man who falls and has no one to help him up! Also, if two lie down together, they will keep warm. But how can one keep warm alone? Though one may be overpowered, two can defend themselves. A cord of three strands is not quickly broken.
Three Cords?
The three cords represented how me, my husband, and God were all intertwined and connected; dependent on each other.
The passage in Ecclesiastes is not specific to marriage – it applies to relationships in general. It's about not doing life solo– something leaders do all too frequently.
Leaders…Don't Go it Alone!
Leaders have a propensity for being lone rangers. Being vulnerable and asking for help often doesn't come easy leaving them isolated and alone.
Leaders are at their best when they recognize that they need others and are actively seeking God daily for guidance. There will always be challenges, but you don't have to face them alone.
Strong friendships also have a positive effect on a leader's ability to lead. Wise and faithful friends who are willing to be a sounding board and help you stay on track are huge assets for any leader!
Strengthening Your Role
Another significant way to strengthen your role as a leader, and create a "three strands" kind of leadership, is to work with a Certified Coach. Coaching doesn't edge God out. Quite the contrary! Your coach, the Holy Spirit, and you are the three strands. Working together, important discoveries are brought to light that will substantially enrich your life and leadership. I know! I work with a coach myself!
Have you noticed that God doesn't always pick the most qualified, experienced, or obvious choices to be leaders? There are many examples in Scripture – Moses, Jonah, Peter, and others!
Have you ever felt lacking as a leader? I know I have! That feeling has surfaced in my parenting, in my businesses, and in my other leadership roles. So many moments where I utterly had no idea what to do!
Those at a loss moments are opportunities to turn to Him – He wants to be an integral part of the process. And not just when you are desperate, but moment by moment!
Working with a leadership coach does not overlook that; instead it places God at the very center of the coaching process.
What's Coaching All About?
These days, there seem to be coaches everywhere, many of which have not been certified as a coach. Despite of all the coaches, most people have no idea what the coaching process is all about. If you've never experienced coaching, it is an intentional conversation that…
Provides a safe and confidential place
Increases your awareness
Defines your vision for where you want to be
Brings to light where fear is at work
Uncovers mindsets and beliefs that are holding you back
Offers fresh perspectives and possibilities
Identifies the potential obstacles
Enables you to reach goals
Allows you to create a strategy to move forward
How About YOU?
Your current situation may have you stumped or maybe you've been unable to take your life or work to the next level. Maybe the results you desire are eluding you. Perhaps your work has taken over your life and you can't even remember what you like to do in your spare time. Or maybe you recognize the benefit of sharpening your skills! Those are all great reasons to work with a coach in a "three strand" way!
One of the beautiful aspects of coaching is that you are not alone! Your coach will support you throughout the process. Imagine how refreshing it would be as a leader to have someone to sort through the issues and challenges you face and to know that they are praying for you!
If you desire to advance personally or professionally working with a coach is an incredible way to go!
Don't let the wrong influences edge their way into your life the way that hotels.com wants to be included in weddings. Your leadership will be at its best when you partner with a coach or a supportive friend, along with the Holy Spirit. That's the key to a strong "three strand cord" kind of leadership!
What area of your life or leadership have you been unable to thrive and be strong?
Do you have about coaching? How might coaching strengthen your life and leadership?
Schedule your free coaching consultation to see if coaching is right for you here.
This concept is so valuable – that's why I've updated and revised this blog just for YOU! (Originally published 10/7/13)
P.S. If you want in on the chance to win a honeymoon, the deadline is September 23, 2019 at 6 p.m. ET. 🙂