10 Ways to Cultivate an Attitude of Gratitude
Cooking is a creative outlet for me; a chance to experiment and indulge in luscious food. In the last 31 years, have yet to make a turkey for Thanksgiving or any other time of year!  That's one of the few culinary tasks I delegate to my husband so that I am free to focus on all the other yummy sides and desserts.  After all, my husband has some mad turkey cooking skills! Over the years, he's smoked them, baked them in brown paper bags, and even prepared them in the crock pot! For the last few years, our turkeys have been especially delicious. He's been following Alton Brown's recipe. It definitely takes some time and love, but brining a turkey is worth the effort!
Brining is a process similar to marinating. Brine is a mixture of primarily salt and water (or vegetable stock in Alton's recipe) that helps meat stay moist. Add flavoring to that, submerge your bird, and voila – you are on your way to some tasty results! Lest you think it all just happens, my husband begins the process a few days before Thanksgiving. Don't most things that are worthwhile take time and effort?
Thanksgiving is about more than just a gourmet turkey. It's about gathering with family and friends and intentionally focusing on all that you are grateful for. In the hustle of preparing the meal, the opportunity to focus on and share what you're thankful for can easily get overlooked.
Last year, my daughter was determined that there would be a gratitude moment at our Thanksgiving table! She brought a pumpkin that she had artfully written "What are you thankful for?" on. We passed the pumpkin around the table and allowed each person to write what they were thankful for while simultaneously sharing in more detail. It was a powerful moment!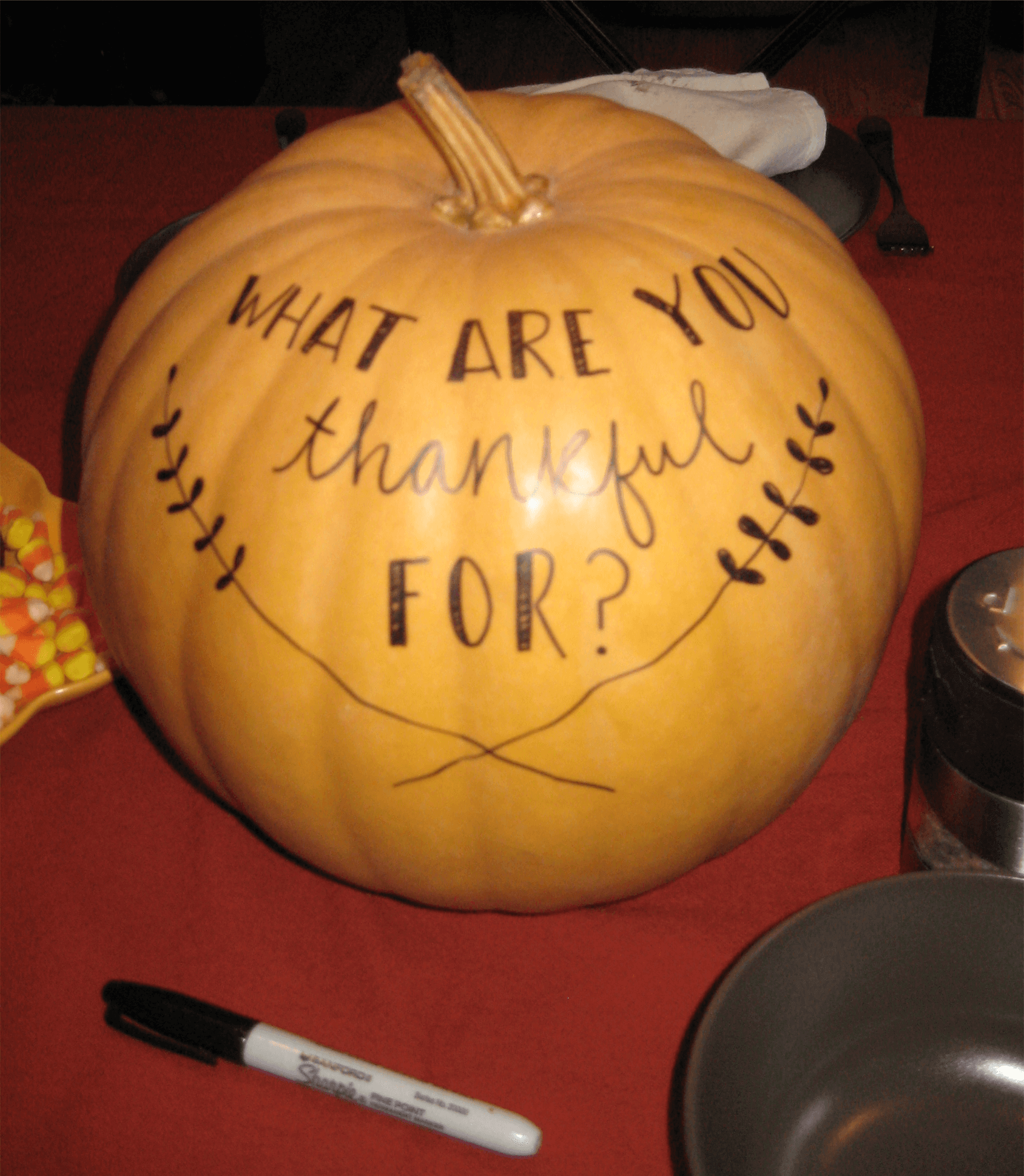 Without being intentional, you can miss out on being thankful even on Thanksgiving!
What would happen if you made it a habit to dwell on what you are thankful for every day? Brining a turkey significantly improves the flavor and texture of a turkey and an attitude of gratitude has a similar enhancing effect on your life and leadership. Did you know that regularly practicing gratitude can impact your life by…
Increasing creativity
Enabling you to be more resistant to stress
Increasing self-worth
Lessening resentment and envy
Allowing you to be more forgiving, outgoing, helpful, generous, and compassionate
Experiencing less loneliness and isolation
Cultivating more positive emotions
Helping you be more present, alert, alive, & awake
Contributing to more joy & pleasure
Strengthening your immune system
Experiencing fewer aches and pains
Lowering blood pressure
Encouraging exercise and taking better care of your health
Improving your sleep – sleeping longer and feeling more rested
Enjoying better relationships
With such an array of benefits, what's keeping you from practicing an attitude of gratitude? Imagine how different your life would be if you made an effort to practice gratitude and…
Focused on who God is and celebrated how deeply He loves you?
Confidently left your fears and concerns at His feet and stopped worrying and stressing about all the "what ifs"?
Deliberately searched for the gift, the good, in the challenges you're facing. What's the good in this? What can I learn from this? How can I benefit from this? Then make the choice to thank God for gifts you discover.
Meditated on His truth and all the beautiful things in your life? Remember, what you focus on grows!
Fully believed that God will work everything together for good?
The turkey at my house doesn't have much of a choice. He is soaked in what my husband chooses. You do have a choice. What will you choose to saturate your life in? Will you marinate in problems and challenges and fears? Sometimes it's tempting – but will never lead to the kind of flavor and texture in your life that you desire. Cultivating a habit of gratitude takes intention and a way of expressing thankfulness that suits you. Which one of these creative ways of practicing gratitude resonates with you?
1. Gratitude Triggers
This is a great starting place! It is a clever way of reminding yourself to pause, breathe, and think about what you are grateful for! You can set your phone to act as a trigger or use a physical reminder like a rock, wrist band, or some other meaningful object that will prompt you to take a moment to contemplate what you are grateful for. If you choose an object, you might want to place it in your pocket, on your desk, or night stand where you will be reminded to start and end your day on a thankful note.
2. Gratitude Jar
You can create your own Gratitude Jar or purchase one on Etsy. The idea is to write down something every day that you are grateful for on a piece of paper and then place it in the jar.  Then on New Year's Eve, New Year's Day, or some other special day of your choosing the jar is opened so that you can review all the many things you've been thankful for. Sometimes these jars are called "Joy Jars" but either way, the idea is to make it a habit to document what you are thankful for and then take time to re-experience those moments! This is wonderful activity for a couple, family, or even a team to do together!
3. Gratitude Journal
Simply write down five things every day that you are thankful for! This can be a journal strictly designated to record what you are grateful for or it can be a part of a more general journal or prayer journal. Not so fond of writing things down? Why not use one of the apps designed to help you track what you're grateful for like Gratitude Garden, Gratitude Journal 365 – Diary for your Happiness, Mojo, or One Thousand Gifts App – and this one's free!
4. Gratitude Collage
Perfect for those creative crafty types who appreciate visual reminders. Use doodles, pictures, or objects to depict what you are grateful for.
5. Gratitude Walk
Talk a walk or a hike and observe the beauty all around you while contemplating all that you are thankful for.
6. Gratitude ABC's
Use the alphabet as a guide to stretch yourself. For example:
A = Aunt Dorie – grateful for her upbeat positive influence
B = Blankets on cold winter nights
C = Coconut oil in my coffee – it makes me happy!
7. Smile!
Yes! Something as simple as smiling can help you approach life in a more grateful way!
8. Thank & Compliment Others
Make an effort to thank or compliment the people you come in contact with each day! Not only will it help you look for the best in others, it will encourage you to express what you are grateful for while encouraging others!
9. Be Present
Be completely right where you are and mindful of all the good things around you in this moment! You might be surprised at how much you've been missing when you hurry through life!
10. Be GLAD
GLAD is an acronym for Grateful, Learned, Accomplished, and Delightful. Each day, identify one thing that you…
Are GRATEFUL for
LEARNED
ACCOMPLISHED
Found simply DELIGHTFUL
This can be an activity that is done on your own, at meal time with others, or it could be combined with any of the previous ideas.
Saturating your life in gratitude is sure to enhance your life and whatever God's called you to do!
How will you practice being more thankful all year around?