7 Tips to Help You Juggle Like a Pro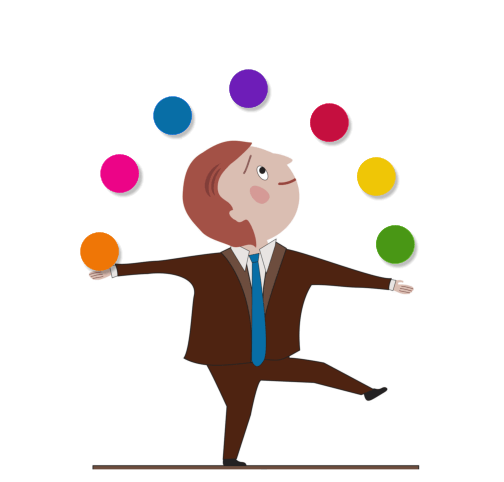 Lately I have been feeling a little like Veruca Salt from the movie Willy Wonka and the Chocolate Factory – I want it now! I want it all! Not so much material things – I want to do it all!
Things didn't go well for the spoiled Veruca. She was sent down the garbage shoot for her "I want it now! I want it all!" attitude. Only after time marinating in trash did she make changes.
Veruca's parents are to blame for her rotten, want it all attitude! They indulged her behavior and put up with her tantrums.  The only person I can blame for my want to do it all attitude is me.
You see, I am a passionate person. There are an abundance of things I enjoy doing: reading, being creative, cooking, decorating, learning, coaching, writing, working out, time with family, time with friends, tackling challenges, helping others to reach their full potential, teaching, mentoring, leading, and much more. Unfortunately there are only so many hours in a day.
Those who know me know that I am a determined gal, maybe even a little stubborn. Just a little! Rather than ignore the things I am passionate about, I have become an expert juggler. Even an expert juggler has limits!
God is probably more patient with me than I would be! He continually reminds me of the things He has called me to do, and provides creative ways to connect the things I enjoy to the purposes He has for my life: serving my family, reaching children for Him, and influencing leaders.
Are you a juggler too? Here are some important things to keep in mind:
1. Less is More
Adding more and more balls to keep in the air will eventually cause even an expert to drop one. Rarely does just one ball drop; odds are many balls will come crashing down. When you juggle fewer responsibilities, it allows you to devote more focused attention and lessens the chances that something will get overlooked. That means you will need to let go, delegate, and trust God that He will provide a way for you to do what makes your heart happy.
2. Be bold
When you are juggling just a few key responsibilities, you are able to give them all you've got. You will be able to juggle fire because you have the confidence and courage to invest with everything you have and take greater risks. Juggling too much can become a way of avoiding failure. Your excuse for not being successful might be the many things you are juggling.
3. Get serious about your time
Time truly is a gift. Your day has the same number hours in it as mine does. How will you use that time? Establish priorities. Do the hard things first. Work with a timer! There will always be those things you must juggle that you are not that fond of, the things you keep putting off. Rather than never picking up that ball, determine to juggle it for 30 minutes or one hour – whatever works for you. You will be surprised how much you can accomplish in that limited amount of time when the timer is ticking!
4. Be obedient
Life can get pretty messy when you choose to do it your way over God's way. Somehow the enemy convinces you that the only way you will get what you want is to act like Veruca Salt and have a little tantrum and demand things be done your way. You might not be as overt as Veruca; she was obnoxiously transparent about her desires. Your response might be to simply ignore, put off, and to keep on waiting for that "perfect" moment to pick up the ball God has given you to juggle.
5. Practice gratitude
Veruca Salt came from a wealthy family. She was blessed and didn't even realize it! She had much! When you focus on what you can't do, and can't have, it robs you of the opportunity to appreciate what you do have. It causes you to be negative and when you are negative it tends to attract more negativity. The more you value what you already have and see the positive in it, the more positive your experience will be.
6. Accept the season
As I write we are in the Christmas season. There are extra things to juggle at this time of year. That means I will have to set a few balls down in order to create the kind of holiday atmosphere important to me and my family. It is temporary. What "season" of life are you in right now? Being a parent of young children, starting up a business, or taking your leadership to the next level all require extra attention. Evaluate your priorities often in light of the season you are currently in.
7. Don't juggle alone
Most of all I need God's help with all my juggling! Without that daily time connecting with Him and seeking His wisdom, I am making the process more challenging than it needs to be. Setting aside the time for Him is a demonstration of my trust in Him that He will allow me to get done today all that really needs to get done.
While leaders are often lone ranger types, the truth is I need the help and insight others have to offer me. That's why I have a coach. I also seek the counsel of my husband and other wise leaders God has placed in my life. I value their support. I delegate tasks that others do better that I can so that I can devote more energy to the things I do well.
When Veruca didn't get what she wanted she would resort to tantrums that sometimes lasted for hours. How exhausting! Those ugly moments led to her mingling with garbage. My "want it all moments" have often left me in a mess as well!
How do you respond when you can't have it all? What are you trying to juggle right now?
© Can Stock Photo Inc. / Birgit247