7 Tips to Help You Juggle Like a Pro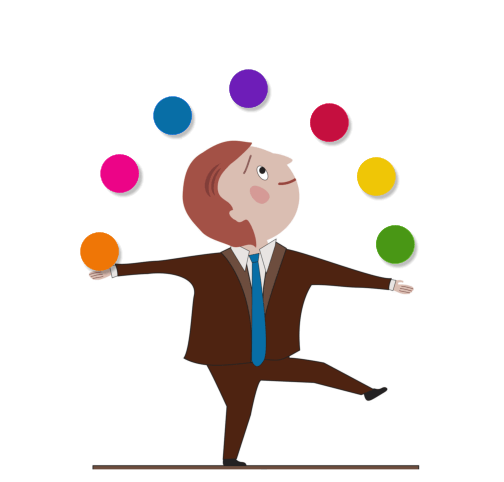 I've been known to juggle a responsibility or two! At one point, I was homeschooling my three children, running a business, and on staff at my church. It was a full season of life!
I'm a passionate person, an avid reader, and I get a kick out of being creative. I also love spending time with my family and friends. And crafting, cooking, decorating, learning, coaching, writing, working out – even tackling challenges excites me! There are so many activities that I enjoy, but, unfortunately, there are only so many hours in a day.
Those who know me know that I'm one determined gal. Rather than ignore what I'm passionate about, I've mastered the art of juggling – or at least tried to master it.
I confess in the past I wanted it all and I wanted it right now! You might say I was a lot like Veruca Salt from the movie Willy Wonka and the Chocolate Factory. She's famous for saying "I want the works! Don't care how I want it now!" For me it not so much about material things – I wanted to do it all!
If you remember, it didn't go well for the spoiled Veruca. She was sent down the garbage shoot for her "I want it now! I want it all!" attitude. It took marinating in trash for her to make changes.
Who's To Blame?
While Veruca's parents are to blame for her rotten, want it all attitude because they indulged her behavior and put up with her tantrums.  The only person I can blame for my want to do it all attitude: me.
God is far more patient with me than I would be! He continually reminds me of what He's has called me to do: serve my family, reach children for Him, and influence leaders. And thankfully He's provided me with all sorts of ways I can be creative and regularly participate in the activities I enjoy without compromising my purpose. That's pretty sweet!
The reality: even an expert juggler has limits!
Are you a juggler too? Are you prone to taking on too much? Here are some of the valuable lessons I've learned along the way:
1. Less is More
Adding more and more balls to keep in the air eventually causes even an expert juggler to drop one (or two or three!). When you juggle fewer responsibilities, it allows you to devote more focused attention and energy to those responsibilities. It also lessens the chances of something getting overlooked.
In order to master "less is more" you must let go, delegate, develop some powerful habits, and trust God.
2. Be Bold
When you are juggling just a few key responsibilities, you naturally concentrate your energy in those areas. That enables you to operate with greater confidence and take bolder risks.
Trying to juggle too much dilutes your focus and energy making it hard to keep up with it all. It's tough to operate in a bold way when you are overwhelmed!
Sometimes it's the fear of failure that drives you to take on more than you can handle. It provides a handy excuse for the lack of success.
Narrowing your focus – that's bold!
3. Value Your Time
Time is a limited resource – truly a gift. Your day has the same number of hours in it as mine does. How will you use that time?
Be intentional with your time. If you want to maximize your time, you must know what your goals are, establish priorities, have structure, and engage in activities that energize you.
Tackle your most difficult tasks first. Work with a timer! There will always be those tasks that you are not fond of, the ones you keep putting off. Rather than never picking up that ball, do that task for 30 minutes or an hour – whatever works for you. You'll be surprised at how much you can accomplish in that limited amount of time when the timer is ticking! And when you keep at it, you will be surprised at all that you are able to accomplish even in small bursts of time. Want more time tips? Click here.
4. Be Obedient
Life can get pretty messy when you choose to do it your way rather than God's way. The enemy wants you to think that the only way you will get what you want is to act like Veruca Salt. You might not be as overt as Veruca; she was obnoxiously transparent about her desires. Your response might be to simply ignore, put off, or to keep on waiting for that "perfect" moment to pick up the ball God has given you to juggle.
Listen to His voice and obey!
5. Practice Gratitude
Veruca Salt came from a wealthy family. She was blessed and didn't even realize it! She had so much!
When you focus on what you can't do, and can't have, it robs you of the opportunity to appreciate what you do have. It causes you to be negative and when you are negative, what does it attract? More negativity. If you are grateful for what you already have, what do you think you will attract? I bet it will be something worthwhile!
6. Accept the Season
Christmas will be here soon! If you are like me, the Christmas season includes a lot of extra tasks to juggle. In order to really enjoy the merry time of year, I have to plan well, spread the tasks out (it's never too early to start!), and be realistic. It's important to me to create a memorable holiday season, but if I take on too much, I promise you that the season will be anything but merry. The memories made – they won't be what I had hoped for!
Keep in mind, seasons are temporary. What "season" of life are you in right now? Seasons of raising young children, starting a business, or taking your leadership to the next level all require extra attention. Evaluate your priorities often in light of the season you are currently in.
7. Don't Juggle Alone
You might think you are juggling like a pro! However, I know how much I need God's help with all my juggling! Unless I'm connecting with Him daily and seeking His wisdom, I'm making the process more challenging than it needs to be. Setting aside time with Him take faith. I must trust that He will enable me to get done what really needs to get done today, when I carve out time with Him.
While leaders are often lone ranger types, the truth is I need the help and insight others have to offer me. That's why I enlist the help of my coach. I also seek the counsel of my husband and the other wise leaders God has placed in my life – I value their support. Delegating tasks that others do better that I do enables me to devote more energy into what I do best.
When Veruca didn't get what she wanted she resorted to tantrums that sometimes lasted for hours. How exhausting! Those ugly moments led to her being cozy with garbage. My "want it all moments" have often left me in a mess as well!
How do you respond when you can't do it all? How well are you juggling right now?
This post was originally posted on 12-9-14 and has been updated & revised just for YOU!