7 Super Smart Reasons for Choosing "One Word"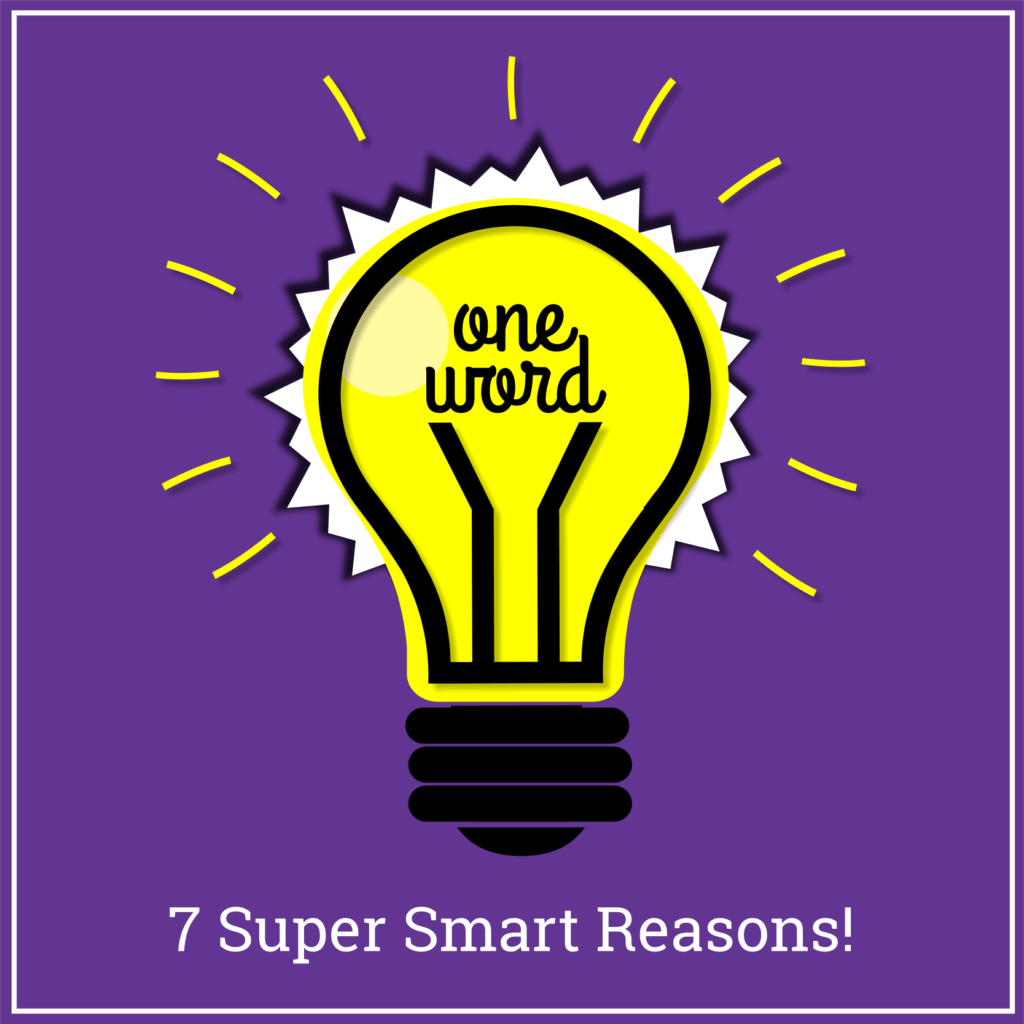 If you're eager to grow and make positive changes in your life, I urge you to consider choosing a "One Word" for the coming year. It's been a life changing experience for me. Plus, there are some super smart reasons to incorporate the practice into your life.
After nearly eight years of choosing a "One Word" to guide my year, I wouldn't even consider making a New Year's resolution!
Ironically, in 2020 the #1 New Year's resolution was: actually doing my New Year's resolution!
Sadly, only 8% of the people who make New Year's resolutions actually keep them! That's not even a little motivating to me!
That doesn't mean I don't set goals – I do! However, making a single word my focus for the year has been life changing in so many ways. Curious? Here's a peak into how my "One Word" has made a difference for me in previous years.
I first became aware of the "One Word" Concept after reading the book One Word That will Change Your Life – a collaborative effort by Dan Britton, Jimmy Page and Jon Gordon. If you haven't read it, you should. It's a short and sweet read!
Application
This year my "One Word" was ENCOURAGE. Is that not the perfect word for 2020? I admit that this year it more challenging than ever before to integrate the word ENCOURAGE into my life in spite of how relevant it was in a pandemic year.
Towards the end of November, I begin contemplating possible words for the new year. Initially, I seriously considered, for the first time ever, a do-over and keeping the same word for 2021. Surely, I would benefit from another year with ENCOURAGE as my focus, right?
Then, unexpectedly, I sensed God revealing some valuable lessons about ENCOURAGE. More on that later!
Sometimes the most valuable lessons I learn come not from rocking my "One Word", but from failing to apply it successfully in the way I'd envisioned. Thankfully, God is faithful and there are always positive lessons to learn even in those unsuccessful moments or tough times.
The most valuable lesson for me: that after practicing for eight, going on nine years, I need to re-imagine how I go about practicing "One Word" and make it fresh again!
If you've been applying the "One Word' concept to your life for some time, perhaps you too need to breathe new life into the concept. Stay tuned – I've got ideas for you!
In spite of being disappointed in my execution of this year, I'm more motivated than ever to continue practicing, because there are soo many benefits! Choosing a "One Word" for the year helps me…
1. Be Present
I find that life is full and fast. There are challenges, unexpected circumstances (hello pandemic), joy stealers, the urgent (oh so very urgent) distractions, disappointments, and fabulous blessings that keep me in perpetual motion and my mind spinning.
The "One Word" adventure is not a check-the-box adventure. It's truly a journey that requires me to be more mindful; more present. It challenges me to slow down, pause, reflect in the best of ways!
Choosing a "One Word" is not something to just DO, it's something to BE. This year it wasn't about sending 12 encouraging notes a day, it was about BEing encouraging – and there's still room for me to grow there.
2. Say "Yes" to the Best
Every year I have three limited resources: time, money, & energy – so do you! With my "One Word" word as my guide, it encourages me to say "no" to good opportunities, so I can say "yes" to even better ones. It's easy to get pulled into the vortex of busyness and wear myself out, causing me to miss out on the chance to live out of my full potential.
This year, when considering taking on something new, it helped to consider how it related to ENCOURAGE.
3. Frame Everything
Yes! Everything! How can I write an encouraging blog or make an encouraging video? What would make my email and my personal encounters more encouraging?
For the better part of the year, my perspective on my ENCOURAGE was me outward. In other words, how I was encouraging others. Then God showed me another way of looking at my "One Word". How faithfully He encourages me! He is the perfect encourager. And that He is the source of encouragement – without Him I will lack in this area. And He wanted me to see that it's about more than giving encouragement, it's about receiving it as well.
Needless to say, these were incredibly valuable lessons!
4. Make Positive Changes
All change begins with a shift in thinking. As I focus on a single word over the course of a year it gives me the opportunity to ponder, explore, and experience the word in ways that impacts my thinking. Those new ways of thinking have led to some very positive changes – changes I would not have made without a focus on a single word.
Here's the bonus: the influence my "One Words" have on my life lingers on long after the year they were my focus. Each of my many words have a place in my heart like a dear friend. Those words continue to spring up and inspire me.
5. Grow & Stretch
Every "One Word" adventure is unique, but they all have a way of inviting me to grow and stretch. This year was no different. I discovered I have a way to go to be the kind of encourager I long to be. And that I've made some progress!
Every year I add a tagline to my word. This year my tagline was "To spur on with courage, confidence, and hope." I love that tagline. I long to reflect God in this way more and more in my life.
6. Be More Humble
Now, I know that doesn't sound very appealing! Yet, for me, admitting that I still have room to grow and that left to my own devices I am unable to fully embody my word is positive. In fact, it makes it possible for me to continue to stretch and grow in this area.
7. Depend More on God
Finally, practicing "One Word" reminds me just how much I need God's help! Without Him, I have little hope of my "One Word" making a difference in my life.
Making it New!
As I begin my ninth adventure (wow!), I'm eager to find new and interesting ways to breathe new life into the super simple and transformational experience. Here are a few of my ideas:
Incorporate time to reflect on my "One Word" at the end of every month as I ponder and evaluate my progress.
Daily, as a part of my time with God, ask myself: How did my "One Word" make a difference in the previous day?"
Periodically journaling around my "One Word". It's amazing what I discover when I take the time to explore!
Get a ring, bracelet, or necklace that reminds me of my "One Word."
Create a collage or painting with my "One Word" as inspiration.
What ideas do you have when it comes to breathing new life into your "One Word" practice?
Curious about what my focus will be in 2021. It's not yet in stone, but I am sensing that the word will be HOPE.
What's your "One Word" for the coming year?