6 Reasons to Ban the Word Busy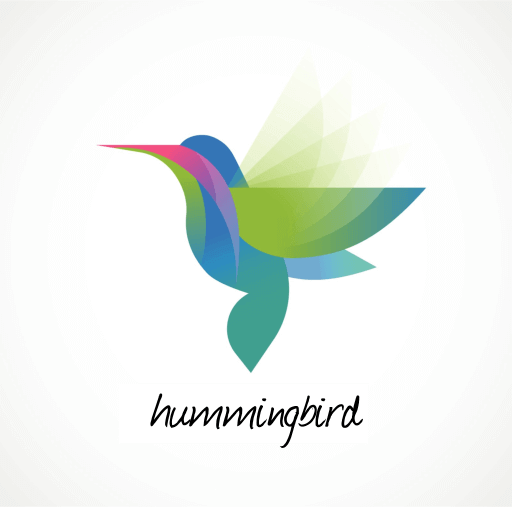 Hanging over our kitchen table are three red pendant lights. They accent the contemporary vibe of our kitchen nicely, and they attract hummingbirds like a magnet.
It is not unusual at our house to be interrupted during a meal by a hummingbird flying smack into our kitchen window! At times, they make a second attempt to reach what they perceive to be a hummingbird feast, but are actually our striking pendant lights. As persistent as they are small, the hummingbirds will linger, frantically flapping their wings at our window, in hopes of getting to that nectar.
Hummingbirds are remarkable little birds! Here are a few interesting hummingbird facts:
They flap their wings about 80 times per second or 4800 times per minute!
They use their feet for perching only – no hopping or walking for these birdies!
They are the only birds that are able to fly from right to left, up and down, as well as backwards and upside down. They can even hover in midair!
They are able to fly 500 miles nonstop when migrating due to their fat reserves – can you believe they have that much fat?
They can navigate a web of branches and twigs with ease.
A hummingbird's heart beats 1260 times a minute.
They are able to lick 13 times per second – that's how they feed. And they consume their own body weight in food each day.
Hummingbirds are naturally attracted to the color red.
They are territorial birds that are aggressive and willing to take on birds much larger in size.
I know a few hummingbird-like people – not that they fly into our kitchen window, but folks who are rarely at rest. I can relate – I have some hummingbird in me as well! It doesn't help that our culture is in a hurry and there is a constant deluge of information and noise – an environment that encourages a frantic pace.
I don't want to be a hummingbird! And I don't want to be hummingbird-like!
In fact, I am over the whole idea of busy! It is exhausting! That's why I have issued a ban on the busy word!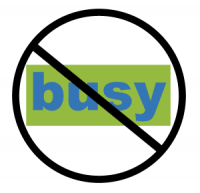 Yep! You heard me…no using the busy word. After all, it is a four letter word.
You see, the words I use matter. That's why the past couple of years I have used the word "full" when someone asks me about my life, rather than busy. While my life is full of work I love and people I treasure, if I am 100% honest there is still more flapping going on than necessary. The word "full" has been a step in the right direction, but I am not satisfied with landing there.
You see, the word busy, or even the word full, still impacts my life by:
1. Shrinking my vocabulary
Yep! Busy is the flippant, glib answer of the day. I'd like to be more articulate than that.
2. Disconnecting me from my feelings
Busy is NOT a feeling. So they next time someone asks "How you are you?" I want to use words that truly reflect my emotions. In order to do that I will need to pause and check in with myself before I respond. Just a warning… I may need a minute so get comfy with a wee bit of silence! And don't let me get away with words like fine, full, good, or blessed either!
Remember, I am expanding my vocabulary and expressing my feelings!
3. Becoming my cover-up
Being busy can make me feel important, and it can also be my excuse. My desire is to be more vulnerable and let you know that the opportunity or event – whatever you want or need me to do, doesn't fit into my current priorities or isn't where I want to direct my energy right now. That can be hard. People often press and I feel guilty or they get their feelings hurt. That is certainly not my heart, but if I am going to eliminate the word busy, it makes sense to also be lovingly honest with you as well!
4. Making me a victim
You see, I don't have to be busy. The more I use the word busy, the more I see myself as a victim of busy. That's just not true! Being busy is a choice! I choose it at times because I like to do a lot of different things. I am driven by nature. And if I am not busy, then what?
Maybe if I wasn't doing so many things I would appreciate life more and be free to do even more of what God has in mind for me!
5. Keeping me from reframing
The busy bucket is brimming! Overflowing! It is a catch-all like a kitchen junk drawer! I lump everything into that bucket when I would be better off reframing. What if I began acknowledging the good things I am engaged in, admitting that another activity has been particularly stretching or even stressful yet a tremendous opportunity for growth?
Every time I utter the word busy I perpetuate the franticness – sort of a self-fulfilling prophecy!
6. Keeping me over focused on work
This is perhaps one of the biggest struggles for driven types like me! Just because I am doing something all the time it doesn't mean I am doing the right things or that what I am doing will make me successful. It just means I am running on my hamster wheel!
Productivity is about working more effectively – putting effort into the few important things that are going to make the biggest difference. It is about taking time to rest and regroup so that I am at my best when it is time to work. It is also about trusting that God will provide all I need and that I am already enough!
A shift in my thinking must take place before a behavior shift can happen. Helping me change my word choices and eliminate busy from my vocabulary is a big part of helping me get there! I venture to say that the "busy" word is keeping a whole lot of you stuck in places you don't need to be either!
Imagine what it would be like to stop flapping frantically and soar like an eagle gliding with ease on the currents in the sky. That sounds peaceful and relaxing to me; freeing!
How about you? Is it time to banish the word busy?