What A Difference Hope Makes!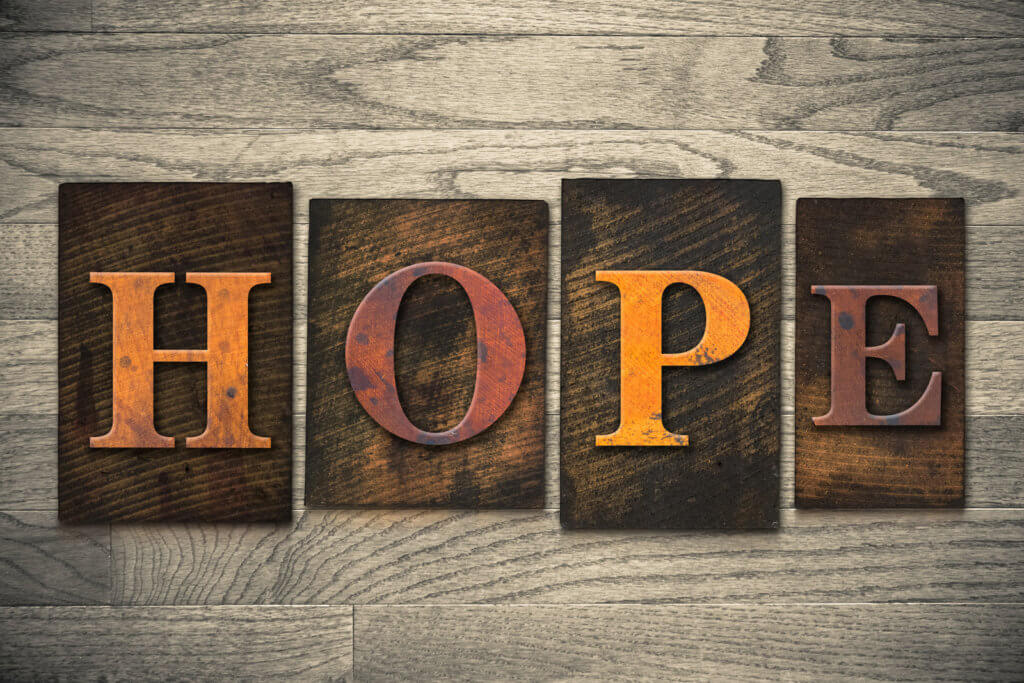 Hope is a fragile thing. It is not stagnant. Hope swells. Hope shrinks.
What I put my hope in – that makes all the difference!
As believers, hope is a strong confidence in God – the One who has unlimited power and resources; He is the One who is able to make profound changes in me and produce results far beyond my imagination when I cooperate with Him.
When my hopes are dashed, I know that my hope has been misplaced.
Hope is choosing to see my present circumstances from God's perspective. In order to do that, I must get to know God in such a way that I am clear about who He is.
Hope is relentlessly focusing on His faithfulness, His abilities, and His immense love for me. Remembering that He keeps His promises, and that, while things might appear wild and out of control, He is not a chaotic God – He just goes about things in ways that are often drastically different than I would have on my own.
Last week, I momentarily lost hope. Like Peter, for that split second (or longer!), I took my eyes off of God. It was a disheartening place to be! I was feeling incredibly discouraged.  Several unexpected not-so-fun circumstances surfaced almost simultaneously. In that moment, I confess I wanted to give up! No matter how hard I tried, it felt like my efforts were in vain.
You see, putting my hope in my own efforts will ultimately lead to discouragement because my abilities are limited. That's why it is essential that I place my hope in God and trust His ways. And when I do, there are a number of other happy benefits that follow like these:
You will inherit the land – the promises of God (Ps. 37:9)
God will exalt you (Ps. 37:34)
Enjoy renewed strength (Is. 40:31)
You won't be disappointed (Is. 49:23)
Live life in a bold way (2 Cor. 3:12)
There are a few hope busters that mess with hope for me. Can you relate to any of these?
1. Waiting
Hope seems to have an element of waiting attached to it. That's hard for me! Even though I would not describe myself as impatient, God always seems to take longer than I would have ever dreamed possible to bring things to fruition! That means I have to be in "hope mode" for a good long time!
2. Doubt
It can be challenging for me to visualize some of the things that God has promised any way other than how they are right now. I see the obstacles, the challenges, but I don't see the step by step plan that would lead to the fulfillment of those promises. Of course, faith believes that something is possible without all the details. When I dwell on my doubts it eats away at my hope and leaves me discouraged.
3. Striving
Hope is not about striving. It is about resting! Acts 2:26 describes it as "pitching a tent in the land of hope." In other words, hope is a place where you can settle, relax, and dwell there. I must do my part without striving, and trust that God will do His part.
4. Fear
My hope wanes when I let fear consume me. It might be fear of failure, fear of missing out, or fear of not enough money, time, etc. It might be my core fear raising its ugly head –my fear of not mattering. For you it might be fear of rejection, incompetence, not measuring up, looking stupid – whatever your version is.  Hope and fear can't coexist.
5. Preconceived ideas
I know what God's called me to do and be. Many of my goals for the year are connected to my purpose. In my great wisdom, I think I know how things should go and what they will look like when I reach my goals. When things don't pan out the way I imagined – it nibbles away at my hope. I don't want to just sit back and passively wait for things to materialize or be so rigid on what it must look like. In my experience, God's plan is infinitely better than mine and produce far greater results while at the same time bringing Him glory! I must hold my ideas with a very loose grip.
6. Comparing
Focusing on your journey and the things that God is doing in your life and comparing that to my life never ends well. Either I feel prideful about how far I've come, which doesn't help me or please God or I feel disappointed in my progress, which is also not helpful. My journey and process is mine, and mine alone. Trying to measure myself against you will only steal my hope!
7. Curve balls
In the process of pursuing my dreams, calling, or goals there will be curve balls! Unexpected things that pop up can feel like whatever I have been patiently pursuing is impossible. Curve balls sting and they are temporary! While they might knock the wind out of me in the moment, the quicker I can regroup and expectantly watch for how God will use the unexpected circumstances to help me, the better.
On the flip side, there are some steps that will help boost my hope.
1. Spending regular time with God
As I spend time with God and in His Word, I get a better sense of who God is, and His incredible love for me. I am reminded of His faithfulness and of His promises to me.  I need that daily because I am quick to forget!
2. Engage in community
I need people around me who can point me back to God and remind me that my hope is in Him. When I isolate myself from others, there is no one to notice that my hope is shrinking or to hold me accountable and remind me of truth.
3. Stay connected to your why
For me, quitting would be akin to disobedience. It would also be turning my back on things I am passionate about and the purpose I was created for.
Hope – it is a key ingredient to an amazing year. Without hope successfully making progress towards my goals is unlikely.
What changes do you need to make to keep hope alive in the coming year?