Step off Your Hamster Wheel & Stress Less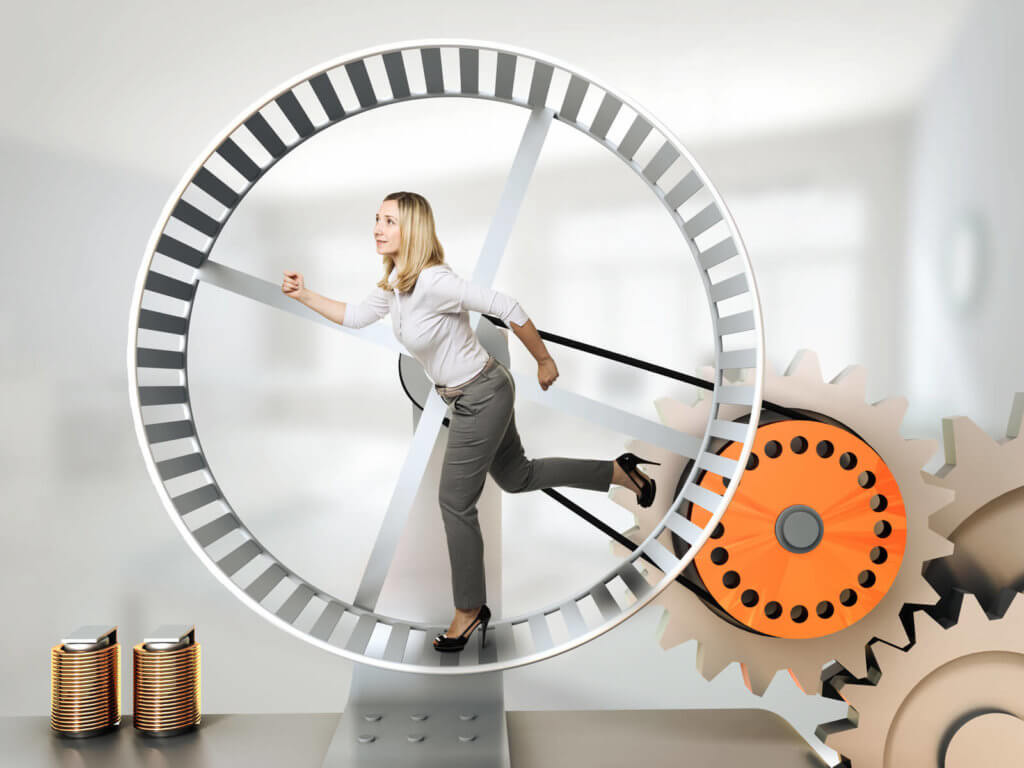 Are you perpetually in motion like a hamster on a wheel getting nowhere?
When caged and space is limited, the hamster wheel is an ingenious invention – a way for hamsters to run like crazy in a very small space. Did you know that wild hamsters run up to 5 miles every night while searching for food? That's like climbing Mount Everest every night! Hamsters love to run! That's what they were made to do.
Assuming the average hamster is 3", that makes me roughly 21 times the size of a hamster.  In order to keep up with a hamster's nightly five miles, I would have to run 105 miles every night! That's a whole lot of running, and I can assure you I was not made for that!
Yet sometimes I do life hamster-like: running ragged. At least I used to.
Lyme disease slowed me down – I simply didn't have the energy to continue the brisk pace I'd been accustomed to. Doing life at a slower pace revealed three things to me:
I was missing out on some sweet moments. It turns out that the sweetest moments in life are not big thunderous ones; they are the whispering moments that sneak by unless I am going slow enough to notice them.
Blazing through life is stressful, and stress does nothing positive for my health, not to mention it takes a toll on everything from work to relationships and beyond!
I was actually more effective when I did less.
Thankfully, Lyme disease is no longer dictating my life. No more hamster wheel spinning for me! Rather than revert back to my old ways, I've been focusing on three new ways of being that have decreased the level of stress in my life, increased my effectiveness, and made life unbelievably more pleasant!
I am taking great care to BE…
1. A Conduit
Life is most satisfying when I live in a way that honors who God created me to be, a way that reflects Him. That's being loving for me. When I approach life from that perspective, it changes everything! It dissipates fear and allows me to live authentically. It allows me to see possibilities and to let go of the outcome.
There are still moments when I drift back to my fear driven ways and my Fear Monster takes over, and those are stressful moments! The more I let my Fear Monster take over, the more my focus is on the negative what ifs which are paralyzing. It also has a way of bringing about the very thing I'm afraid of. My Fear Monster has a way of triggering the Fear Monster in those around me, resulting in conflict, hurt feelings, and other stress filled happenings.
Being a conduit, on the other hand, is living out who God created you and sharing a small sampling of Him with those around you. A way of being that gives life purpose. Your purpose! While for me it's being loving. For you it might be…
Trusting
Courageous
Compassionate
Authentic
Unshakeable
Creative
Beautiful
Focused
Generous
Some other aspect of God
Whoever God created you to be, you will need His help to reflect Him in that way. I am not naturally a loving person and being courageous or creative or generous might not come naturally to you either. However, living life from that place makes a powerful difference!
2. Creative
Expressing myself in artsy crafty ways, coming up with new recipes, decorating, developing curriculum, webinars, and solving problems in innovative ways are creative activities I find very satisfying. Yet when life gets hectic, these sorts of endeavors are squeezed out, and my soul feels it! Depriving myself of creative activities actually makes me less productive and maybe even a little resentful!
This year I've been giving myself permission to be creative; making it a priority to do something creative like put together a fall piece for my entry way or to color in the evenings – something nearly every day that gets my creative juices flowing.
And I am making more of an effort to infuse work with creativity. You would be amazed at what a difference that shift makes. Not only is working more fun, but I believe it's had a positive impact on the quality of my work as well!
You might not get excited about being creative in the same ways I do, but I feel confident that you are creative! It might be writing, building things, coming up with games to play with your kids, or dancing like crazy! Whatever your creative outlets are, give yourself permission to engage in those activities regularly. It will energize you and bring new life to the work you do.
3. In Community
Relationships have always been important to me –another one of my top five values. When life and work are demanding, and deadlines are looming, time with others feels like a luxury. Yet, making time with others a priority, even when life is full, is good for my soul! It's life giving. I work better from that filled up place.
Don't just take it from me, here's what researchers discovered about the people of Roseto, Pennsylvania. Between 1955-1965, Roseto was inhabited by predominantly Italian Americans, who for some reason rarely died of heart disease. Researchers picked apart just about every aspect of their life to determine why. In spite of many of them working in toxic environments, having toxic habits like smoking or eating an unhealthy diet, and suffering from discrimination, they didn't have heart attacks. Turns out their tight knit families and strong community ties were literally nourishing their hearts!
The culture in Roseto began to change in the 1970's as single family homes, fenced yards, country clubs were brought – things that detracted from the community ties of Roseto. And in 1971 the first person under the age of 45 died in Roseto from a heart attack.
We were made for relationships. Not shallow connections, but deep, connected relationships!
I'll be honest, you won't get in as many laps on your hamster wheel when you make it a priority to embrace who God created you to be, make space to be creative, and engage in community. You will appreciate life more and work from a filled up place that allows you to do better work with less effort – and a whole lot less stress!
Tired of running like crazy? Fed up with not reaching your goals? What do you have to lose? Why not switch gears and see if changing your life in these three ways makes a difference for you!
What's helped you stress less?
© Can Stock Photo / tiero