Want to Make A Difference? Nourish Your Creativity!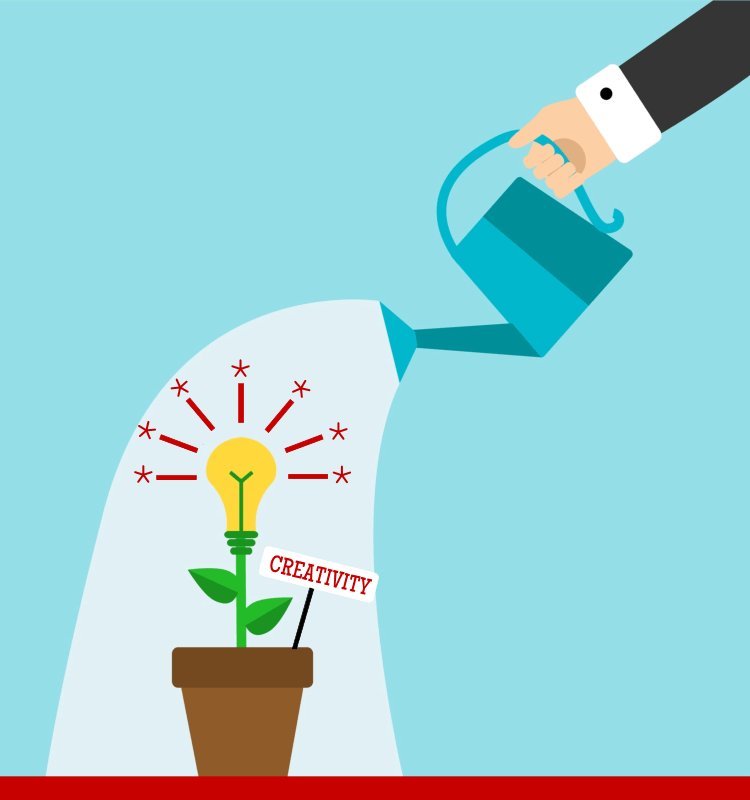 Whatever you pay attention to grows! It just does!
Problems, unexpected glitches, or a day not turning out the way you'd planned – they scream, and shout, and dance around wildly vying for your attention! That's hard to ignore. And as you give the negatives undeserved attention, it seems more negativity appears. It grows! It spreads.
Meanwhile, the far more important, but subtle aspects of life: resting in who God is, being creative, or just plain old "being" get overlooked. What if you were able to shift your attention to the positive? Imagine what would happen if the positives began multiplying instead!
It isn't the attention that causes growth. It is the way you nurture what you are paying attention to. When you dwell on your problems, you feed them. You spoon up one heaping teaspoon after another of the substance necessary to develop that problem (fear, challenge, disaster – whatever word fits your current situation) into a fat juicy problem that becomes harder and harder to ignore as it grows. You meditate on it, keeping your thoughts circling around and around that negative thing.
Or… you can nurture the positive! Feed it. Let it whirl around and around in your thoughts.
Lately, the idea that has been whirling around in my head is the idea of nurturing my creativity instead of my fear. When problems, challenges, or the unexpected pop up (and they will) you have a choice. You can trip on down the fear path, worry a bunch, fret, and work yourself up into a dither limiting your ability to think clearly and respond boldly.
Or… you can view problems, challenges, or the unexpected as an invitation to get crazy creative and explore options you might not have otherwise considered. Approaching things from a "this is an adventure – where is God taking me" perspective is very different from "this is horrible – how could this be happening to me" perspective.
It all boils down to creating an environment where creativity can flourish, an atmosphere that encourages creativity.
The reward to cultivating a life bursting with creativity: the creative process will nourish you! Your original contributions may not radically change the world, but they will radically change how you experience the world!
Maybe you think you missed out on the creativity gene. That's a lie! Anyone can be creative! How creativity plays out for you may not look like it does for others. It will truly be a unique expression of who God made you to be.
Creativity won't just happen. It is something you have to be intentional about. The drift will always be to resume doing things the way you have always done them. And you will continue to get the results you have always gotten. I'm guessing you are ready for some different results!
How can you nurture creativity? Focus on your…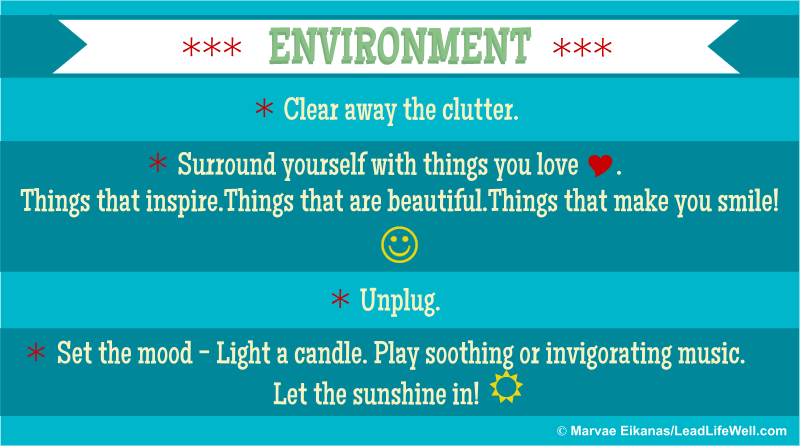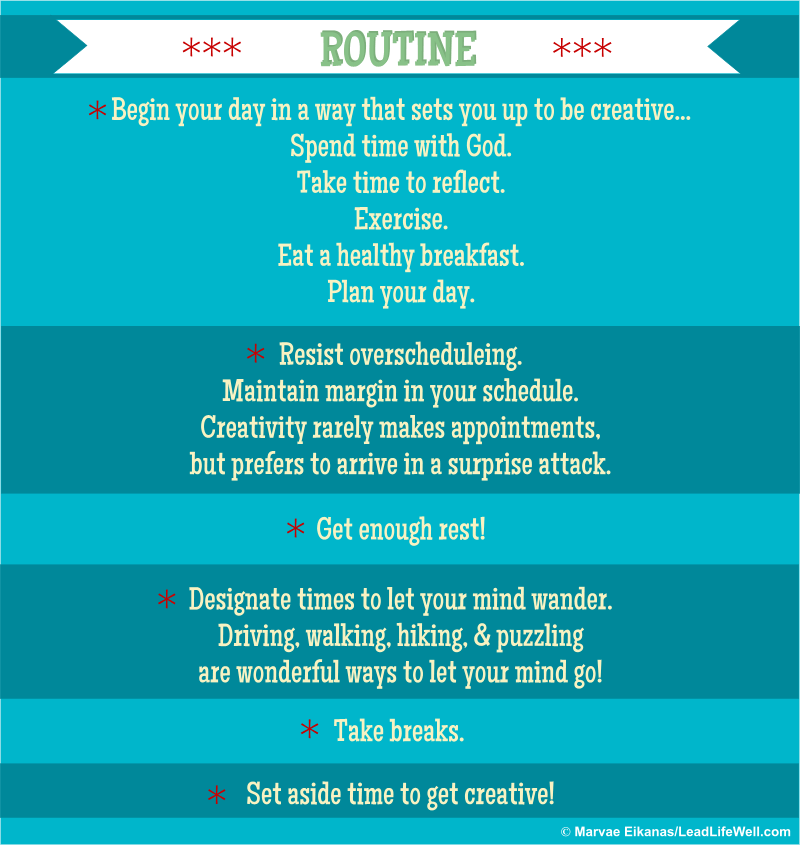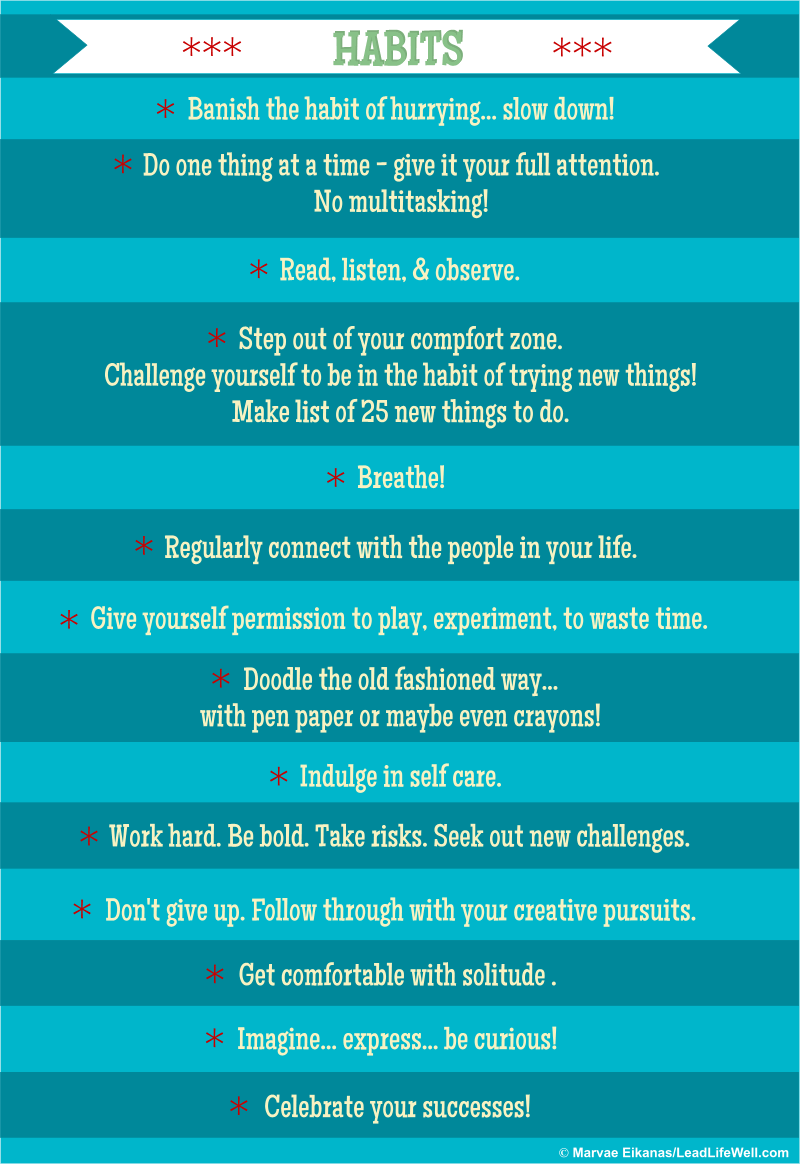 The temptation is to apply creativity to the obvious parts of your life, especially if you are a writer, artist, dancer, or cook. However, something remarkable happens when you infuse the areas of your life that don't immediately spring to mind with a little creativity.  How can you compose emails with creativity? Lead, clean, or parent with creativity? How can you jazz up your relationships with creativity?
What if creativity were to permeate your life? What if you focused on a different aspect of your life each week and intentionally "watered it" with creativity?
Just a heads up… any time you use a muscle in a new way you feel the discomfort of an activity you are not used to. It can be tender, stiff – not wanting to repeat the new exercise. Don't give up! Stick with it! I promise making the effort to be creative gets easier.
When you make one change, it triggers a series of changes. Nourishing creativity in your life may mean narrowing your focus and tightening up your priorities. While you may wind up focusing on less, you will actually accomplish more, all while enjoying the process! Who doesn't want that? And that shift will allow you to engage in activities that will make a difference!
Where in your life would a shot of creativity have the most profound impact?