Dreams Are Powerful – Keep On Dreaming!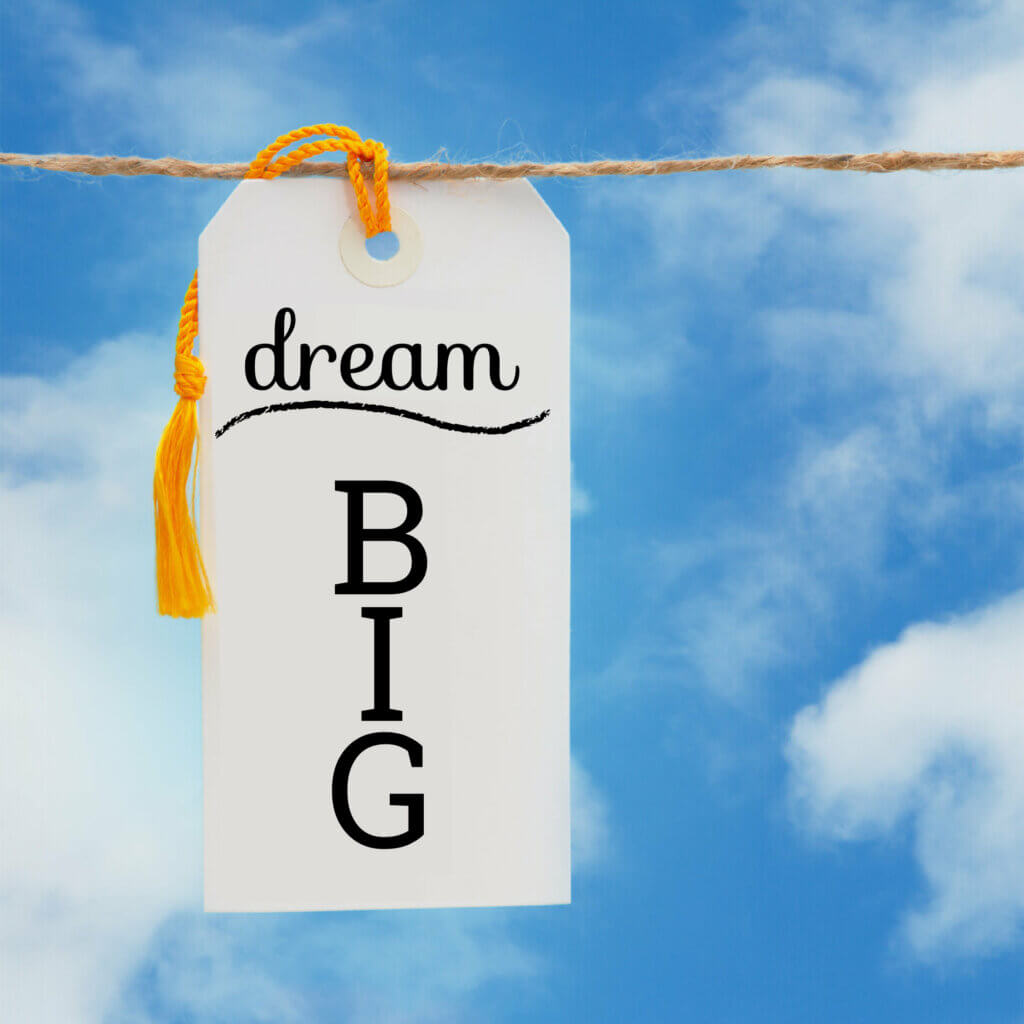 Dreaming – kids are natural pros when it comes to conjuring up lofty aspirations! They don't dream up wimpy, flimsy dreams. No! They believe that anything is possible.
When my children were young, they had wildly imaginative dreams. My daughter dreamed of being a party girl (I'm not exactly sure what that is, but she adores having fun!) or a Christian singer. My youngest son had high hopes of being Winnie the Pooh or hosting his own show on the Food channel. Like all fabulous dreamers, they didn't concern themselves with the details or the how, they just dreamed!
My Dream
Compared to my children, my own childhood dreams weren't nearly as fanciful. My dream – to be the CEO of a major company.
That desire lingered. I went on to pursue a degree in Business and Economics, intent on taking steps in that direction. However, a couple of years after I graduated from college I got married and three years later I became a mom. I confess that I was unprepared for just how rewarding being a mom could be, much more rewarding than any job I'd had up to that point!
When my kiddos were small, I had the opportunity to be on the staff overseeing children's ministry at several churches – all positions that were "mommy friendly." Not long into my first church leadership post I had the opportunity to start my own business writing and publishing Bible curriculum for kids. I was blessed – that business was a part of my life for 31 years!
Later, when my kids were teenagers, I was able to take on a more significant leadership role in our church. As a part of the Executive Leadership team, I had the opportunity to lead at a high level and invest in the other leaders in our church. Turns out that developing leaders was life-giving to me!
Time kept trucking on and as my kids began heading off to college one by one, my homeschooling responsibilities dwindled. I was entering a brand-new season in life and it was time to dream again! With my new found freedom, how would I invest the rest of my life? What was next, if anything? Would I continue in church leadership or transition to something new?
Time To Dream Again!
In that season, the concept of coaching repeatedly popped up. Working one-on-one with the leaders in our church was something that I'd been doing and very much enjoyed. With that in mind, I prayerfully took the leap! I quit my staff position and spent the next year and a half training to become a certified coach.
You see, the desire, the dream to do something significant never faded. As a child, I articulated my dream in terms of being a CEO – the boss, and that's what I was while on staff and exactly what I am now. Plus I get to do work that revolves around learning – something I do naturally and that enables me to make a powerful difference in the lives of other leaders, professionals, and entrepreneurs who are walking out big dreams. I'm blessed and living my dream!
When was the last time you allowed yourself the chance to dream?
Dreams are powerful! And guess what? The enemy hates it when you begin to take steps towards your dream. He doesn't want you to make a difference or do what you love. That's why when you bravely venture out, he will do everything in his power stop you. His goal is to get you to abandon your dream and settle back into the status quo.
The enemy wants to…
–> Deny Your Dream
There's no denying that pursing ginormous dreams is scary! It's easy to convince yourself that you are too busy, that you are not good enough, that you don't have what you need, or a million other excuses that convince you that you aren't up to a dream of that caliber. Those thoughts may be planted by the enemy, but you get to choose if you nurture them or not.
–> Delay Your Dream
Let's face it, the thought of pursuing a big dream triggers your fears, and when those fears get triggered, it feels safer to postpone the dream, right? But as long as your dream is on hold, you miss out on experiencing growth, joy, and so much more.
The truth is that a big dream is reached by taking a thousand baby steps and a whole lot of relying on God.
–> Disqualify You
The enemy wants to trick you into thinking you aren't worthy of your dream. What if people knew you struggled with "X" or that in your past you did "that"???
We have all sinned. There are places in our lives where we struggle. We've all made mistakes – it's a part of being human. There are areas where we are naturally skilled and areas where we are weak. And in spite of all of that, God still loves us deeply and is eager to work through us.
He is best able to do something amazing through you in the weak areas, so don't let that kill your dream!
–> Discourage You
Dreams are exciting! Setting out to make your dream a reality is thrilling, until you find bump into the obstacles! The first couple of obstacles are no big deal, especially after you overcome them, but dreams take longer to realize than you would ever guess. Along the way you get weary. Your excitement fades. You find yourself down and discouraged.
In my experience, discouragement is a regular part of the process. You have to expect it and keep your sights on your goal. That's why it's essential to surround yourself with supportive people including a coach, and relentlessly keep seeking God.
Here's the good news: even though the enemy likes to thwart your efforts in the dream department, God uses everything for our good and His glory!
You must trust that God will give you everything you need to embrace your dream.
Dreaming
When it comes to dreaming, have you gotten a little rusty?
Has your grown-up side stifled your dreams or tried to reduce them to a more manageable but far less impressive size?
If God is in the mix, your dream won't be small. Oh no! It will be a somewhat terrifying grand dream!
Ready to dream again? Here are some ways to awaken that child-like dreamer in you:
1. Slow Down
Dreaming requires space and rarely occurs when you are moving at the speed of light! You must slow down and eliminate some of the activities in your life in order to dream.
Rather than worrying or being anxious, why not invest that time in dreaming?
2. Ponder & Pray
Consider the major events in your life – pivotal moments that might inspire your dream! Sometimes the most challenging moments in your life are springboards for dreams.
What are your strengths/talents and Spiritual gifts?
What are you passionate about?
How does your personality and/or thinking preference connect with your passion?
What breaks your heart?
What makes you truly come alive?
Clarify, ponder, and pray about your answers to these questions. What is God whispering to you? What does He keep bringing to your attention?
3. Brainstorm
Make a list of 100 possible dreams. Write them all down. Don't try to figure out all the details, or what's possible, just get them on paper. Think bigger! Be boldly reckless!
4. Ask!
Yes, ask the people who know you best and that you trust about what makes you unique – different from others? What are some ways they imagine God using your unique qualities in a big way? Their answers may surprise you and invite your big dream to take shape.
5. Journal
Put your dreams down in writing, then, explore your dreams with questions like this: What would this dream look like if you…
Dared to dream bigger?
Were certain you wouldn't fail?
Dreamed in light of your full potential rather than your current abilities?
6. Create a Dream Board
Put together a dream board that reflects your skills, passions, experiences, spiritual gifts, etc. This process encourages you to be creative and you'll end up with an amazing visual to help shed light on your dream. Alternatives to a dream board: doodle in a dot journal or write a poem – whatever is your most creative way of dreaming!
Here's the Beautiful Thing
You don't have to have everything figured out before you begin pursuing your dream. Chasing a dream is about doing life with eyes wide open so you don't miss opportunities and a whole lot of trusting God.
When I set out to become an ICF certified coach, I had no idea how much work or how challenging it would be. If I'd known, it would have kept me from stepping out into a career that I find incredibly fulfilling!
You might think it's easier to play it safe and resist dreaming or all the hard work, but you don't want to look back on your life with regret, right? That's a much harder place to be!
What's keeping you from dreaming?