8 Amazing Tips To Help You Vision Cast Successfully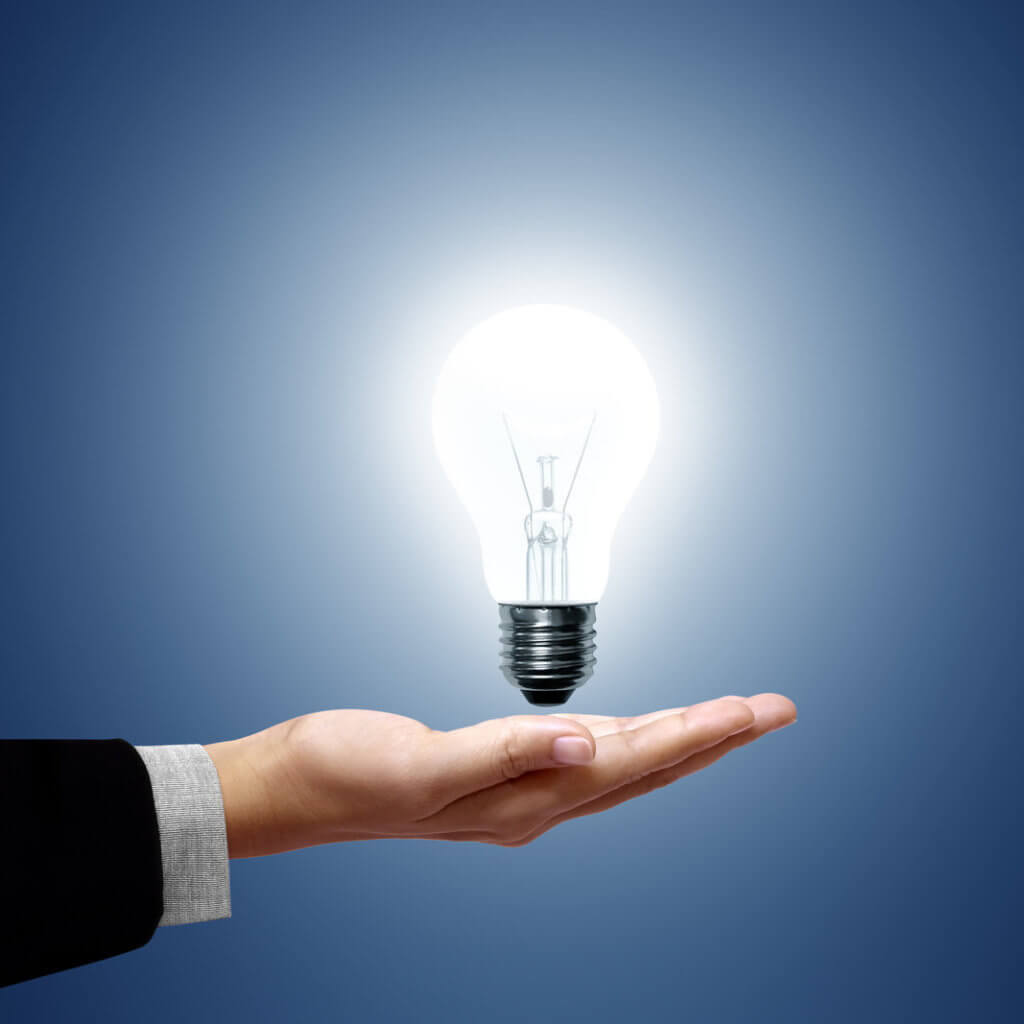 Over the last few months, life and work have changed dramatically worldwide. What was, no longer is. That makes right now a crucial time to re-examine your vision and how you cast vision with others in your organization or those you are seeking to attract.
Andy Stanley describes vision this way: "Vision is a clear mental picture of what could be, fueled by the conviction that it should be."
It's common knowledge that a vision must be relevant, motivating, and memorable. There is a difference between Vision, which is about your focus and what you want to achieve in the future, while Mission, which is about your focus today and what you will do to reach your goal. Both are important, but today we will be taking a closer look how to cast vision more successfully. After all, the success of your organization hinges on vision so here are some tips to help you cast vision more successfully:
1. Journal
It's no secret that I am a big fan of journaling. If you are creating your vision for the first time or re-creating it for these times, journaling and answering questions like these is a fantastic way to gain clarity so that you can communicate more your vision in an articulate way.
What's your purpose or the purpose of your organization?
What's your vision?
What's your mission?
What values and/or principles are guiding you?
What makes this vision compelling or why does it matter?
Who are you targeting?
What strategy is needed to carry out the vision?
What strengths will be needed?
Who possess those strengths?
What will the key objectives be?
How energizing is the vision?
How can you make the vision visual?
Consider the vision from these points of view: the sender, the message, and the receiver.
The more thought you put into your vision statement, the more likely it is to be successful. And once you feel you've come up with something that works, don't be afraid to share it with others and really listen to their feedback.
2. Keep It Simple
Less is more! You don't want a wordy and over-complicated vision that's forgettable. You want a short, sweet, and memorable vision – something that sticks!
3. Make it BIG & Believable
Remember the story of Goldilocks? That's where the "Goldilocks Principle" comes from. You don't want a vision that is too BIG and unattainable, and you don't want a vision that's so puny it's practically possible right now. You want a vision that is "just right". Your vision is just right when it is big enough to be out of reach and take some effort, but not so big that it's truly impossible to achieve. You can't change the world, so a vision that suggests you will is too big. Changing your corner of the world, that will take effort, but is much more believable.
4. Get Inclusive
It's a new day! Proclaiming a vision from the top requires that you constantly sell your vision. If you want your vision to take off and stick, collaboration of your team is essential. In fact, the more people involved in co-creating the vision, the greater the chance that they will take ownership of the vision. So, if possible, include others in the process at every level.
Language is powerful, so be sure that you communicate the vision from a "We" stance rather than an "I" stance.  "Here's where we are going" feels like more inclusive.
5. Connect The Dots
In order for a vision to be compelling, you must help everyone in your organization understand how the role they play connects to the vision and why their role matters! Don't assume they know.
Yes, the organization's vision is critically important. However, if you want to increase the odds of making that vision a reality, you must understand what the personal visions of the people on your team are so that you can look for ways to connect the two visions. Linking the individual visions to the organization's vision packs a powerful punch!
And don't forget to do the same for the individuals outside your organization!
6. The Personality Piece
You can't ignore the way your personality impacts the way you cast vision or the way others best receive vision. Here's something to help: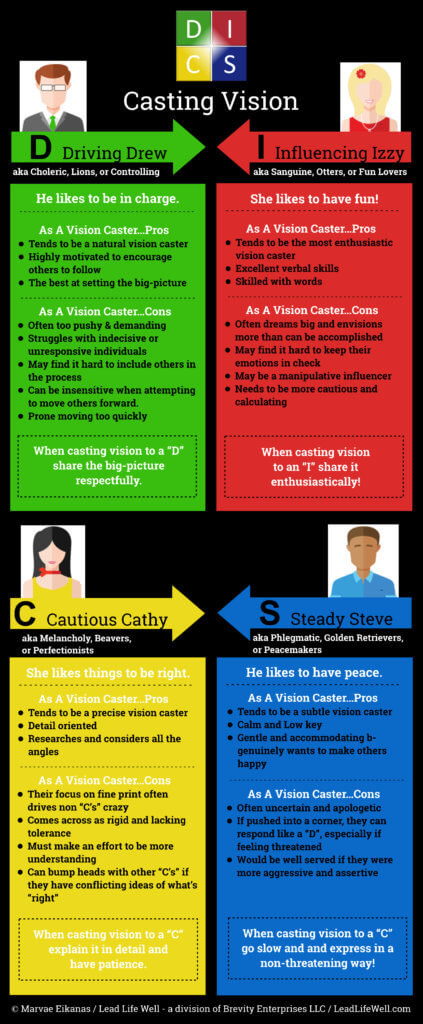 7. Communicate With Thinking Preferences In Mind
We naturally communicate in keeping with our own thinking preferences and that applies to vision too. Learning to express vision with all four thinking preferences in mind ensures that you aren't missing anyone. You can learn more about HBDI Thinking Preferences here.
Even if you are not familiar with thinking preferences you can appeal to all four thinking preferences by answering the questions of fact, future, feelings and form or if you prefer what, why, who, and How. Which set of questions you use will depend on the situation. These templates are incredibly helpful in communicating in meetings, marketing, and more!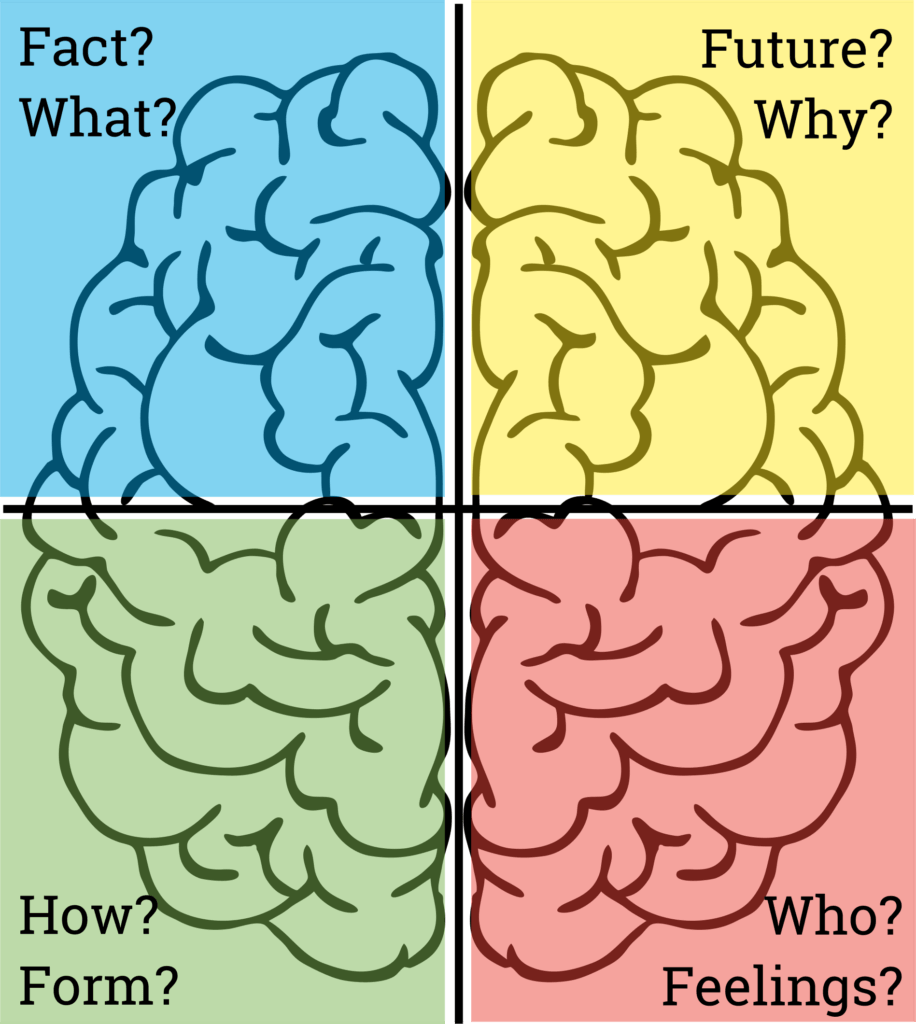 8. Sprinkle Vision Everywhere!
We forget! We drift. We get distracted! Weaving the vision into everything keeps it alive. Keep sprinkling the vision everywhere! When the vision dims, it is as if your people are working in the dark. Each time you sprinkle the vision, it's like shining a light on your vision.
Unless your vision is caught, all your vision casting efforts are in vain. Casting vision successfully is a lot like juggling – it takes practice! While involving others in the process takes more time and tends to be bit messier, it's also more successful!
What's worked for you when it comes to casting vision?