5 Fresh Perspectives to Help You Succeed!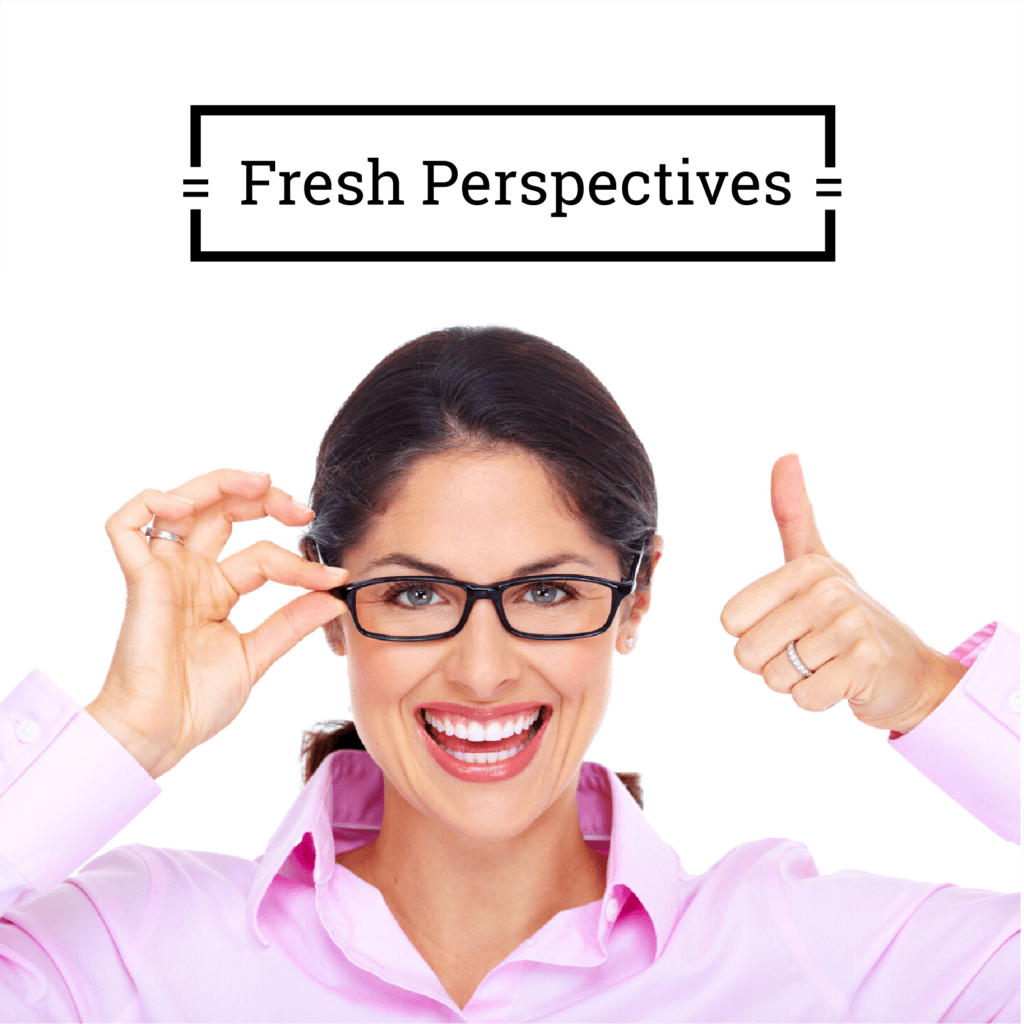 Perspectives – they play a pivotal role in your success or your failure no matter what you do! Maybe it's time to correct the way you see things – maybe you need…readers!
There are some amazing perks to getting older: more flexibility in my schedule, a wider range of experiences to draw upon, and grandchildren, to name a few.
There are also some not so sweet bits about getting older. Perhaps the most maddening is the need for readers. Yes, readers! Without them, I feel like a child: illiterate. Readers take blurry, out of focus scribbles and turns them into clear letters that form words, paragraphs, and even chapters in books. With readers, reading labels while grocery shopping becomes a breeze. And readers make it possible to paint creative details in crafting projects – no more painting blind.
Keeping track of readers – now that's another story. And the amazing fashion statement they make – don't get me started!
Humbling…yes, the need for readers is a bit humbling, but I'm ever so grateful to have them.
Perception Correction
In life, the way you see things – your perspective – may be out of whack and you don't even realize it. You have no idea what you are missing and that's dangerous! Perspectives are what's behind your choices, actions, feelings, and more.
Without my readers I flounder! And without a perception correction, you will flounder too. Here are just a few of the perspectives people wrestle with…
The Mom Thing
I can't do anything significant. I only know how to be a mom. No one will take me seriously in the professional world. (Never mind you are a master juggler, scheduler, morale booster, and more!)
Success
That's for everyone else, not me! I don't have the experience, knowledge, connections, confidence, etc. to do something big, significant, or successful.
I Am What I Do
Which means you are perpetually trying to do more, more, and more to prove yourself.
Stuck With This Body
Being a healthy weight – I just don't have that kind of metabolism, body type, discipline, or self-control to make that happen.
The Man/Woman thing
That's not a role for a man/woman in mainstream Christian circles. Who God created me to be is not valued or accepted. A woman should not lead or a man should not stay home and care for children, etc.
_____________ – you fill in the blank: there are many, many other beliefs that hold you back!
While you may relate one or two of the above beliefs, I have faced them all! And those perspectives have kept me from being all that God created me to be, until I adopted a fresh perspective!
What would be different if you viewed your life or work through a fresh lens? Here are five lenses worth trying on:
1. Your Uniqueness
It's easy to focus on flaws – they seem glaring to us! What flaw has captured your attention? Do you believe you don't measure up? That you aren't good enough? Maybe you believe you don't fit the image of what is currently fashionable or acceptable. Or that you pale by comparison to everyone else. Whatever flaw you are viewing life from – it's holding you back! It's a destructive way of seeing me!
Instead, choose to fully embrace the unique and wonderful person that God created you to be. See yourself the way He sees you. There's no one else like you – no one!
Lean into the strengths of your personality; let your skills, talents, and potential shine. Appreciate with enthusiasm what your life experiences have taught you – even though difficult and painful experiences! Reframe them to highlight the positive aspects of who you are.
The bonus: the more I view myself through the lens of "I'm unique," the more I see you that way too! When I value me, I'm secure enough to value you.
2. Your Values
When your values are blurred, navigating life is like driving in the fog. Making progress is a slow and challenging process! Sometimes you are forced to pull off and stop altogether. Wrong turns and running into obstacles – that's more likely to happen. And you'll be more tempted to adopt the values of those around you.
However, when your values are clear, the path forward for YOU is more obvious enabling you to go full speed ahead, bypass wrong turns, and dodge obstacles.
What are your top five values?
3. Your Character
Image, material possessions, wealth, etc. are just some of the lenses that the world sees you through. Social media only intensifies that perspective. As a result, you try to manage the way others see you by posting your best bits or avoid posting anything online at all. You gauge the approval of others by how many likes or follows you get. And you find yourself sucked into the comparison game even though everyone else is managing what you see too. It's work! It's exhausting!
Social media isn't the only place you try to manage your image. Anything you do to gain the acceptance of others – that's image driven. And image is like fashion – what's in today will be out tomorrow!
Rather than viewing yourself and others through the lens of image, choose the lens of character. Being a person of character never goes out of style! The perk to focusing on character is that it has a way of shifting your perspective in ways that encourage growth by positively impacting your attitudes, behaviors, relationships, and more. And do you know what's incredibly appealing? The combination of authenticity and character!
Viewing yourself through the lens of character, nudges you to be more honest about where you need to grow so that you are able to make changes that prepare you for all that God has for you.
4. Your Boundaries
Leaders, professionals, and entrepreneurs are notorious for overextending themselves, in part because they don't want to miss out opportunities or fail to reach a goal. They have a tendency to view boundaries in a negative light, but boundaries are very good! They actually protect you – your time, energy, responsibilities, and so on. Boundaries are limits and limits spark all kinds of creativity, leading to better outcomes and ways of doing things than you would arrive at otherwise.
What's your perspective on boundaries?
5. Your Identity in Christ
When you belong to Christ you are 100% loved and 100% forgiven. You can't be loved by Him any more and He will never love you any less! You are free! As a son or daughter of His He is tickled by who you are – He delights in you! After all, He created you with great care, fashioning you just so to reflect Him in a one-of-a-kind way!
If the God of the universe looks at you this way, how can you view yourself any other way? Of course, there is room for growth, places you still need His help to more fully walk out your identity in Him, but knowing you have the approval of the King – that's pretty amazing! Who needs the approval of others? He's there to help and guide you and all that adds up to a serious perspective shifter! Operating from that loved place gives strength and courage so that you are able to see the scary and uncertain circumstances that come your way differently.
What fresh perspective would serve you right now?