Solving the Puzzle of Life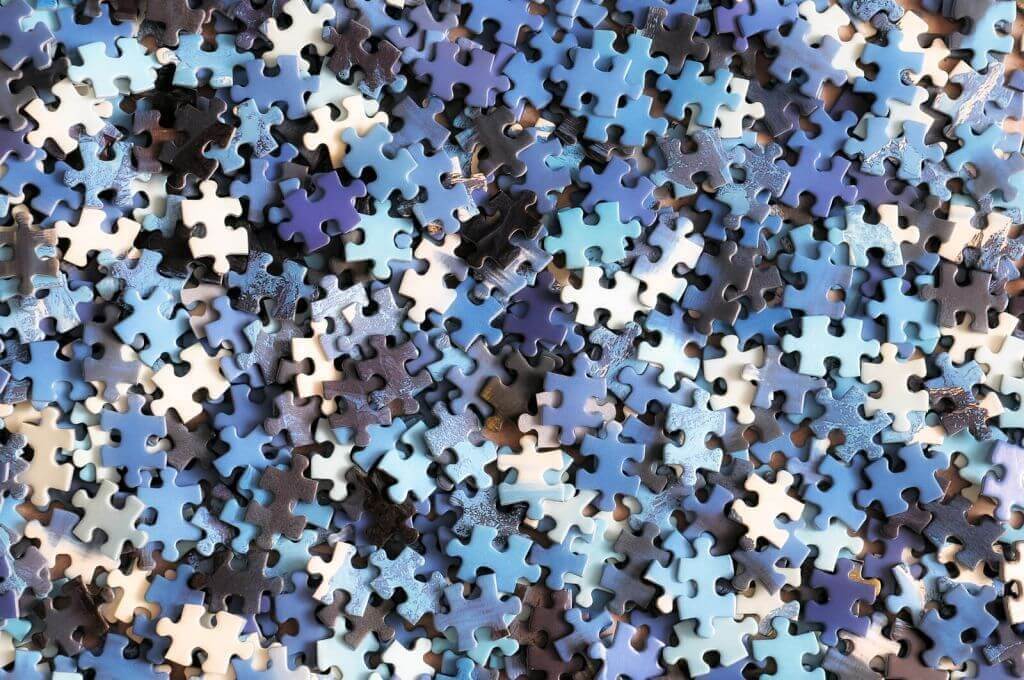 Putting puzzles together in my spare time is one of my favorite activities; the more pieces and the more challenging, the better. It allows my mind to focus on the task at hand and to wander and ponder all at the same time.
In keeping with the kind of person that I am, I have a system for putting puzzles together.  First, I complete the boarder, sort by color or texture as I go, and then I start in the most obvious spot and work my way out from there. The most important part of my system: place the box lid with the picture on it standing on edge and facing me.
There are some fascinating parallels between life and puzzle assembly. Life is like an unassembled adventure waiting to be put together piece by piece. My values, gifts, strengths, passions and calling create the framework for my life like edge pieces do for a puzzle: a clear boundary.
I am blessed to have space where I can leave a puzzle out and available to work on for long periods of time. Some weeks I have the luxury of working on the puzzle every night and other weeks I don't even touch it. Assembling the pieces takes time. It happens little by little. It occurs in fits and starts. Slowly but surely, the puzzle comes together.
Without the lid with the picture, the process of putting the puzzle together would take twice as long and be considerably more frustrating. It is seeing what the puzzle will look like in the end that gives direction to the process.
Having a vision and mission statement for your life is much like the colorful picture of the puzzle on the lid. It provides clarity so you know what your life should look like. In life, the process is not always as tidy as it is with a puzzle. Sometimes we only have part of the edges in place, a few sections of the middle completed, and no clear correlation to the picture on the box. No matter how your life unfolds, all of the pieces are important, and it is much simpler once you have the picture in place.
A vision statement is big and general. It is a sweeping statement that describes what your life, family, ministry or business will be about. It should seem too big or even impossible for you to accomplish on your own. It is the overarching theme. The vision for your life may or may not be the same for your family, ministry, or business. The shorter and easier it is to remember the more likely you will be to apply it.
A mission statement describes the specific actions you will take to accomplish your vision. It will bring focus and give direction to your life, family, ministry or business. Just like with the vision statement, the shorter and simpler the statement the better.
Ready to create a vision and mission statement? Here are a few things that will help you through that process:
1. Pray!
Ask God to show you what He desires for your life, family, ministry, or business to be about? How are you to walk that out?
2. Listen to what God is telling you
Be patient. His timing is perfect.
3. Think about your life up to this point
What experiences have you had that might help others? What are you passionate about? What are your core values? What are your spiritual gifts? What are your strengths and talents? Write the answers down. Your vision and mission will flow out of these answers.
4. Dream!
On another sheet of paper, write down everything that comes to mind that you would get excited about doing or being. The bigger the better! Don't worry about the details – how you would accomplish your dreams – just let them flow. Push yourself. Try to come up with a list of at least 100 things.
5. Marinate on things
Don't rush the process. Be patient. Be persistent! Keep praying, listening, thinking, and dreaming. What is the common thread? When your vision and mission statement come together you will know it! It will fit!
When I put the last piece of the puzzle in place the first thing I want to do is celebrate! It is pretty exciting to get 1000 pieces in the right place!
Discovering your vision and mission statement and seeing your life come into focus is exciting too! A moment to celebrate! Don't let that be the last step. Begin assembling the pieces to help your life match your vision and mission. As your vision, mission, and life align, it will lead to a more meaningful and fulfilling existence. In the end, isn't it purpose we are searching for – the chance to make a difference?
How about you? What is your vision and mission statement? How have they provided a framework for your life, family, ministry or business?
Still in process? Working with a Certified Christian Life Coach is a wonderful way to navigate the process of determining your vision or mission statement.