Learning to Trust the Process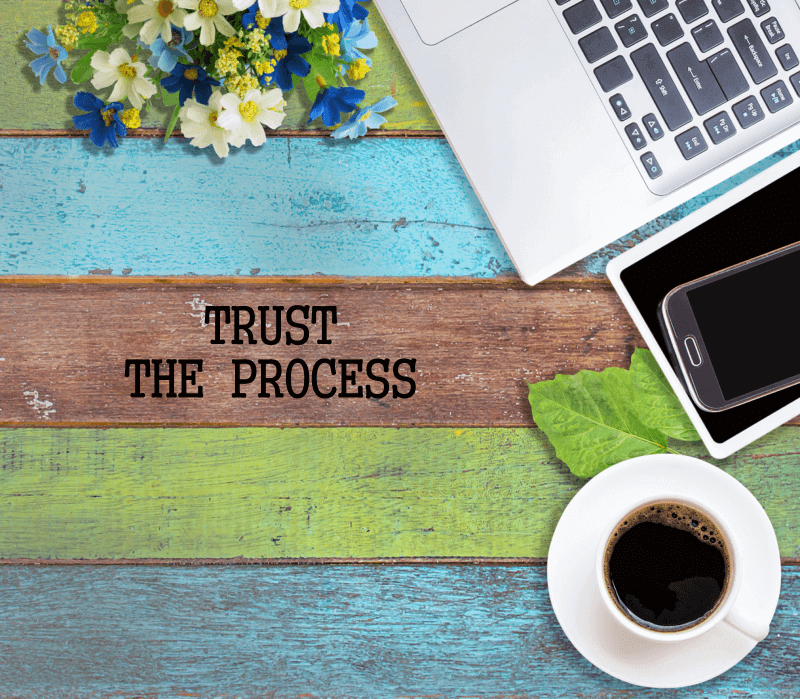 My adventure with self-employment began when my kids were very young. It is hard to believe that was more than 25 years ago! The life of an entrepreneur is not for everyone, but I adore the freedom, flexibility, in addition to the chance to be creative. Self-employment also comes with some challenges! Sometimes you have to do tasks that don't come easily and there is the need to make money – ne regular paycheck awaits!
Lately, my concept of self-employment has taken on a whole new meaning. God has been whispering (He's always so polite!) that in reality I am not self-employed, I am "God-employed." He wants to be my boss.
Oh, I seek God on a whole host of things in regards to my two businesses and desire His direction. I freely share with Him my fears, hopes, and dreams. It is my heart to honor Him in the work I do.
And then there are days – nearly every day, where I start the day out with things I think should be done on my to do list, and the energy and focus to get them done, and then day takes on a life of its own! One unexpected thing after another crops up, distracting me from the important things I set out to accomplish.
Sometimes I fight back by working harder and longer. By sheer grit, I will get done what I set out to do – that's exhausting! Sometimes I get discouraged, which never helps! It clouds my thinking and seriously affects the quality of my work. Sometimes I get angry – beware to all who are near!
Again He whispers to me, "You work for Me. Trust Me. Trust My process."
"Trust the process" was a phrase that was repeated over and over again while I was training to be a Certified Christian Life Coach. For me, that phrase meant surrendering to the various steps even when they didn't make sense and trusting in the end that it would all become clear. And it did!
It takes great faith to yield my day to God and trust that each and every little hiccup in the day is a gift from Him. As my boss, He knows just what needs to happen and He is carefully setting me up to do well. In His infinite wisdom, He is leading me to the people He has hand-picked for me to work with. I am seeing how He is molding me and shaping me through the process in ways that will help me to better reflect Him and bring Him glory.
God is freeing me from the burden of having to be wildly successful in the way that most might define success, and releasing me to be simply obedient; to follow His lead. If I am willing, His heart is for me to slow down, relax, and stay in step with Him. And His pace – it's much, much slower than mine. It is considerably more strategic, and yields all kinds of fruit I could not have even imagined!
The challenge for me: Keep my eyes on Him and make space for Him to work.
When I am running the show, being productive is my goal. That comes naturally to me. It is actually peculiar for me to go slow and fully embrace the interruptions that come my way. To "trust the process" in those moments requires me to fully depend on Him, and I think God likes that! When I relax and give my full attention to the crazy interruptions that pop up, that's when I demonstrate that I am confident that He is at work for good in my life and in my work. While it may not make sense in the moment – there is a valuable reason for what's happening.
I can't say that I have 100% mastered surrendering my days to Him, but I am making progress. It is a day by day, minute my minute, journey! What I can say is I am learning so much! Here are just a few of those nuggets:
1. Fix my eyes on Him
To help deal with the pain of childbirth, a focal point is often used; an object that you fix your eyes on to enhance relaxation and concentration. Sometimes it is a physical object, other times it is a mental picture.
While I need to keep my eyes on Jesus at all times, I definitely need to fix my eyes on Him when life is painful and feels out of control. Like having a focal point in labor, it will encourage me to relax and to concentrate on His faithfulness. It will preserve my perspective.
When it comes down to it, I am to live from Him, not for Him. Keeping my eyes fixed on Him reminds me that He is my source.
2. Make space for Him
In my productive mode, checking things off my list of things to do brings me great joy! However, I am learning to find the same kind of joy in handling the surprises in my day with care. I love being able to look back over my day and know that the two interruptions He sent my way were divine opportunities to make a difference in the lives of others that I didn't miss! In part, making space for Him in my day is about my perspective. It is also about me not overloading my day with tasks; choosing to do less and to work smarter.
3. Practice being more loving… like Him
God is love. If I know Him then I will love others. (I John 4:8)
I Corinthians 13:4 describes love like this: Love is patient, love is kind. It does not envy, it does not boast, it is not proud.
And when I am impatient in my pursuit of my goals, the things on my to do list, or with those that God brings my way, I am not being loving! This is not pleasing to Him. He cares as much about how I accomplish my goals, if not more, than if I accomplish my goals!
4. Lean into my purpose in Him
God has very clearly shown me what my purpose is. It is to serve my family, to influence leaders, and to point children to Him. While my businesses are directly connected to my purpose, God also wants me to be available to walk in my purpose even when it is not business related. He yearns for me to follow His lead and trust that He will provide.
5. Be still – trust Him!
Often when I am still God does big things! It is actually pretty crazy! That isn't a reason to sit back and be complacent. It is about being faithful with what He's given me to do and taking time to still. It is about doing my part and trusting that God will do His part.
I often want to fast forward, skip this part, or force things to happen. Meanwhile, God is eager for me to relax, trust Him, and let Him be in charge! And to remember that I am "God-employed."
You may be self-employed just like I am. Or you may have a job, be a parent, retired, or be unemployed. No matter what position you find yourself in, you too are "God-employed!"
What would change for you if you were able to trust the process? Or if you took to heart the idea of being "God-employed?"

© Can Stock Photo / rutchapong