5 Tips to Help You Survive the Ups & Downs of Life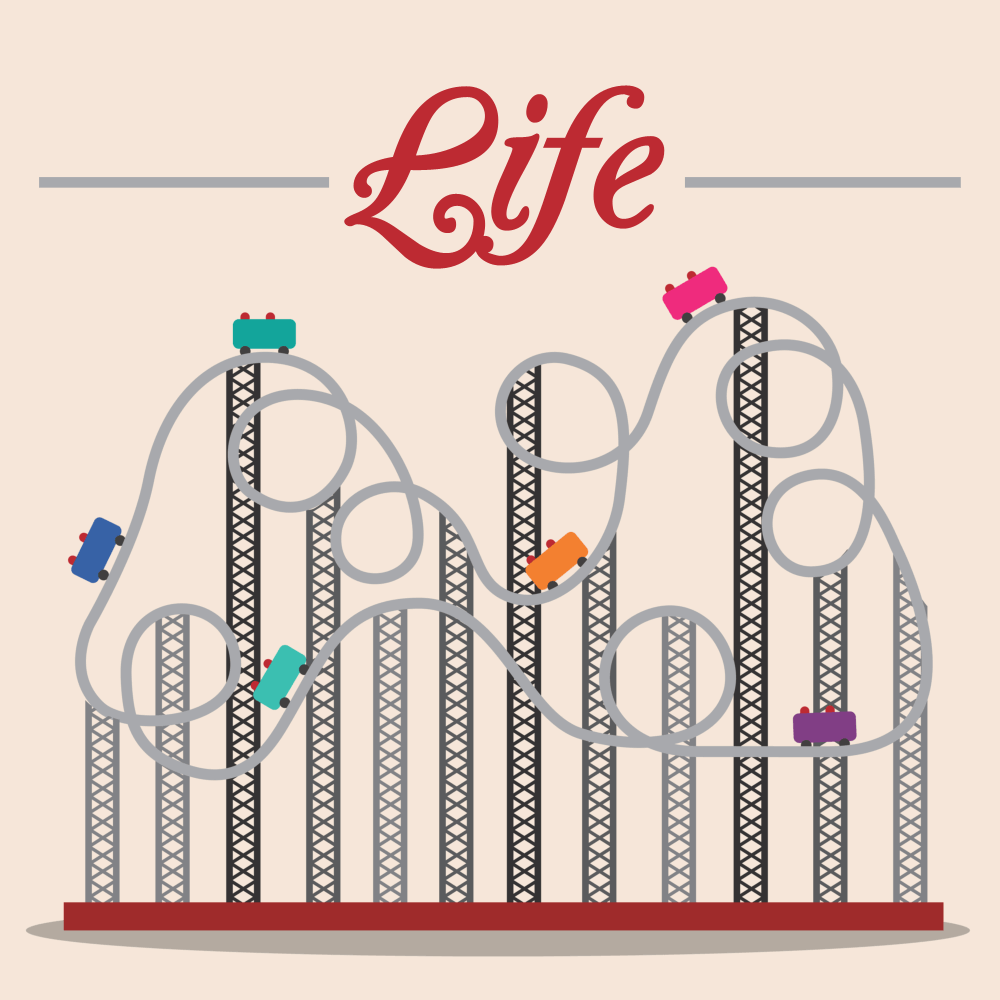 When I was a teenager growing up in California, summer became official when these three things took place: a day at the beach in Santa Cruz, a week of camp at Alliance Redwoods, and riding the roller coasters at Great America with friends. These things brought me joy!
All these many years later, I still fancy the beach, although I prefer more shade. Getting away for a week is delightful – especially if the hotel is comfortable and bit on the luxurious side. Riding roller coasters on the other hand – that just doesn't interest me. The uphill climb followed by a wild, stomach-dropping decent is just too much for me.
Perhaps part of my aversion to roller coasters these days is that they resemble real life a little too much. Maybe you have experienced it too. One minute, everything seems to be going your way – you get that new client, close that big deal, or happen upon a golden opportunity. Just when you think all is well, suddenly life takes a steep dip down – your biggest client moves on, you get passed over for a promotion, or you discover you have made a costly mistake.
To make matters worse, that roller coaster feeling is not isolated to your professional side – there are ups and downs in your personal life as well. And since we are integrated people what happens professionally, affects you personally, and vice versa.
You know the details of your own ups and downs. You know how they rock your world! You have experienced the joy as well as the immense frustration!
Are you yearning for a life free of wild ups and downs?  Void of tummy tickling moments? Guess what! That's possible!
Here's how:
1. Expect Ups & Downs
There really is no getting around the fact that life has highs and lows. Chalk it up to the fall! The good news is that knowing that highs and lows are "normal" softens the lows and makes you more mindful that highs are temporary. Rather than focusing on the ups and downs, turn your attention to your purpose and concentrate on obediently walking in it regardless of how heart-pumping your ride is. I can tell you from experience, resisting the urge to give in to your feelings takes practice. It requires you to depend on God and He longs for you depend on Him that way!
2. Be Grateful
Yes, you read that right. You see, the ups and downs of life are a gift. They reveal what's important to you. The fact that you have strong feelings around what's happening is a clue that you are pursing something that you are passionate about – something that really matters.
The highs and lows of life provide opportunities to grow, stretch, and develop into the person you need to be in order to walk more boldly in the purpose God has in mind for you.
Resenting the roller coaster ride – that will hold you back and keep you stuck!
And the ups and downs help us to rely more fully on God – that's when we are at our best! Who doesn't want that?
But he said to me, "My grace is sufficient for you, for my power is made perfect in weakness." Therefore I will boast all the more gladly about my weaknesses, so that Christ's power may rest on me. That is why, for Christ's sake, I delight in weaknesses, in insults, in hardships, in persecutions, in difficulties. For when I am weak, then I am strong. 2 Cor. 12:9-10
3. Lean Into Your Feelings
By lean, I don't mean allowing your emotions to control you, but rather noticing and validating your feelings. They are how you feel. Then step back and take a cold hard look at what's transpiring. Feelings are the result of your perceived reality. It does not mean that your feelings are reality. Investigate: are your feelings telling you the truth or has your imagination gotten a bit out of control?
Observing your feelings can also help you to identify your core fear – the trigger that sets you off. If you are like most people, the same fear is tapped into each time you feel like the roller coaster of life just took a big dip downhill. Do you identify with any of these core fears?
You are a loser
You are incompetent
You don't matter
You are rejected
You are not enough
You are selfish
You are stupid
You are lazy
You are weak
You are ordinary
You are a fake
You are… __________________
Once you are able to recognize your core fear it will help you to put your circumstances into perspective.
Overcoming your core fear does not happen when you put effort into trying to be the opposite of your core fear. In other words, if your core fear is that you are a loser, trying to be a winner is not the solution. Your core fear will have less power over you the more you lean into who God created you to be. Who you are at the core will be a specific aspect of God's character such as loving, courageous, compassionate, authentic, or generous – you get the idea. It is how you are at the core when you allow God to shine through you. When you focus on living from that place, everything changes. Curious about how God created you to reflect Him? It would be a privilege to help you discover who you are at the core.
4. Resist the Urge to Blame Others
When things go wrong, you want to blame someone else. However, in order for genuine growth to take place, you have to take responsibility. How have you contributed to your unfortunate moments? What can you do differently? What have you learned?
Keep in mind that sometimes there really is no one to blame. Your fridge will break and things will get cancelled. It's just part of life.
And while blaming someone else might make you temporarily feel better, no one can make you feel anything unless you choose to give them permission.
5. Resist the Desire to Take Credit
When things go right, really right, taking the credit is tempting. While no doubt your strengths and hard work have contributed, anything you are able to accomplish is because God has allowed you to. Your successes are meant to glorify God.
Every detail works to your advantage and to God's glory… 2 Corinthians 4:15 (MSG)
The more you take credit for your accomplishments the less you will depend on Him. If you are going to handle the wild ups and downs of life effectively, you will need God's help!
A steady leader in turbulent times is a sought after leader! One who is able to handle the highs and lows as well as the twists and turns of life. When you understand that God really is in control and that He is lovingly at work on your behalf it makes it easier to focus on your purpose rather than being distracted by the ups and downs of life.
And we know that in all things God works for the good of those who love Him, who have been called according to His purpose. Romans 8:28
For you, is the roller coaster of life an anxiety producing experience to be avoided at all cost or have you come to appreciate the awareness and growth the adventure offers? What needs to change for you to manage the ups and downs more gracefully?