What's Trending: Productivity or Play?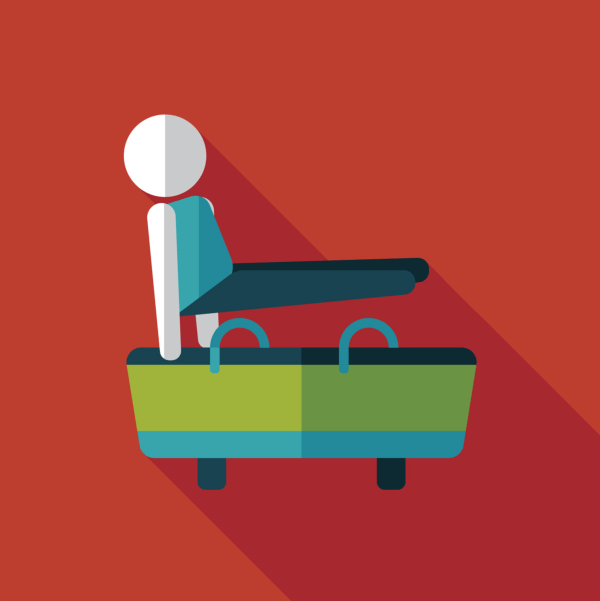 There's been a little buzz online around the idea of being unproductive lately. The author of one article boasted of wasting time – extended shopping sprees and daydreaming. She proudly stated that she spent "full-on days wasting time."
Another article suggested that the productivity improvements he implemented cost him dearly. While he was able to work smarter and faster, there were some serious downsides: the impact his out-of- control schedule had on his relationships.
The way I see it: there is a tension between productivity and play. We need both!
A similar tension exists keeping a healthy body – it requires both strength training and flexibility training.
Strength training is important because it plays a role in boosting your metabolism and keeping weight off, protecting your bones and building muscle mass, while improving balance and coordination. That's not all; it is also useful in increasing your energy level as well as preventing diseases like diabetes, arthritis, and osteoporosis.
No less important, flexibility training has a destressing effect on your joints and enables them to move more efficiently. It improves your posture, optimizing your circulatory, respiratory, and neurological systems.
When it comes to an ideal balance between strength and flexibility, picture a gymnast.
Focusing on strength only will leave you inflexible, tight and prone to injury. Concentrating on flexibility only and you will lack muscle mass and the benefits that accompany it. Ideal health is found when the two are working in tandem.
Leading well requires both productivity and play working together. In order for that to happen, you need discipline, priorities, and boundaries. A leader lacking these key elements: workaholics or daydreamers. Both extremes face negative consequences.
A gymnast works at increasing both strength and flexibility. It doesn't just happen!
Successful leaders – they also have to be intentional about weaving both productivity and play into their lives. That requires being intentional about how you use your time; not just sticking to your schedule, but investing your time in your highest priorities. Resisting the temptation to let the urgent overshadow what really matters.
It is also crucial to know what play looks like for you. For some it will be reading a book or spending time with family and friends. For others it will be hiking or engaging in a creative activity. Whatever it is, it should be an activity that is energizing and that you enjoy. A "want to" activity rather than a "have to" activity.
Here's what that takes: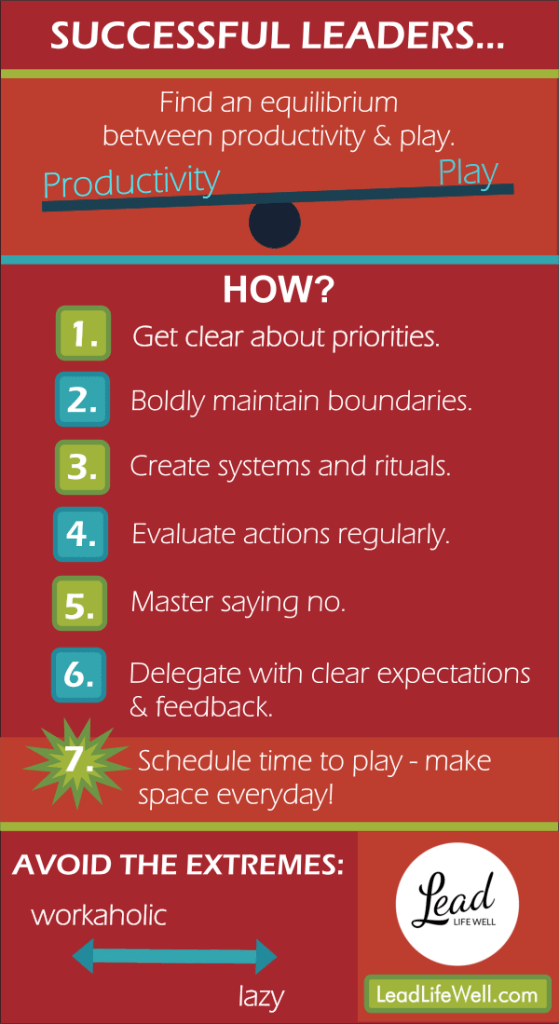 Too much play and nothing gets done while too much productivity ends up being counterproductive.
How would you evaluate the time you spend engaged in being productive versus play? Right now I would describe my life as 80% productive and 20% play. That's not enough play for me! A lack of play contributes to stress and frustration and who needs that? I am taking steps to not only incorporate more play in my life, but also to approach work from a more creative place that feels more like play!
Gymnasts are pound for pound among the strongest and most flexible athletes. And a leader who maintains a healthy tension between productivity and play is worth their weight in gold! Why? Because odds are they not only get stuff done, they have a better attitude and are more fun to be around while they are doing it!
How about you? Do you gravitate towards productivity or play? What changes do you need to make?