What's Your Go To Question?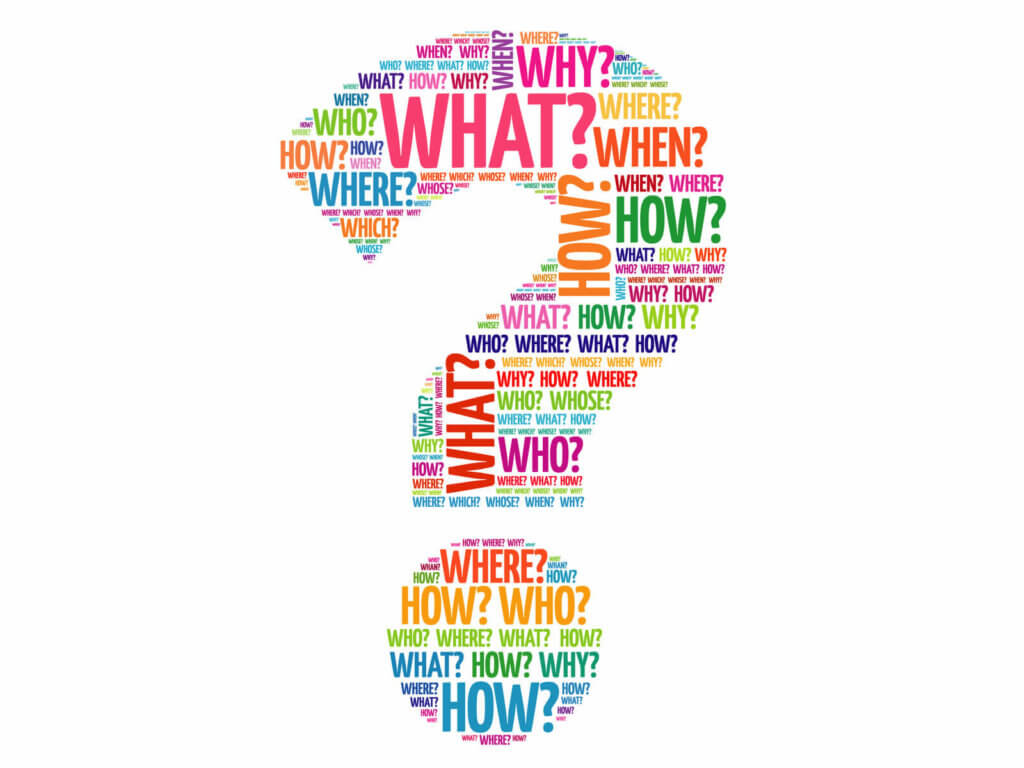 Everybody has their own story and unique motivations that prompt them to do what they do. That's why I enjoy character driven movies, biographies, and meeting new people. People are fascinating!
Getting to know someone new is like unwrapping a gift – you just never know how their life will impact and change yours. Sometimes it isn't even getting to know someone new, but taking the time to go deeper with someone you already know and discovering a side of them that you didn't know existed.
Lately, I have been noticing a sad phenomenon. Perhaps a habit that social media has fostered or maybe it is the fruit of a life stuffed with activity. Whatever the cause, more and more conversations have less and less give and take to them. In my mind, a great conversation is like a tennis match with a good bit of back and forth, minus the trying to score! In fact, the best conversations are the ones where both parties are asking questions out of genuine curiosity, actively listening, and neither person is hijacking the conversation.
It's a beautiful thing when you meet someone and they genuinely take in interest in you! Yet, it seems that some have stopped being curious and are a little too eager to go on and on about themselves without an ounce of interest in anything about you. When you leave the conversation, you feel a bit ignored and weary!
When you allow a conversation to be all about you, there are some pretty sweet perks that you miss out on!
Here's what you stand to gain if you get curious when engaging others in conversation: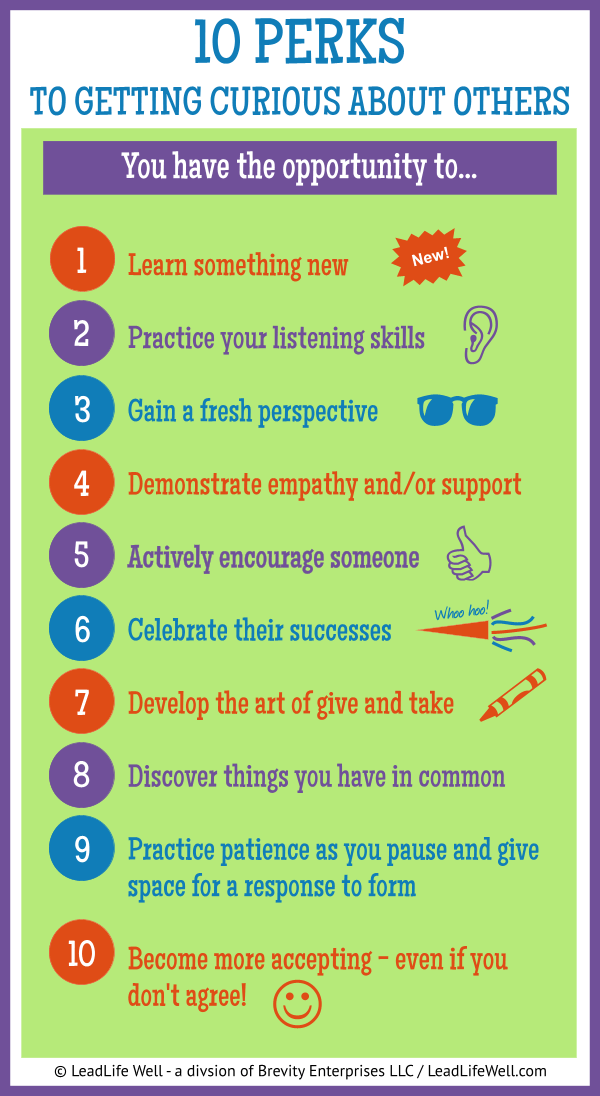 Did you know that people talk about themselves because it feels good? You actually get a bit of a buzz when you talk about yourself! That's compelling for sure! At the same time, engaging in a one sided conversation that is all about you is also costing you!
Cultivating the art of conversation and taking an interest in others will improve the quality of your relationships, significantly increase your influence as a leader, and make time with you more appealing! When was the last time you stopped to consider how people feel after a conversation with you?
Drawing someone out and showing them genuine interest takes being intentional. It takes a little pre-planning – one or two questions you can ask in the course of a conversation to help open the doors to a deeper conversation.
What are your questions? Here are a few you might want to adopt:
1. What's your morning/evening routine like?
2. What are you passionate about?
3. What's your favorite holiday?
4. What do you do for stress relief?
5. What's your favorite board game?
6. What's your favorite way to waste time?
7. What's the last book you read?
8. What was the last concert you went to?
9. What are you most looking forward to in the next month?
10. What did you do on your last vacation?
11. What three words best describe you?
12. What in your life brings you the most joy?
13. Where and when do you get your best ideas?
14. What kinds of things do you tend to procrastinate on?
15. What do you like best about spring, summer, fall, or winter?
16. How do you measure success?
17. What's your spurge food?
18. If you could call anyone in the world and have a one hour chat, who would you call?
19. What was your favorite subject in school?
20. How do you like to unwind?
21. What do you like to do for fun?
22. Who has had the most influence on your life?
23. Would you consider yourself a morning person or a night owl?
24. How do you express yourself creatively?
25. What made you laugh in the last week?
26. What's one thing you wouldn't want to live without?
27. What languages do you speak?
28. What do you like to cook?
29. Where did you grow up?
30. What's one thing people would assume that you've done, but you actually haven't
You might want to adopt a question for a week or month, asking a variety of people you come in contact with and noticing the differences in their responses.
A few things to keep in mind as you seek to engage others in meaningful conversation:
1. Be genuinely interested in the other person.
2. Set your agenda aside – just connect!
3. Be yourself!
4. Be fully present and curious so that you can ask great follow up questions. That means limiting distractions, like your phone!
5. Hold tight the things you have in common – let go of your differences.
6. Hold off asking more questions until the person is done sharing.
7. Take care to not interrupt.
8. When you don't agree – consider carefully if disagreeing or contradicting them is worth it.
9. Focus on the positives.
10. Be respectful. It is not your job to judge or criticize.
11. Shoot for a conversation where there is equal sharing.
God created us to desire relationship; to want community and to belong. Heart to heart conversations are incredibly satisfying and an integral part of developing those meaningful relationships and nurturing community! Conversations take time and being intentional in addition to having the potential to bless your life in surprising ways! And when you take a powerful interest in others, you give a rare gift these days!
How has meaningful conversation blessed you? How would being more interested in others impact your life?