The Surprising Bonus to a Balanced Life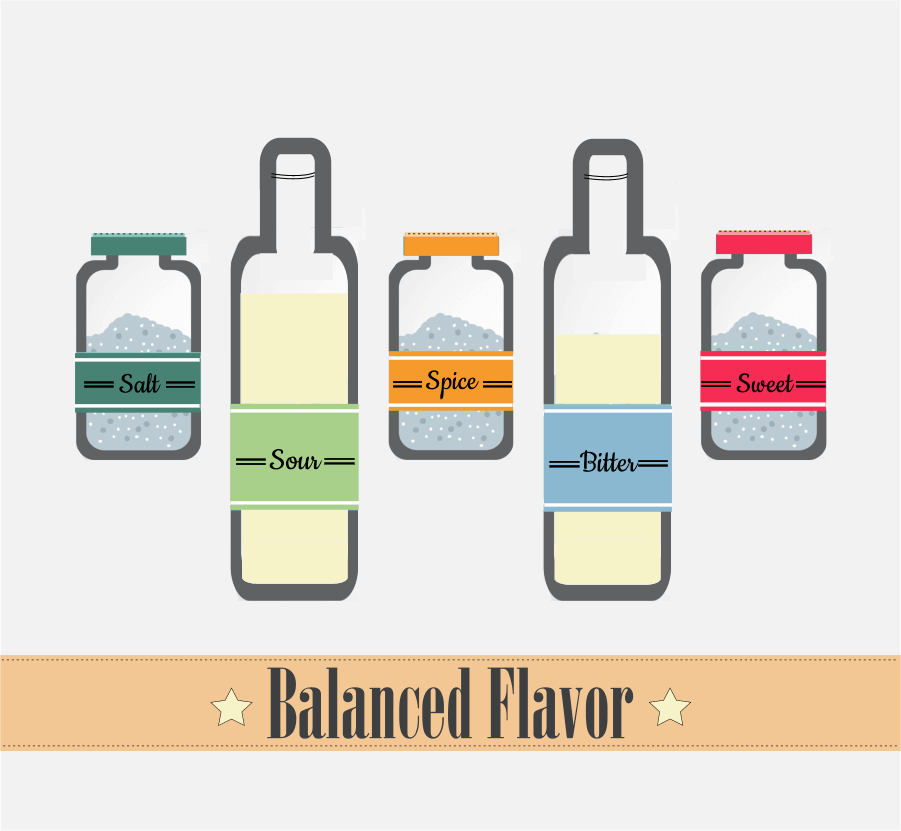 You could say that my husband I are foodies. The majority of our date nights and travel highlights all center around scrumptious dining experiences. Exploring new restaurants and taste experiences is like a hobby for us. We've enjoyed a gourmet meal in a cave in Playa del Carmen, Mexico, savored some of the most amazing pasta on a little side street in Rome, and indulged in some creative concoctions in our own home town of Chattanooga!
If you catch us at home relaxing, we just might be watching a cooking show of some kind! Lest you think we are food obsessed, we also enjoy relaxed moments with our family, the beauty of the outdoors, and great books among other things.
Ask any chef and they will tell you that the key to creating a delectable dish, one you want more of, is a perfect balance of flavors. When the sweet, salty, sour (acidic), bitter, and spice are in perfect balance, it is just a matter of time before you will be going back for seconds! You don't have to force yourself, you just naturally desire more!
Life is like that too! When your life is in balance, it naturally causes you to want more out of life and even better, you really enjoy it too. You see, a balanced life is motivating!
Yet life is not static. What was balanced yesterday won't be today, and tomorrow – well, who knows.
A chef deals with the same unpredictability when preparing a dish. The ingredients are not always exactly the same. This container of strawberries might be sweeter than the last container, or the ham in the soup significantly saltier than ever before. That's why a chef must taste and make adjustments to ensure that the flavors in a dish are perfectly balanced.
In the same way, life takes perpetual tweaking to keep it balanced. The reward: When your life is in balance, there is a far greater chance that you will be motivated and eager to embrace all that God intended for you!
So what about those moments when you just don't feel like going after life or pursuing your purpose, or chasing your dream? What's up with that?
Aside from a life out of balance, here are a few other motivation zappers you may have experienced:
• Negative self-talk
• Unsustainable pace
• Unrealistic goals
• Envy
• Fear
• Ingratitude
• Impatience
• Busyness/stress
• Lack of clarity, strategy, or support
• Low self-esteem
• Not living your values
• Loneliness
• Bad habits
Life is more motivating when your life is in balance. Motivation leads to momentum, and at that point there is no stopping you! You are on your way to achieving your purpose, goals, and dreams. Motivation encourages increased creativity, productivity, and happiness which improves the quality of your work. Who doesn't want that?
So how can you get balanced and increase your motivation so you can thrive?
Start by addressing the imbalance in your life:
1. Be honest about where you are
Without tasting, a chef won't know for sure which flavors need a little tweaking. And without honestly assessing your life and level of balance, it will be impossible to know what needs adjusting. Using a scale of 1-10, with one being seriously lacking, and ten being couldn't be better, consider your life in the following areas: Relationships, Finances, Work, Spiritual Life, Emotions, Leisure, Health/Physical, and Intellectual. Identify the areas you are doing well, and the areas that need a little TLC.
2. Get the picture
Now that you have a clearer picture of where you are, it is time to imagine where you would like to be. Tap into your creative side. Visualize what that might look like – you thriving in those lower scoring areas.
3. Be intentional
When you realize things are out of whack, the temptation is to want to do a major overhaul on your life. Resist that temptation and narrow your focus. Start small. When you have mastered one area, you can move on to another. Remember, it is a process – not something that is going to happen overnight!
So let's say you need to work on your relationships in your life. Your goal will be to improve your relationships, and your day to day habit will be to make connecting with at least one person you treasure every day. That may mean a lunch date, a phone call, or even sending an encouraging card. The intentional part: doing something every day to nurture your relationships – even if the something is small!
When your relationships are positive, it's fueling – motivating! When they aren't so hot, it is like dead weight in your life!
4. Track, notice, and acknowledge your progress
Determining those intentional habits is just the first step. Without a way to visually keep track of actually doing those daily habits, you are more likely to return to your old ways. You can check it off on a physical calendar, keep track in an app on your phone, or come up with your own visually pleasing way of keeping track. Notice your progress. If you have been consistent, celebrate that. If you haven't, take the time to evaluate whether or not you have chosen the right habit to incorporate into your life. Would another habit be more appealing to you?
When your life is in balance it makes it easier to dream and pursue big goals! When you are ready to pursue something bigger:
5. Chase something compelling
Often times, motivation is lacking because you are not chasing something that is truly compelling to you. Maybe it used to be, or maybe it will be someday, but if you are going to be motivated to pursue something it needs to be compelling NOW!
What gets you excited? What are you naturally interested in? What makes your heart break? Where do your strengths, talents, and experiences all converge with your passion? That's most likely where you will also discover your purpose and what will ultimately be compelling to you.
Unless God's given you a specific directive – stop pursing things that you don't have a heart for and find something you can get excited about!
When you get excited, it is easy to swing out of balance and undo all the hard work you have done to balance your life. Make sure you take things slow and steady. Make being consistent more important than being fast. Anything worthwhile will take time, and you don't want to burn out before you reach your goal.
7. Harness inspiration
What inspires you? Is it time with likeminded friends or colleagues? Inspirational movies or books? Time spent in nature? Whatever it is, you are going to need regular doses of inspiration as your pursue your goals. Without plenty of inspiration, the obstacles you encounter will discourage you and you will eventually get burned out.
8. Embrace support!
When you are attempting to accomplish something big, the sheer magnitude of your goals can be overwhelming. That's why it is so important to have the support of others along the way. Trusted family, friends, or a coach that can build you up with encouraging words and help you keep your perspective positive can make a huge difference.
A well seasoned dish is pure heaven! Something to be savored and enjoyed. Maybe even something to want a little more of!
A perfectly balanced life – that's also something to be savored and enjoyed. When your life is balanced it is motivating – you are prepped for action, which then leads to momentum!
What have you observed about the relationship between balance and motivation in your life?