It's Never Too Late for a Fabulous Finish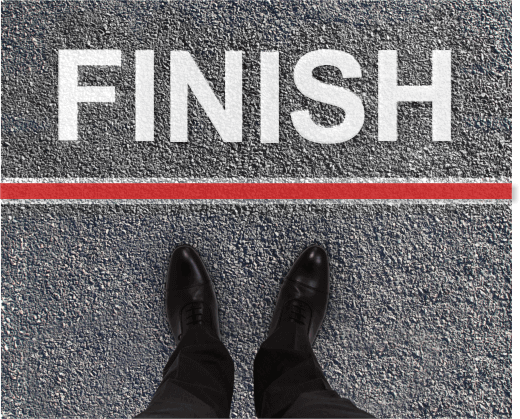 So far, 2015 has been an eventful year. My husband and I have enjoyed several trips including a recent a sun filled week in Mexico, finished our basement, and become grandparents! Even good things can be happy distractions – things that keep you from being as intentional as you might like to be when it comes to successfully reaching your goals.
At the beginning of this year I shared five things I must do in order for me to have a fabulous 2015. You can read more about those important "must-dos" here. In less than a week, we officially begin the second half of 2015 – it is the perfect time to evaluate my progress. How about you? How would you rate your progress?
1. Failure to launch! I set goals but did nothing further, or I never set goals.
2. Fizzling! I set goals and started out strong but things have all but come to a halt.
3. I set goals and I have been moving forward in fits and starts.
4. I set goals and I am moving forward – just slower than I had hoped.
5. Fabulous! I set goals and I am close to reaching them.
Breathe easy! No matter where you are compared to where you would like to be, it is never too late to get intentional and enjoy a fabulous finish!
Achieving your goals takes dedication and effort! A lack of progress towards your goals is a good indicator that one of the following barriers might be impeding your progress:
1. Indifference
How compelling are the goals you've set? Unless they really matter to you, odds are you will never reach them. Have you truly connected with the payoff at the end? Have you set goals you think you "should" reach rather than goals that have personal significance to you and that you are passionate about?
2. Your Invisible Fence

You may be enthusiastic about your goals, but they may also bump up against your invisible fence: unconscious beliefs that hold you back and keep you from embracing and walking in all that God has created you to be. As you get closer to reaching your goals, you unconsciously sabotage your progress in ways that keep you in your comfort zone rather than allowing yourself to stretch and grow. More on this in a future blog post.
3. Change in Circumstances
Life sometimes throws you a curve ball – something you could have never anticipated when you created your goals at the beginning of the year. It might be new and exciting opportunities or challenging situations. Either way, don't get bogged down by what isn't possible. Instead accept where life is and revise your goals.
4. Lack of Boundaries
Without a clearly defined path, it is difficult to get from where you are now to where you want to be. Life without boundaries has a tendency to expand rather than contract. A wide path encourages much wandering! Setting boundaries takes skill and allows you to keep the borders of your path narrow so that you can more easily navigate towards your goals.
Good boundaries will help you to say "no" to distractions, keep you from getting entangled in pointless and exhausting interactions with others, and allow you to keep margin in your schedule.
5. Fuzzy Values
Frustrated? Feeling too zapped of energy to pursue your goals? Those can be warning signs that your life is not in alignment with your values. Having clarity around your top five values and being committed to living out of those values will naturally keep you poised to accomplish your goals.
6. Clutter
Clutter holds you back. It cramps your creativity, costs you focus, and creates stress.
Clutter takes on many forms: an overabundance of stuff, an overcrowded calendar, or too many unresolved, unexpressed, or resurfacing negative thoughts. If you want to make powerful progress towards your goals, taking steps to eliminate clutter is essential.
7. Lone Ranger Mentality
Driven people tend to be independent solo types that resist support and accountability. However, having someone who believes in you and is willing to check in on your progress can make a significant difference when it comes to successfully accomplishing your goals. Serious about reaching your goals? Don't go it alone.
In light of circumstances and the progress I have made so far the first half of this year, I will be revising my goals. I will also be taking steps to make sure that I am not sabotaging my progress as I nudge my upper limits. My heart is to be more and more of who God has created me to be. That's where I will find the most favor and fulfillment. As we unpack and organize our basement I will be "Releasing" the clutter – something I have been working on all year as let my One Word guide me.
How about you? What adjustments do you need to make to accomplish your goals and have a fabulous finish in 2015?