How to Wobble Less So You Can Balance Better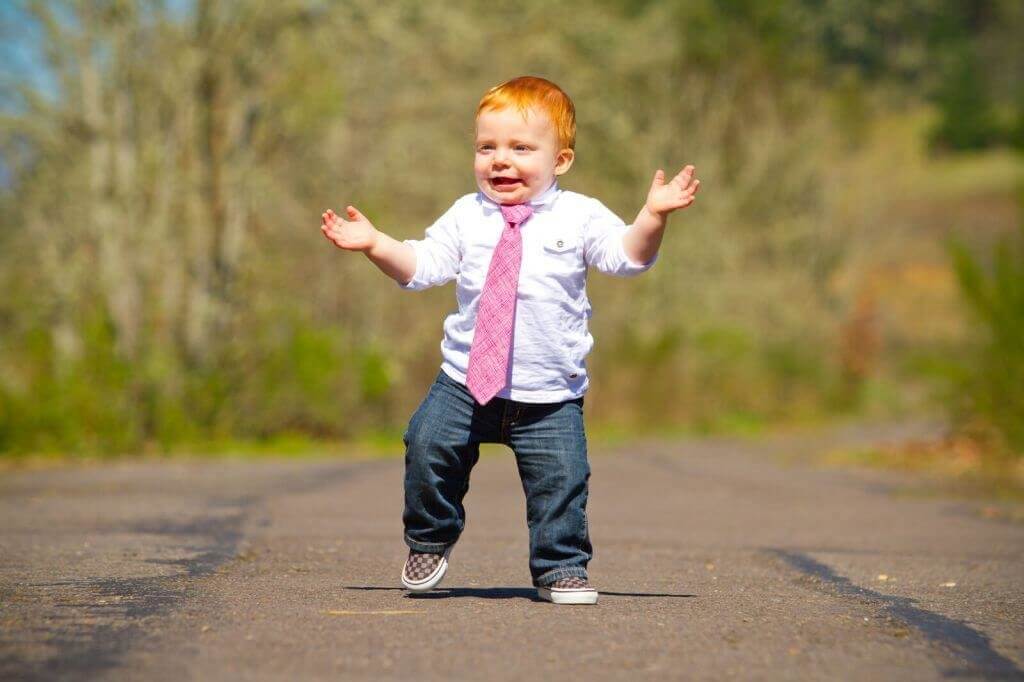 Being a grandma has been amazing so far. I get to enjoy the things I loved so much as a mom without sacrificing my sleep, sporting snot or spit up on my shoulder, or being late because of an unexpected explosion. My soon to be three month old grandson is smiling and cooing up a storm. So fun to watch him develop and grow – and grow he has! He is a sweet chubby fellow!
Before we know it, he will be rolling over, crawling, and taking his first steps. There is something adorable about watching a toddler take their first steps. We cheer them on only to realize that we will spend the next several years chasing them!
It takes balance, strength, and flexibility to walk. Skills we take for granted as adults until we attempt yoga poses like Tree Pose or Warrior III. It also takes lots of practice! It is a given that a toddler learning to walk will lose their balance and tumble.
As an adult, you've mastered walking, but perhaps you are a little wobbly when it comes to balancing life and work. Here are a some signs that you might be out of balance:
Rarely present
Stressed
Exhausted
Overwhelmed
Lack focus
Doing urgent over what's most important
Spread too thin
Lack joy
Just like walking, maintaining a healthy balance between life and work is something that is always in motion. It is less about "arriving" and more about how you navigate. Balance requires constant adjustments.

Every season of life has its own priorities and balance looks different for everyone. In order to find your rhythm and balance in life, it is essential to:
1. Strengthen your core
You might not notice your core at work when you are walking, but if you attempt more demanding physical activity, a weak core will become obvious. Building up your core muscles takes time and effort plus targeted exercises like sit ups, standing ab work, planks, etc.
So how do you strengthen your "life core?" Your core is strengthened when you invest time in your in your relationship with God – make that your highest priority. Even a few moments in His presence will help set your heart and mind in a way that will change the course of your day. Starting the day with Him demonstrates that you trust Him and that He is a priority in your life.
Time is limited. Choosing to carve out time in your day to connect with God may mean that you have to make some hard choices. You may have to eliminate some things in order to have space in your day for Him. It will require you trust that God will enable you to accomplish what really needs to be accomplished.
2. Strengthen your muscles
Tummy time strengthens a baby's core and the kicking and swatting they do on their back strengthens their muscles in preparation for walking. If you want to experience the joy of life/work balance there are a few muscles you will need to strengthen as well.
One of the most challenging muscles to get in shape is your "just say no" muscle. If you are going to take on a new task, it might mean letting go of an old one. Whatever tasks you choose to put your energy into, be sure they are in keeping with your current priorities.
Women especially struggle with keeping their self-care muscle fit. With a natural bent to nurture, they will take care of everyone around them and neglect themselves. This leads to feeling frazzled! You can only love and care for others to the extent that you love and care for yourself. If you want your capacity to care for others to expand, focus on your self-care muscle.
Play! Make time for activities that are fun for you, such as hiking, reading a book, or creating something. The time spent playing will refuel you and make it easier to focus on work later. Too often we passively sit in front of the TV, which is not the same thing as playing.
Strength training often focuses on the major muscles: your quads, biceps, triceps, etc. There are also smaller stabilizing muscles that play a big part in helping you balance. When it comes to life, your stabilizing muscles are your values. When your life is in alignment with your values it allows you to make better choices so that you can operate more effectively and experience greater peace. Operating outside your values will zap your energy and motivation.
 3. Improve your flexibility
All the kicking and swatting babies do on their back also improves flexibility and prepares them to walk. It has been a long time since I have been flexible enough to put my toes in my mouth outside of embarrassing foot in mouth moments!
Flexibility improves when you regularly stretch. Stretching in life and work is about stepping out of your comfort zone and embracing risk. Being willing to accept what comes your way even if it doesn't make sense rather than wasting energy fighting it. It is learning and growing and embracing new and better ways of doing. Becoming more comfortable with change and clarifying what success looks like for you. Even turning off technology and making time to truly rest and take a Sabbath each week can be stretching. Flexibility is about having the courage to be relentless about operating out of your priorities each day.
Out of balance is a busy place. You will never get to what's really important if you let fear keep you busy.
Start with your core, and then strengthen and stretch your muscles so that you can approach life from an integrated place that allows you to make the necessary adjustments to maintain balance. Perfect balance is as elusive as being perfect. The quicker you are able to walk with rhythm and regain your balance when you do wobble the more satisfying your life will be.
What changes do you need to make to find more balanced in your life?