Got that Dead End, Stuck Feeling?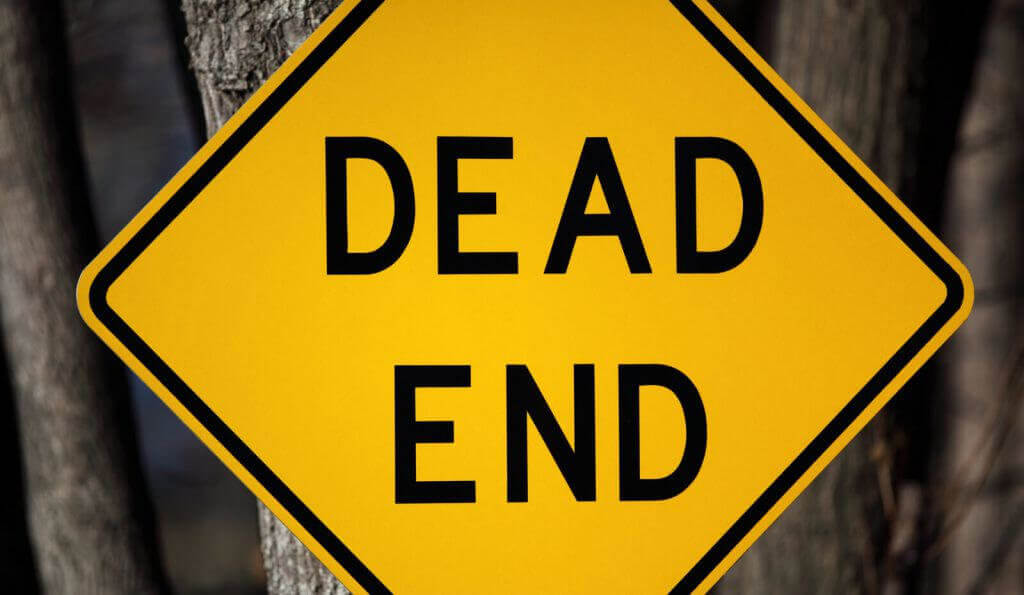 Ever get a song stuck in your head? I don't know why, but I have had the song Dem Bones, or Dry Bones, running through my head lately.
If you have not ever heard Dem Bones, it spiritual song inspired by Ezekiel 37:1-14 where it describes Ezekiel visiting the Valley of Dry Bones and prophesying that God will one day resurrect the dry bones. It is a dramatic picture of Israel: dead – their hope lost and cut off from life. At God's command, Ezekiel spoke to the bones and they began to rattle and connect. They were covered in skin, but they lacked breath. Again Ezekiel speaks to the bones summoning breath from the four corners and the bones sprung to life.
There is much to be gleaned from this vivid story as the song has played in my mind three things have stood out to me:
1. The finality of the situation
The people in the valley weren't just dead – they were a collection of bones. Life had been gone for some time. All hope was a thing of the past.
2. The need for breath
While the bones looked more lifelike with skin, they were still not alive. They needed breath, God's Spirit, to give them life. That's when real hope was reignited.
3. The holistic nature of humans
Not only do we need all our bones connected, but we also need sinew and skin and most importantly, breath. Without all those things working together there is no life or hope! Everything works together in our bodies, just as it does in our lives.
What in the world does this have to do with life and leadership? Everything!
Feeling hopeless, needing God's Spirit, and living in a way that ignores that you are a holistic creature will keep you stuck, in your life and leadership.
1. Feeling hopeless
That hopeless feeling can kick in when you experience failure or underperform according to your perfectionistic ideals. Perhaps you have encountered an obstacle that you have not been able to overcome. That obstacle feels like a permanent thing and you just can't seem to get past it. Or maybe there is some relational funk in your life that is leaking over into other areas and having a negative impact. It could be that your habit of comparing yourself to others that puts a dent in your confidence and makes you feel like you are not enough.
Whatever leaves you feeling hopeless will keep you stuck! What leads to that hopeless feeling for you? How can you proactively address that feeling and embrace a new way of thinking; Perhaps God's way of thinking about that area of your life?
2. Needing God's Spirit
Intellectually you might know you need God and that you are fully dependent on Him. As you journey through life, your actions often say otherwise. In essence, you are like skin covered bones without life trying to navigate life without Him. Often times when you try to do life on your own you end up having to deal with unnecessary challenges that are all the harder without His help. That can be worse than just begin stuck!
How will you be intentional about not just including God in all that you are doing, but following His lead and participating in what He is doing?
3. Honoring your holistic nature
Search work/life balance and you will be inundated with articles. It is a popular topic! And there is a reason it is a popular topic. It is easy to forget how interconnected you really are!
Have you considered things like…
How your confidence is impacted by being out of shape and not feeling great
How your work, business, or ministry is hindered by the lack of learning and growing in your life
How much time you actually waste by skipping your time alone with God in an effort to be more productive
How being disconnected from family and friends is making you less effective in the one area you are pouring yourself into
How never taking time to relax and do things you love is stifling your creativity and taking a toll on your health
How ignoring your emotions is making you edgy and hurting your relationships because you are no fun to be around
How overspending is creating stress, creating conflicts, and holding you back from pursuing your dreams
How working too much is wearing you out, hurting others, and stealing your joy
Any time you struggle in one area of your life, it will have a bearing on other areas of your life because you are a holistic, being. When the bones reassembled in The Valley of Dry Bones, they were put back together properly – not with three legs connected to one knee. When you live life out of balance it is like assembling your "life bones" improperly.
Keeping life in balance is like perpetual multitasking when you try and do it on your own. A better way to keep things in balance is to know your priorities and trust God to manage the gaps. The temptation to overexert in some areas of your life and ignore others is motivated by fear. It is that deep knowing that God loves you no matter what, that frees you to trust Him to works things out.
That stuck feeling is not fun! The good news – there's hope! Let God breathe new life into the dead places in your life and take steps to honor the holistic person He created you to be. Then you will be able to pursue the unique purpose that He created you to accomplish. Pursuing that purpose will energize and fulfill you in ways nothing else can!
Where in your life or leadership do you feel that dead end, "Dry Bones," stuck feeling? What next step will you take?