Getting Stuff Done – A Perspective & Some Practical Tips That Help Me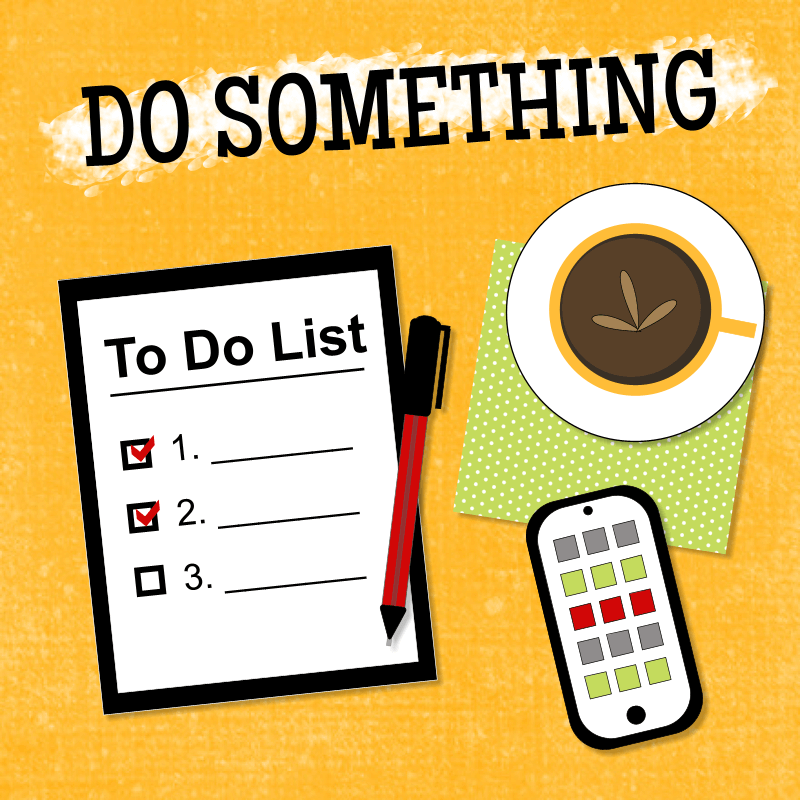 I like to plan, but my life…it rarely goes as planned. Knowing that plans don't always pan out can make this perfectionist respond in one of two ways: getting frustrated and deciding that planning is pointless and giving up or clamping down tighter and attempting to force things to happen. Sadly, neither of those options is particularly effective. That's why I've adopted another way of approaching life, planning, and more.
Viewing and doing life from an alternative perspective has brought a sense of freedom and confidence. I also find myself depending on God in greater ways. I am pretty sure God's excited about that! And it has enabled me to keep a variety of things moving forward simultaneously, which is important when you own several businesses and have a number of responsibilities.
Curious about that perspective? I've been choosing to focus on the fact that…

Yep! Little efforts do add up and they can add up to something significant over time. Struggling to reach a goal? Can't seem to cultivate the habits you desire? Unsure of your purpose? Lacking the leadership skills to thrive in your work or business? In all of these cases, doing something small will ultimately add up to something significant. And if I'm honest, sometimes getting started is the hardest part!
If you are fed up with where you are and ready to tip toe into something better, here are four habits that make choosing to do something over doing nothing more effective for me:
1. Planning
Even though I never know what a day will bring, and sometimes it brings some crazy twists and turns, taking the time to plan helps me to focus and be mindful of what needs to be done. I've previously shared how planning my day is something I like to incorporate into my morning routine as a part of my time with God. I know others who successfully plan the night before or following their morning ritual. The key is making the time to plan!
As a list lover, I begin planning with a list of everything I can think of that needs to be done; a brain dump if you will. Because I like to work in flexible blocks of time rather than a rigid time schedule, I don't worry about scheduling my tasks on my calendar or setting specific times for tasks to be done. To load up my calendar with tasks on top of scheduling clients feels overwhelming to me, but you might feel differently, so do what works best for YOU!
I like to work in one hour blocks of time Pomodoro style. My nifty red owl timer that I purchased at Pier One Imports dutifully keeps me on task.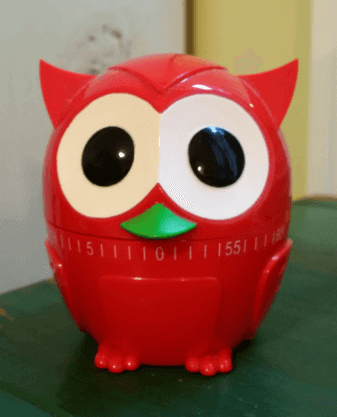 Between my blocks of time, I like to take breaks where I might do anything from read a book, washing the dishes (one of the perks that comes with working from home) or catch up with a friend – something that gives me the chance to switch gears, move around, and change locations for a moment.
2. Prioritizing
Part of my planning process is prioritizing the top three things that I need to do that day. These are typically work related tasks for me, but that can easily shift to personal tasks depending on what's going on in my world. There might be other chores on my list that need to be done that day, but because they are tasks that take less time, I don't allow them to take up precious space in my top three.
Prioritizing doesn't end with choosing my top three tasks for the day. It is something that I continue to do throughout the day. Each time I complete a "to do" on my list, I consider what's left to be done and determine the next most important task that needs to be accomplished in the time I have remaining.
3. Persisting
Not only am I mad for lists but I also adore crossing things off. Days when not much gets crossed off can be discouraging to me and give me that "try harder" feeling. Here's where my "doing something is always better than doing nothing" perspective makes all the difference! My focus needs to be on what I was able to get done even if it wasn't much. Dwelling on all that didn't get done will never propel me forward.
Some weeks I have several days in a row where it feels like I am swimming in a pool of molasses because nothing is getting done. I don't love that feeling, but on those days I have to trust that God is up to something good and trust His timing and keep on keeping on – no giving up, striving, working harder, or beating myself up. Instead, I choose to focus on resting in His love for me and trusting that He knows better than I do when it comes to what truly must happen. God and I don't always agree on that… but He continues to show me that His way is better. Little by little I'm learning! The more I come to grips with how deep His love for me is, the more I can accept the molasses days. The less I feel the need to strive and that's when the good stuff happens!
4. Adjusting
I genuinely envy the flexibility of babies. My six month old granddaughter can fold over from a seated position and nibble her toes. The closest I've come to doing that is when I've embarrassed myself by putting my foot in my mouth.
Flexibility is not something I've been blessed with – not physically or when it comes to planning. Somehow, working on physical flexibility seems easier – regularly stretching and yoga have helped.
When it comes to my schedule and getting things done… that's been trickier! Each day is a whole new work out; a chance to stretch and challenge myself as I surrender to what God has in mind for my day. After all, my day ultimately belongs to Him!
Yoga is the balance of strength and surrender. That rings in my head as quite true for life as well!
So how do I adjust my day? Back to "doing something is always better than doing nothing" I make adjustments by…
Adjusting my blocks of time. Maybe I can't spend an hour on a specific task but can I invest 30 minutes or even 15 minutes? Every little bit counts! I try to keep the rhythm – some days it is a slow dance where I can take my time and work in one hour blocks, and other days the dance is a quick step.
Doing my best within the time I have. I have already confessed that I tend to be a perfectionist, but with God's help I am learning to be OK with things being good enough. After all, in His eyes, there is nothing I can do to make Him love me more than He already does! And isn't that what drives my attempts to be perfect – to get approval from others; to appear good enough in their eyes when there is only one opinion that matters – God's?
Letting go of my expectations – releasing what I think needs to get done or how things must look. Surrendering!
There are so many areas of my life that this perspective encourages positive results. I readily apply it to my…
Goals – building a business, losing weight, writing a book, etc.
Relationships
Finances
Work
Chores
And so much more!
Where might a little "doing something is always better than doing nothing" perspective make a difference for you?