What Are You Focused On: Sowing or Harvesting?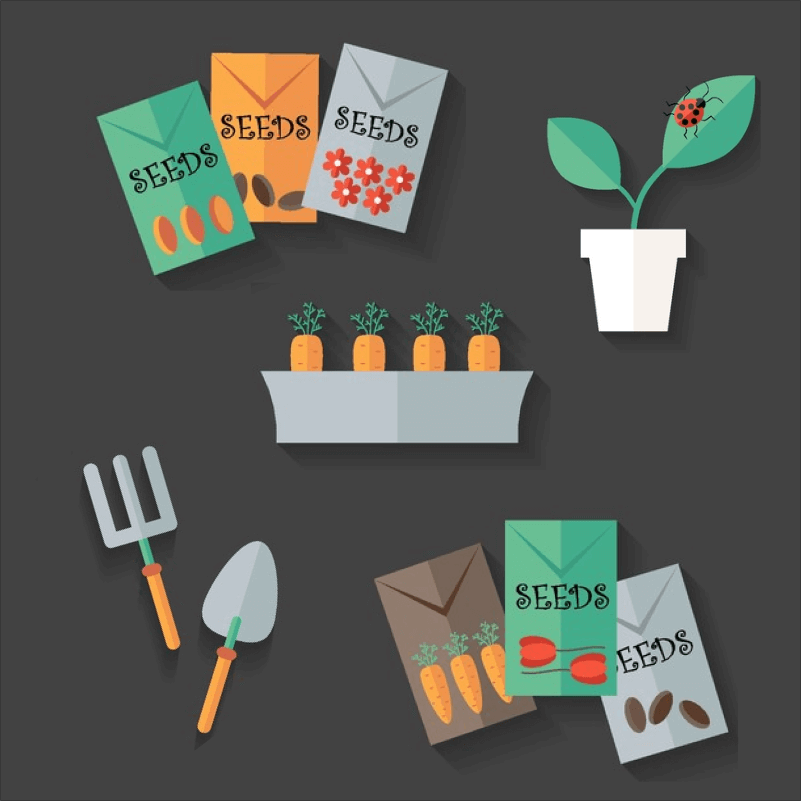 Soon the days will shorten and the thick, humid air of summer will turn brisk. It will be fall! Harvest time! Some of my favorites will be ripe and ready: apples, pumpkins, squash, beets, and more! Who doesn't enjoy the excitement of harvesting fresh fruits and vegetables and indulging in their wonderful flavors?
Next door to my house is an empty lot. A couple of years ago, we made a happy discovery: some random mini pumpkin and gourd plants growing wild. No telling how they got there, but they sure made a delightful center piece on my dining room table!
When my center piece had come to the end of its life, I discarded the pumpkins and gourds on the empty lot in hopes of yet another round of free decorations to enjoy. The following year I did harvest a couple of mini pumpkins, but my harvest was nothing compared to the previous year!
My unexpected harvest was a happy thing and I made the most of it. The experience also reminded me of how many approach life: eager to harvest whatever they can, but far from intentional about the seeds they are planting.
When it comes to your life, are you focused on planting seeds or harvesting? Do you judge your day by how many new clients you got, how many widgets you sold, how many things you were able to check off your "to do" list, or how many positive affirmations you received after today's meeting? If so, your life probably feels a bit like a roller coaster! Maybe even a little out of balance!
Scripture suggests that God is the one who "grows" things so that they can be harvested. (I Cor. 3:6-9) When things in your life mature to the point of being harvested it is because of Him.
Our job is to sow seeds. So what seeds are you sowing? (Gal. 6:7) How would your life be different if your focus was on sowing seeds? Not just sowing seeds to be successful in leadership, ministry or business, but sowing seeds in all areas of your life so that your life is brimming with fruit, fulfillment, and brings glory to God?
What would it look like to sow seeds into your Relationships, Spiritual Life, Finances, Health, Leisure, Work, Emotions, and Intellect?
Here's the deal – if you aren't intentional about preparing the soil and planting seeds, guess what – stuff still grows! Weeds! Lots of weeds!
The weeds of life are pesky things like fear, negative perspectives, bad habits, limiting beliefs, un-forgiveness, and victim mentality, among other things. Their roots go deep! If left unattended, they can quickly take over and squeeze out your harvest, even if you are intentional about planting seeds.
So how can you make the shift from being harvest focused to intentionally sowing seeds?
1. Prepare the soil
While the mini pumpkins and gourds I discovered grew randomly on an empty lot, this is rare! In order for seeds to thrive, it requires well prepared soil. That means rocks and weeds removed and soil amendments and fertilizers worked in. It is a process!
What does this look like practically? It may mean learning something new for work, changing some bad habits to improve your relationships or removing some things from your life so you have time to spend with God. It will be different for everyone, but it will make that area of your life ready for planting seeds.
2. Plant the seed
I had no choice in what I harvested off the empty lot – I had to take what I got. When it comes to sowing seeds in your life, choose wisely the seeds you plant and where you plant them. After all, you reap what you sow; and just like seeds need a sunny location to thrive, where you choose to plant your seeds makes a difference as well.
3. Patiently wait
It takes time for things to grow and mature enough to be harvested. It is not an overnight thing! Be patient. Keep planting! The fruit will come!
4. Persistently care
If you want a fruitful harvest, you can't just plant seeds and walk away and hope for the best. That's what I did on my empty lot and the harvest the following year – significantly smaller than the first surprise harvest. In order to get an amazing harvest, it would have required a bit more attention: carefully placing the seeds not just dumping the whole pumpkin or gourd on the lot, watering, weeding – you get the idea.
The same is true in life. You have to plant the seed and nurture the seed, in order for it to yield fruit.
5. Protect
A flourishing garden attracts all kinds of hungry wildlife: bugs, bunnies, deer – creatures eager to devour the fruit of your labor.
You also have an enemy in life that is eager to kill, steal, and destroy! (John 10:10) Resist Satan and stand firm in your faith! (I Peter 5:8-9)
6. Produce
When you faithfully plant seeds, do your part, and trust God to do His part, you are sure to enjoy a bountiful harvest. Ultimately the harvest will glorify God – show off His immense love and omnipotent power!
God doesn't see your life as divided. He desires to produce fruit not just in your work, but in every area of your life. In fact, when one area of your life is failing to produce fruit, it has an impact on the other areas of your life. If you want a bountiful garden, you have to water and maintain all of it, not just one corner. The same is true in your life!

Perhaps another way of thinking about life balance is to think about intentionally planting seeds in all areas of your life – not just the one or two you think will make you successful.
What difference would it make if you were more intentional about planting seeds in the various areas of your life?