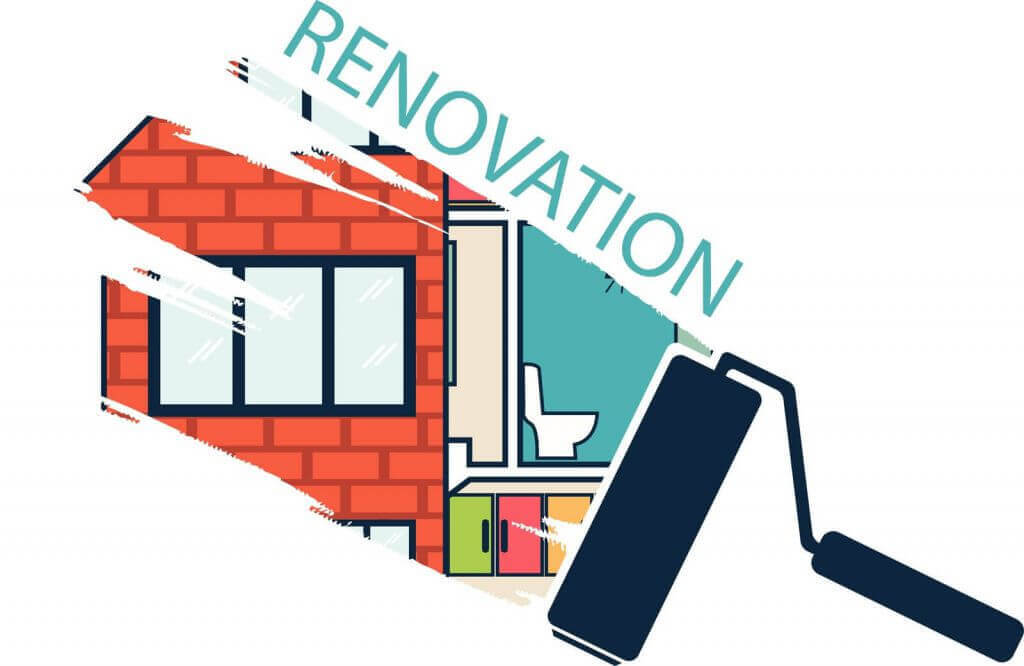 I am hooked on renovation shows! Watching an ugly, outdated, and impractical layout transformed into an amazing workable space is mesmerizing! It makes change exciting! Not only do I appreciate the vision, creativity, and ingenuity it takes, I admire it.
Some of my favorite renovation shows include The Property Brothers, Flip or Flop, and Fixer Upper. While not exactly a renovation show, I confess I also enjoy watching Tiny House Nation to see the unique ways they are able to cram so much into a small space.
The results the renovation shows reveal – they are inspiring! Tempting! They urge me to tackle the remaining projects in my own home.
And then reality sets in and I am reminded that in real life, the transformation does not take place in the space of 30-60 minutes. Even with an abundance of challenges – a home renovation on TV is resolved in a pre-determined amount of time.
A real life renovation – there is no well-ordered ending. There is no one there to film the days or weeks, sometimes even months, of turmoil you must live in while renovating. The tears, the frustration, and all additional expenses incurred in the process of change– it can take a serious toll.
I speak from experience! A few years back, we bought a new house and immediately began remodeling. We removed walls, and added walls, replaced carpet with hard woods, refinished all the existing wood floors to match, completely redid the kitchen, replaced the balusters on the stair railing, and finished our basement.
The process was painful. We spent days in a hotel while our floors were being refinished, months without a kitchen – and, trust me, washing dishes in the bathroom sink is not fun! Then there was the dust and just living in an undone space. To boot, my husband and I both work out of the house, so having the perpetual distraction of workman in your living/working space 24/7 gets old quick – even when the workers are nice!
Renovations in real life are far from easy! It feels like everything is out of sorts. It is uncomfortable, frustrating, and feels like it will go on forever!
That's why watching renovations on TV is popular – you can experience the magnificent transformations without all the chaos!
On the flip side, I love the changes we have made in our new home. It is now fresh and current; the changes make the house function so much better! Now my kitchen is modern cook's kitchen and I am thrilled with the results. In spite of all the frustrations, I am glad that we made the changes.
While home renovations might not be your thing, I know you want a life that functions well. A beautiful life! You want your leadership to reflect the harmony in your life; getting to a well-functioning life brimming with beauty – that can be daunting.
Have these kinds of thoughts run through your head?
Making personal changes is too much work
That harmonious life is for everyone else – not me
I have no idea what needs to change
Vision? Dreams? That's not me.
I am not disciplined enough
Change is just not fun!
What if I make the wrong changes?
Things in my life aren't that bad
I have a dream of how things could be, I just don't have what it takes to get there
Maybe you have a whole lot of changing that needs happen in order to get your life where you would like it. Maybe the changes are easy fixes. Either way, stop putting up with your life, and take the necessary steps to a more fulfilling and better functioning life! You won't regret it!
Ready to get started? Here are a few things to keep in mind:
1. Stay focused on your vision
Perhaps the most important part of the vision: making sure the changes you want to make, or the goals you are after, are in line with what God has in mind for you. What in your life does He want you to change? What dream does He have in mind for you to bring to life? How will the changes you want to make positively affect your life? What will those changes look like? Dwell on this every day!
The one thing that kept me sane while my kitchen was torn was that in the near future I would once again be able to cook in a kitchen that worked; a beautiful kitchen that actually functioned! That's important to me. Something I value enough to put up with the hard stuff in order to get there.
2. Be realistic
As they say, "Rome wasn't built in a day." Making important changes takes time! It requires patience. Patience is a desirable character trait, not to mention considered a virtue!
Expect some setbacks, some costly obstacles to pop up along the way, and for things to take longer than 30-60 minutes like a home renovation show! If you prepare in advance for things not going 100% smoothly, you will respond in more constructive ways.
And remember, that God is with you in the process, in spite of how the circumstances might appear, He desires good things for you! What treasured life lessons are nestled in the surprises? How are those "challenging" experiences preparing you to fully walk in what's ahead?
3. Don't go it alone!
There is a reason that people hire a personal trainer when they want to make changes physically or go to a doctor when dealing with a health issue. They know that they need someone who has expertise they don't have to help them navigate the changes.
One of the interesting things about the home renovation shows… they almost always work in pairs or have a team. They don't embark on a huge remodeling project solo!
We enlisted the help of half a dozen contractors in the process of remodeling our home, and thank heavens my husband and I had each other. When one would be over the whole process, the other would be strong. It made the adventure that much more bearable.
And I had the support of my coach! She not only guided me through the rough spots of the renovation, but also the challenge of keeping my businesses going following a move and while everything was in upheaval. I learned so much about myself – lessons that have lingered. Growth! And that's a good thing! A step towards that well-functioning, harmonious, and beautiful life!
What change or changes have you wanted to make in your life or leadership? Develop some new habits? Using your time more effectively? Learning to delegate? Improve your communication?
Is there a vision that has been swimming around in your head, something God has given you to do but you have no idea where or how to begin?
What life renovation project would make an invaluable difference for you?
Partnering with people just like you; people eager to make changes to enhance their lives and leadership: that's what I love to do. It would be a privilege to partner with you as you navigate your renovation adventure!