Consistency Matters! 7 Steps to Becoming More Consistent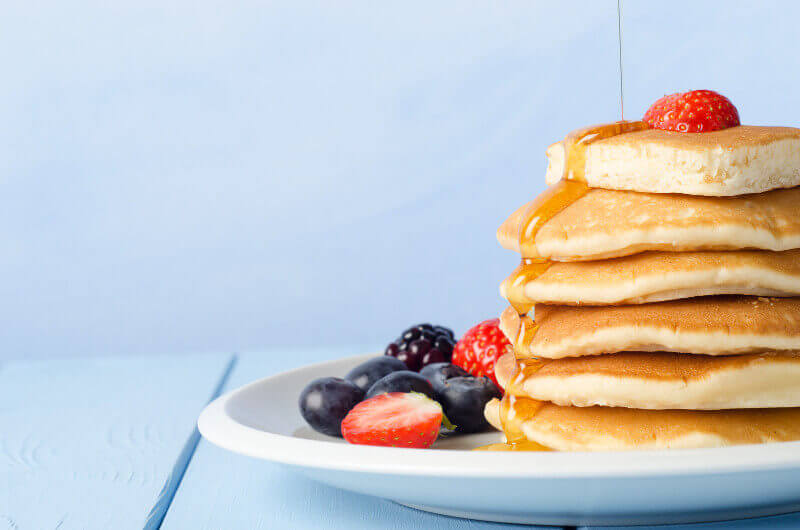 Have you ever noticed how your desire to do a thing intensifies when you aren't able to do it? We are about halfway through our kitchen renovation and I am itching to cook! We still lack a stove, sink and dishwasher, but this morning I was able to make pancakes in my electric skillet. After a couple of weeks of eating dry cereal, I was smiling!
There are several things that contribute to making a great pancake, including the proper batter consistency. Too thick and it will be dry and difficult to pour. Too runny and the pancakes will spread out and be unmanageable. The consistency affects the quality of the end product.
In order to achieve a nice consistency, you must have the right combination of ingredients: 1 cup flour, 1 cup liquid, 1 egg, 2 teaspoons baking powder, 2 tablespoons melted butter and a nice dash of salt. Using this as a guideline, you can make endless pancake variations.
This morning, I made a triple batch of pancakes using a variety of flours, including spelt, buckwheat, Kamut®, and corn meal. For the liquid, I used a combination of plain yogurt and almond milk. I replaced of one of the eggs with chia seeds and almond milk. If I had had more time, I might have spiced things up with extras like diced banana, blueberries, chocolate chips or granola.
As long as I use the right proportions of ingredients, I will end up with the desired consistency. If I decide to deviate significantly from these proportions, it will result in a frustrating cooking experience.
What does the consistency of pancake batter have to do with leadership? Everything if you want to be successful! The right consistency is not limited to creating perfect pancakes.
How can you be a more consistent leader? Consider these critical ingredients:
1. Have a clear vision
A vision provides substance for a leader just like flour is the substance for pancakes. Regardless of your leadership role – parent, business owner, ministry leader, blogger extraordinaire or just in charge of you – having a clear sense of where you want go or what you want to accomplish makes all the difference. Lack of vision creates confusion, restless followers, and even rebellion. Write your vision down. Keep it in front of you.
2. Lead from your values
Eggs enhance the texture and hold pancakes together. In the same way, values provide structure for a leader. Do you know what your top five values are? Have you written them down? How clearly have you communicated your values with those you lead?
3. Operate at a slow and steady pace
Walking out a plan at a slow and steady pace rather than in fits and starts will ensure that you will realize your vision. That's the kind of person that attracts followers! The proper pace is like the perfect amount of liquid in your pancake batter.
4. Take time to focus
Leftover pancake batter thickens over time and more liquid is needed. Routinely take time to pause and evaluate what you need to stop doing and what you need to start doing to achieve your desired results.
5. Have an accountability system
Fat-free has been a trend, and while you can make pancakes without adding any fat, they aren't as tasty! You can also reach your goals on your own, however, doing it with a friend, family member, or coach as your accountability partner is more effective and a more pleasant experience. Allow them to routinely check in and celebrate your successes with you.
6. Model a self-controlled lifestyle
Don't be fooled! People are watching how you handle yourself when it comes to work/life balance, healthy habits, honesty and your overall character. Lacking consistency in your personal life bleeds over into your leadership. Your ability to manage yourself well intensifies the confidence others have in your leadership. The right amount of salt enhances the flavor of a pancake, and your well managed life will make your leadership more palatable. Too much salt, like too much control, is unpleasant so knowing when to be flexible will also serve you well.
7. Spend time daily with God
Baking powder is what gives the "lift" to a pancake, and without time with God your leadership will fall flat. It has been said that we become like those we spend time with. There isn't anyone more consistent than God! [Hebrews 13:8] If you struggle with consistency, make connecting with God your first priority! With Him leading and helping you the possibilities are endless. Without God's help and gentle adjustments, your efforts are in vain. Ask Him to help you be more consistent – He's eager to help when you depend on Him.
When it comes to producing the perfect pancake or being an effective leader it requires the right consistency.
People with their minds set on you, you keep completely whole, steady on their feet, because they keep at it and don't quit. Depend on God and keep at it because in the Lord God you have a sure thing. Isaiah 26:3-4 (MSG)
Where in your life/leadership do you need to be more consistent? What would you be able to accomplish if you were more consistent? What steps will you take to be more consistent?
Image: © Can Stock Photo Inc. / frannyanne