Values: Are You Due for A Check-Up?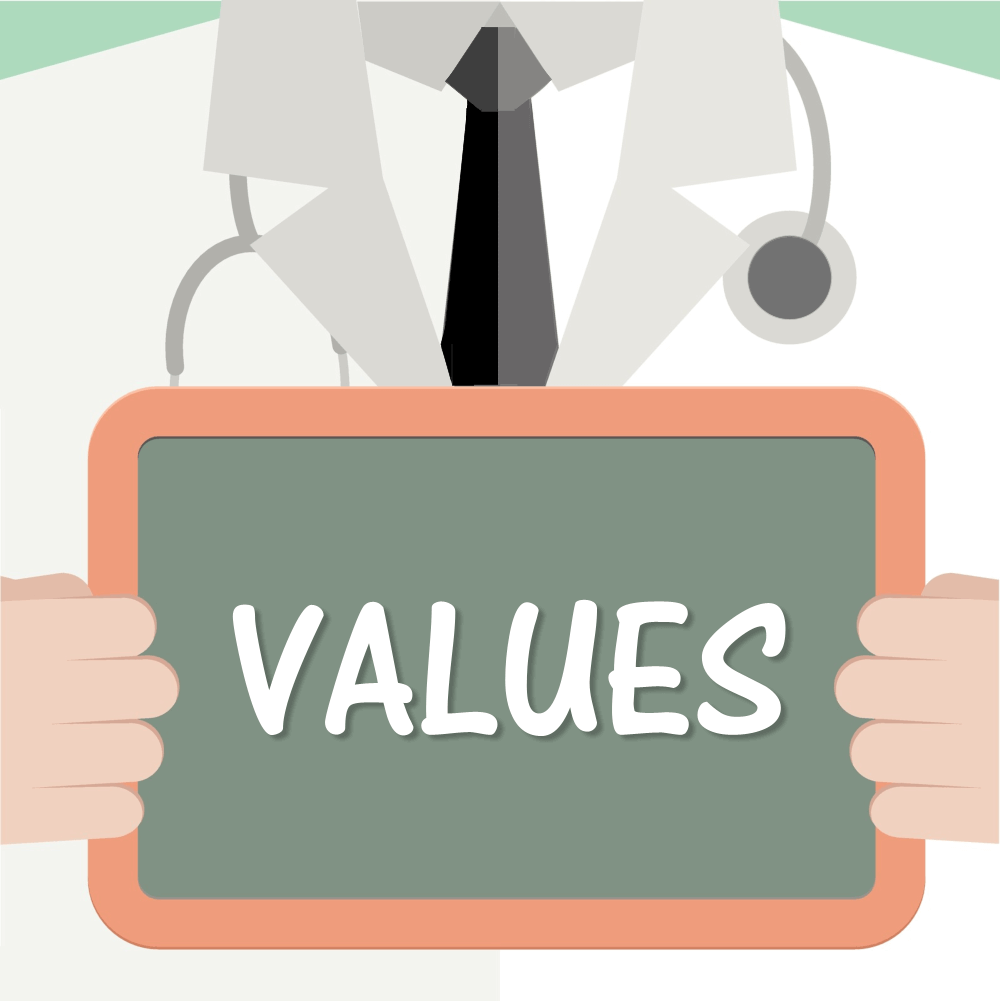 Without attention, things naturally break down. It doesn't matter if it is your house, yard, car, computer, or boat – without regular maintenance, they will drift towards deterioration. The same is true for your health, your relationships, and your skills. That's the essence behind the Second Law of Thermodynamics.
It takes regular maintenance just to keep things in order, level. If you want to advance in an area – that requires more than just maintenance.
With such an array of things to maintain all vying for your attention, maintaining your values is easily overlooked. Maybe you have never thought about what your top five personal values. Now would be a great time to do that exercise. Perhaps you have identified your top five personal or business values, but have not seriously considered how they are actively integrating into your life or work.
Cultivating new habits is never easy. That's why it is helpful to connect a new habit with something you already do. Soon Daylight Savings Time will end and many of us will be switching our clocks back an hour. Happy times! The fire department encourages you to change your clocks and change the batteries in your smoke detectors at the same time. This might seem like a silly maintenance habit – after all, most of us rarely think about our smoke detectors.
Skip the new batteries and you run the risk of significant damage to your home and/or loss of life. Fire is powerfully destructive.
It is easy to get lulled into thinking you are safe and that maintenance is not needed. The drift towards decline is often so gradual that you don't notice it until it is too late!
So back to those all-important values; they are your compass. Your values are what guides you and keeps you operating at your best. Without regularly maintaining your values the stress and strain of life will cause you to naturally stray from them.
To get the most benefit and guidance out of your top five values, it is important to do a "values check-up." Taking the time to consider your values at a deeper level will have exponential benefits.
What does a values check-up look like?
1. Identify Your Top Five Values
You can't perform a values check-up if you have never identified your top five values. Perhaps you have identified your personal values, but have not considered what values will drive your business. Or you maybe you are a professional that already has strong organizational values where you are employed, but you have never considered your own personal values.
Your values will be uniquely yours. They are what hold tremendous value for you; things you believe in at the deepest level. Your values will shape the way you do life, relationships, business and more. They are worth fighting for.
To learn more about identifying values contact me to receive a free values exercise.
2. The Outside Perspective
How well do your values match up to how you are operating in your life? Are your values obvious to those around you? Select three or more trusted people who regularly live or work with you to give you a little outside perspective. Ask them the following two questions:
What five "values" do you see consistently in me?
On a scale of 1-7 with 1 being weak and 7 being strong, how would you say I reflect these values (your top five values)?
You must be ready for whatever feedback they provide, and willing to make the necessary adjustments to better align with your values. Remember – these are things you hold dear and are worth the effort!
3. The Inside Perspective
Your values are important to you because there is significant meaning behind each one of them. Have you taken the time to unpack your values and dig a little deeper? Consider the following questions:
How would you define each of your values in a sentence or short phrase?
In light of your definition, are you living out your values more than you were a year ago?
What makes each value important to you?
What new ways do you see your values impacting your life or leadership in the future?
What values tend to get overlooked and need some attention?
How are you applying your values to these areas of your life: Relational, Work, Leisure, Spiritual, Intellectual, Physical, Financial, and Emotional?
How are you feeling about your values right now? Do they inspire you? Challenge you? Induce anxiety?
What impact are your values having on the people around you?
What effect are your values having on your leadership, work, or business?
How would you like your values to impact your future?
Which, if any, of your values have become more or less important to you? What values, if any is it time to replace?
4. God's Perspective
The most important perspective on your values and how you are executing them is God's. Take time to seek God and confirm that your values align with His. Let Him show you how to more successfully walk out your values. Your values have the potential to assist you in transforming your life, but you will need His help to achieve this!
5. Set Goals
If all you do is identify your values and evaluate how well you are integrating them into your life, it won't do you much good. It would be a little like purchasing new batteries but not putting them in when you change your clocks. You may wish to zero in on one value and set goals around that value or determine which values would have the most significant impact on your next season. Either way, set goals that are SMART (Specific, Measurable, Attainable, Realistic, and Time-Bound).
6. Connect Your Check-Up to Something You Already Do
Just like the recommendation to change your smoke alarm batteries is connected to changing your clocks, you will be more likely to engage in a values check-up if you connect it to something you already do. You may wish to connect your values check-up to paying your quarterly taxes or getting your teeth cleaned – whatever works for you. Just do it!
Your increased connection to your values will ensure that when you deviate from your values you will trip that inner alarm allowing you to quickly respond and avoid potential dangers. That allows you to relax, feel safe, and pursue your purpose with gusto!
How would a deeper connection to your values impact your life or leadership? What activity do you already have in place that you can connect your values check-up to?