7 Ways to Sabotage Your Big Dream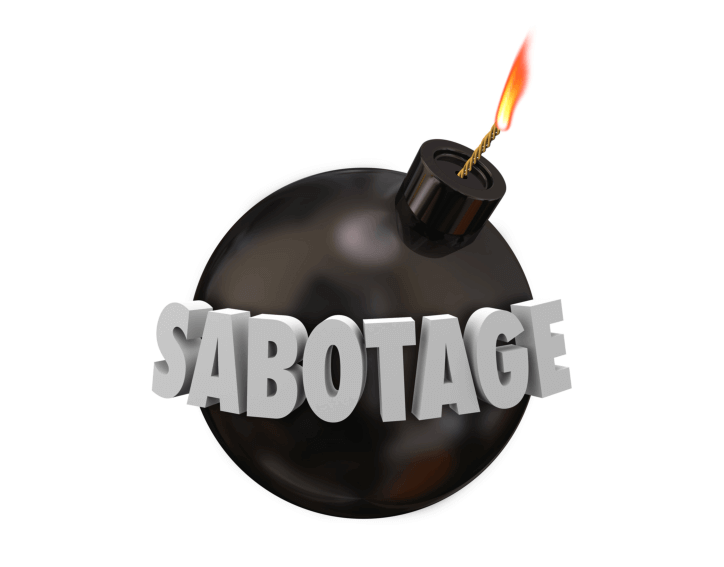 In my free time, being creative brings me joy. Time has a way of slipping away unnoticed as I put paint to canvas or assemble a project. My mind has time to process while my hands stay busy.
My schedule has left little time for my creative endeavors. That's why I set aside time on a Saturday a few months back to spend the day crafting with my daughter and my son's girlfriend. It was the chance to squeeze in some girl time and finally paint the picture swirling in my mind.
I painted the background ahead of time so that on that day I could dive right in and tackle the fun part – the poppies and a modern flourish to make it more contemporary and stylistically right for the space above my mantel. The poppies turned out amazing! I was more than pleased. The flourish – well that was very disappointing.
Time did not allow me to complete the painting that day. Since then, I have painted over the sad flourish, and the incomplete painting keeps begging me to finish it. The problem: I don't know what I want it to look like when it is done in light of the failed flourish.
Big dreams don't always pan out the way we think they should. Without intention and determination, my dream painting will remain unfinished and never fill the spot above my mantel. I have a choice to make: surrender to the obstacle and give up or view it as an opportunity to get creative and complete my painting.
Have you struggled to successfully reach your dreams, visions, or goals? Here are seven ways you might be sabotaging your progress:
1. Surrendering to Obstacles
Obstacles happen! Expect them and plan for them. Don't let them be your ending point, but your turning point towards greater inspiration! How you choose to look at obstacles and respond to them makes all the difference.
My original plan to include a modern flourish in my poppy painting did not turn out the way I had envisioned. I can view it as the end or as an invitation to something more creative and better. While it has slowed me down, it has not stopped me!
2. Never Starting
You often know where the dream ends, but you have no idea where to begin. It is easy to think there is just one path to accomplishing your dream; one right way to make it happen. That kind of thinking is paralyzing. Chances are good that to avoid failing you will do nothing. It is hard to achieve your dream without doing anything.
Doing something is always better than doing nothing! Better to make a few mistakes and learn some valuable lessons than to never get started. Not starting will guarantee you will never see your dream become a reality.
3. Stepping Out Too Soon

Maybe getting started isn't your downfall. Perhaps you are eager to get rolling, but what's missing is the necessary clarity around your big dream that will provide much needed focus and direction. Without clarity you will wander aimlessly, easily fall prey to distractions, and never know if you have accomplished what you set out to do.
4. Stuck
Maybe you like seeing the big picture in great detail before you set out. The general idea of painting poppies and flourish would be too vague for you. Without the details you do nothing.
When viewing things from a distance, the level of detail is minimal. You can tell it is a building, an animal, or a car. It is only as you get closer that you are able to make out the finer details. The same is true when pursing a big dream. As long as you have some clarity start heading in that direction and as you get closer, the details will become visible.
5. Serious Planning
Planning comes naturally for many. They enjoy the process of researching, exploring the options, and talking to experts. The problem is that they can get so caught up in planning that they never actually take steps to put their plans into action. Planning is good. Perpetual planning with no action – not so good!
6. Sprinting
Big dreams are exciting! Your enthusiasm around your big dream might cause you to hustle like crazy to get 'er done! The problem is that the pace you start out with is not sustainable. Soon you find yourself frazzled and burned out. Steady steps in the right direction will increase your chances of actually reaching your dream and having enough leftover energy to actually enjoy your accomplishment!
7. Self-Doubt
When it comes to turning dreams into a reality, self-doubt is your fiercest foe! Self –doubt is rooted in fear and tells you are an imposter – just pretending to do something you have no business doing. Self-doubt causes you to bend and flex to the opinions of others. It tells you that success is impossible and failure is inevitable.
Fear is ignited when your focus is on you. Fear is snuffed out when your focus is on the why of your big dream and how it will benefit others.
There is no fear in love. But perfect love drives out fear, because fear has to do with punishment. The one who fears is not made perfect in love. I John 4:18 (NIV)
My painting – that's a small vision. The dreams and visions that God gives us are typically huge! They are God-sized and something that we cannot do without His help. The mere magnitude of your dream may scare you. It won't happen overnight. It will take time, preparation, and a willingness to trust God in ways you never imagined.
Beware! Along the way you will make mistakes, learn, and grow. Keep a watchful eye on the ways you might be sabotaging your progress. Take time to remember what compelled you to pursue the big dream in the first place.
When it comes to pursing your big dreams, what tends to hinder your progress?