7 Reasons to Check Your Hats and Lighten Your Load!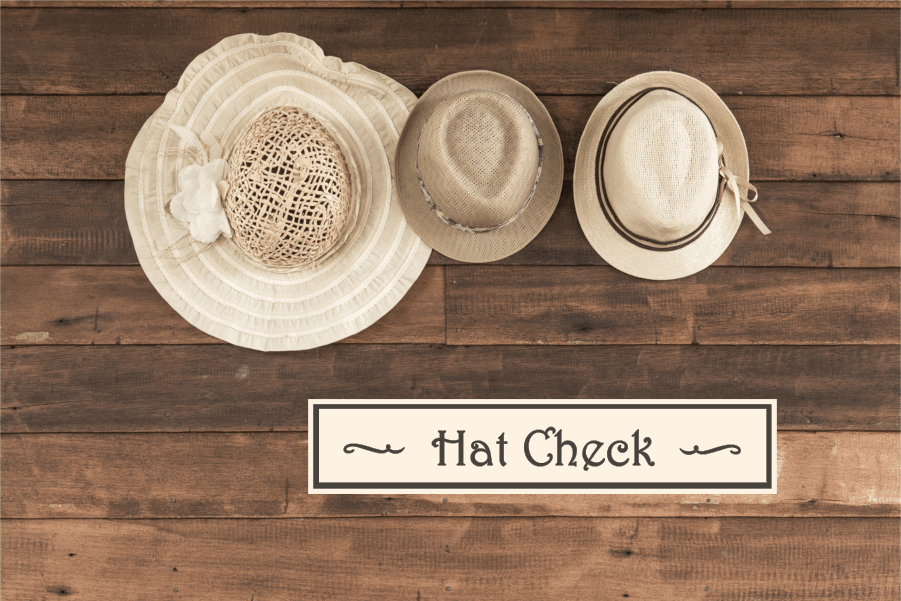 I confess I have been a collector most of my life. As a child I collected a variety of things. Vacations were opportunities to hunt for the right salt and pepper shakers to help me remember the trip – no useless souvenirs for me! Writing letters to my grandmother and various pen pals turned into collecting stamps. Spare change? I collected pennies. My love for reading – I collected books.
My love for collecting went beyond the hunt. I was captivated by the art of arranging of my salt and pepper shakers in my special cabinet and organizing the stamps, pennies and books.
I have stopped collecting salt and pepper shakers, stamps, and pennies. In more recent years, my collecting has taken new forms – birdhouses (a sign of God's provision to me), dishes, and yes – still books!
Collecting has a way of keeping you hungry for more. When do you have enough salt and pepper shakers or stamps or birdhouses? Is a collection ever complete?
As a leader you may also have the collecting bug. It often starts out with a single leadership capacity but over time it expands and you find yourself wearing quite a collection of hats. Initially the extra responsibilities don't bother you – they might even feed your desire to be important. Sooner or later, your stack of hats will make you feel bogged down and trapped. Maybe you feel that way right now.
If you are feeling overwhelmed and burdened by your many leadership roles and responsibilities, it just might be time for you to check a few of your hats into the cloakroom for temporary safe keeping.
Here are 7 great reasons to check hats:
1. His load is light
When you are feeling weighed down by your responsibilities, it is a good sign that you are taking on more than God intended for you to and that you are trying to accomplish things in your own strength. Somehow it is easy to get it in your head that doing important work means that you have to labor and struggle to get it done. That's just not true! Jesus said:
"…the load I give you to carry is light." Matthew 11:30b (NCV)
It doesn't mean it will be easy and blissful all along the way, but He does promise that what He gives us to carry will be light when we allow Him to shoulder the bulk of the weight.
I want the "load" I am carrying to be the load He wants me to carry! Lugging around bigger or extra things – that's a work out I don't need!
2. Boundaries make life more enjoyable
When you have a clear sense of your strengths, limits, and needs it makes it easier to be realistic about what you can take on. It is like knowing what size hat best fits your head. A hat that is too small and squeezing your head will give you a headache. A hat that is too big will require additional effort to make sure it stays on.
Failing to maintain healthy boundaries is not a happy place to be. It can be tempting to blame everyone else for your unfortunate circumstances when is the result of your inability to say no.
3. Less is more!
Putting more energy into fewer roles will yield better and more significant results. Intellectually, that makes rational sense, yet parting with hats – that's not easy. It requires that you narrow your focus and make hard choices. It means being bold and letting go of some of responsibilities- perhaps responsibilities that you enjoy that are robbing you of energy you can invest in more important areas.
Ready to get serious about eliminating so you can win big? You might want to check out Greg McKeown's book Essentialism.
4. Multi-hat wearing leads to multitasking
In order to deal with your stack of hats, you resort to multitasking. While you might think you are saving time by multitasking, it ends up costing you. Studies have shown that you retain less information when you are multitasking, make more mistakes, and it takes four times longer to recognize new information each time you switch tasks. When multitasking, or more accurately, task-switching is your habit it is nearly impossible to be present, difficult to focus, and can even contribute to you being perceived as rude. Not to mention it actually damages your brain and making it more difficult to remember things and to distinguish between what's important and what's not.
Want to stand out and do your very best? Focus on one thing at a time.
5. You want to accomplish something worthwhile
Within you is a yearning for meaning, significance, and purpose. Sporting a dozen different hats makes is confusing as to what your purpose is. On the other hand, when you have just one or two hats – it is easy for you to be intentional about your purpose.
6. Peace of mind
It is hard to be pulled in many directions and simultaneously experience peace. Instead, you feel stressed, stretched, and overwhelmed. Eventually those feelings add up to health problems and interfere with your relationships. It can be quite a relief to check a hat or two or three!
7. Demonstrates your trust in Him
Wearing a stack of hats can indicate that fear or insecurity are overshadowing your trust in God. Letting go of responsibilities requires you to trust God. It forces you to trust that if you let go of some of your responsibilities, you will not only be fulfilled in your work, but that you will be provided for as well.
Trust the Lord with all your heart, and don't depend on your own understanding. Remember the Lord in all you do, and he will give you success. Proverbs 3:5-6 (NCV)
The purpose of checking hats, coats, and umbrellas is to free you of bulky items that you might not want to keep track of during a meal or show, or lug around while exploring a museum. It might cost you a tip and some time, but the ability to enjoy what you set out in the cold to do is worth it.
To delight in what God has called you to do may mean "checking" a responsibility or two as well. How would it feel have a little lighter load? What could you accomplish with less to focus on?