7 Keys to Successfully Stepping into Your Big Dream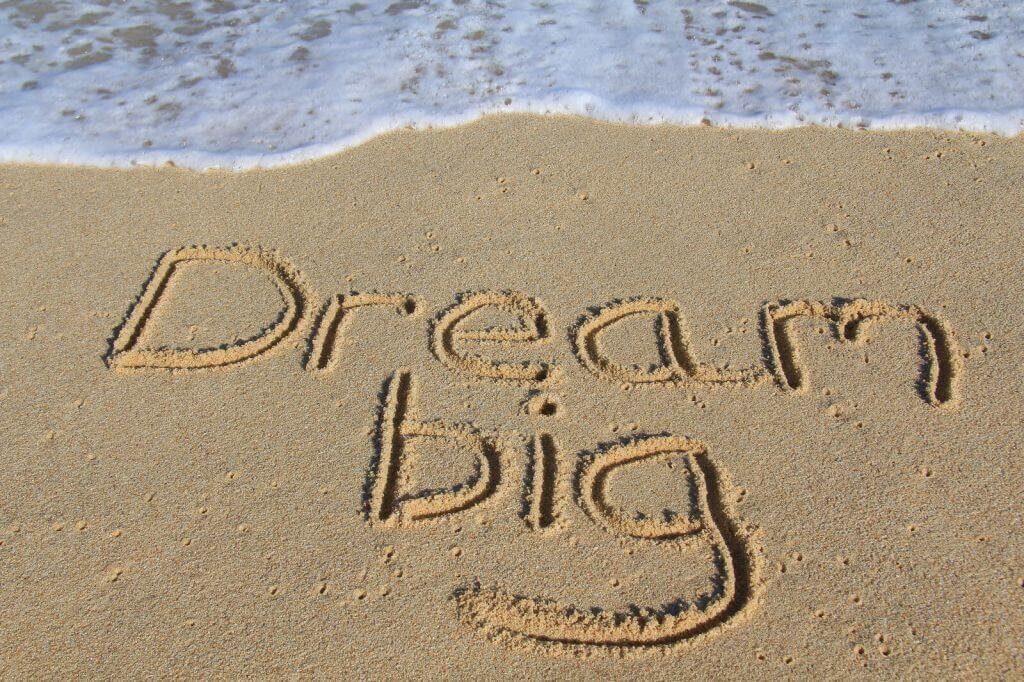 Summer will be here soon. I look forward to sunshine, pool time, and vacations! For me, the perfect vacation includes the beach, stacks of books, as well as time to relax and dream. The combination of devouring stories or information along with time to process and imagine the possibilities is inspiring. Inevitably, I come home eager to embark on a new dream.
Once home, somehow the regular routine of life has a way of crowding out my dreams. My responsibilities, like weeds, prevent my dream from taking root. It is an effort to find the time to water and nurture that dream into a reality.
My vacation pattern has taught me that dreaming requires space in my life: time to imagine what could be as well as time to turn my dream into a reality. I will have to stop doing some tasks. My big dream must be compelling to me even after the vacation. And I must not work against my big dream. Even then, odds are great that my big dream will just remain a dream unless I embrace the following:
1. Seek & Trust God
The very first thing I want to do is make sure that my dream is in keeping with God's plan and purpose for my life. I want to be sure I am not pursuing anything outside of His heart for me. That would be foolish.
Next, I want to listen and be aware of what God is up to around my big dream. What doors is He opening? What is He trying to show and teach me? Is He slowing the process down or speeding the process up?
Last, and hardly least, I want to remain dependent on Him through the journey. That is much easier said than done! Along the way, I tend to think I've got it when I rarely do!
2. Get Clarity
Without clarity, it will be difficult to have a sense of direction or to recognize the right opportunities when they present themselves.
Having clarity around your big dream doesn't mean that you know every detail of what's ahead. It is having a clear sense of what your purpose is. For example, one of my big dreams was to influence leaders through coaching. Initially I was not sure how that would happen; I just knew that's where God wanted me to be. As I sought God and began exploring the path became clearer. And my dream has expanded in ways I could never have envisioned from my starting point.
3. Manage Your Mindset
I can be my own worst enemy. My overactive imagination gets going and the what-ifs can halt my progress. That's why I need to manage my mindset. If I have already received God's blessing on my big dream, than I have no business entertaining negative thoughts. That doesn't mean negative thoughts won't pop into my head. They will! I just need to quickly dismantle them with the truth! I need scriptures and mantras that I can surround myself with and meditate on to stay on track.
4. Create a Flexible Plan
Your big dream will remain elusive without steady steps towards it. What are some of the next steps you know need to happen? Is there training you need to get, people you need to meet, or research that must be done? Whatever it is for your big dream, identify those next steps and make a flexible plan that will involve taking strides in that direction in a consistent way.
Set deadlines and reevaluate your plan often. Along the way you may discover new tasks that need to be done or that some things went quicker than expected. Adjusting your plan is wise; never making one is not so wise.
5. Be Patient
Big dreams take time. Don't rush the process, trust the process. Be patient. The obstacles and challenges along the way serve a purpose. They are there to make you better, stronger, and to teach you valuable lessons that will serve you in unexpected ways when you step into your big dream. Dwell on this truth. If you don't you will get discouraged, give up, and be like many others who never realized their big dream.
6. Focus on the Why, not You
A strange thing happens when we focus on ourselves, our shortcomings, and our mistakes: fear happens. That fear is like a strait jacket.
Another strange thing happens when you make your why your focus: your passion for your dream, heart for others, and desire to do something much bigger than yourself propels you forward. It urges you to take risks that you might otherwise take. That "why" is compelling and powerful!
7. Embrace Support!
Your family or circle of friends might not be the best place to look for support. It can be a stretch for the people that know you well to imagine you doing something so big. If you are blessed to have someone in your circle willing to support you in your big dream you are blessed! You will need them to pray for you, encourage you, and check in to be sure you are staying on track, especially during the times that you are sure to encounter.
Perhaps the most effective support: working with a coach. The coaching relationship is a unique partnership with a purpose – your purpose! It is built on trust and enables you to make the changes needed to realize your dream. A certified coach has been trained to ask powerful questions that enable you see things in fresh ways and gain new insights through dialogue. The coaching process helps you develop a strategy, assists you in anticipating obstacles, and increases your confidence so that you can keep marching towards your big dream while cheering for you all along the way! That's priceless!
It is a wonderful feeling to accomplish something big and to bless others at the same time! Have you experienced that feeling? Are you well on your way to toward your big dream?
How will you make space to connect with your big dream so it can take root and grow? Which of the above keys have been missing from your big dream adventure?