6 Reasons to Expand Your Concept of Creativity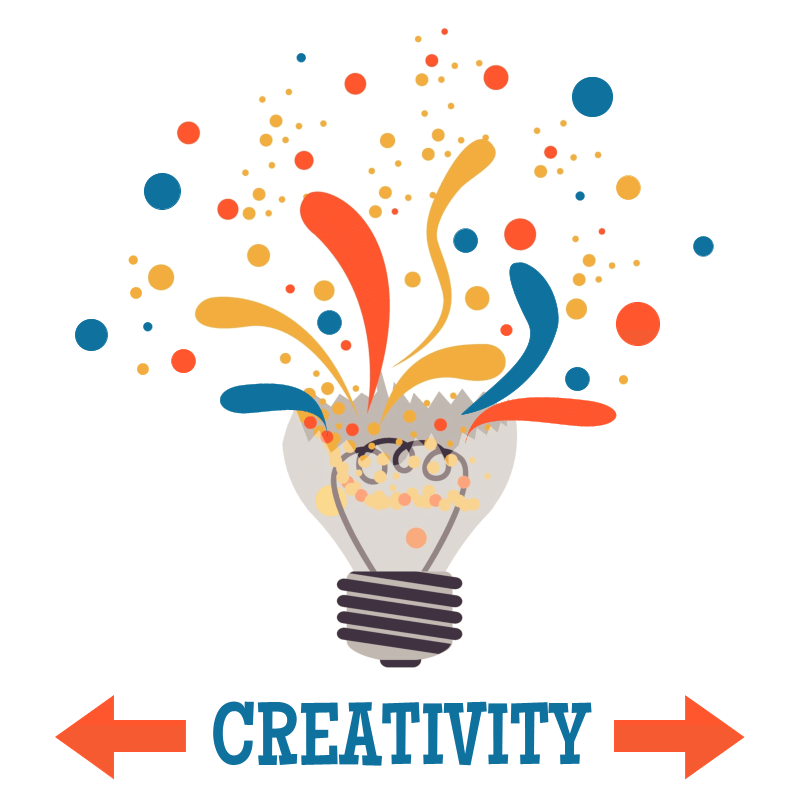 When you hear the word creativity what comes to mind?
For many, the word is associated with artistic endeavors: paint, brushes, canvas, clay, and a host of other mediums. Others might connect creativity with a project or writing.
Creativity is much bigger than that! It can be applied to every area of your life. It is a way of being, a way of seeing, and a way of engaging with the world that adds that little bit of zest.
Because children have more free time and exercise their imagination muscle more frequently, approaching things creatively comes more naturally to them.
Growing up, any time my youngest son saw that I was washing dishes, putting on make-up or in a posture to listen, he would recount for me in great detail the latest world he had invented. These descriptions were lengthy, and frankly, way over my head. It was clear that he had invested a great deal of energy and thought into these magnificent worlds! His imagination was and continues to be impressive!
As you grow up, responsibilities tend to crowd out your creativity. If you manage to hang on to a bit of creativity it often gets channeled into one specific area of your life, when all areas would benefit from a healthy dose of creativity. Are you willing to expand your notion of creativity? Here are a few good reasons to try:
1. Creativity exercises your brain
Did you know that when you feel hurried, short on time, or overwhelmed, it actually shrinks your brain? That's what studies done by Emily Ansell, PhD, have discovered. The majority of Americans today are chronically overstressed, according to the American Psychological Association. While Americans live in the richest country, they are also the most anxious – that's what the World Health Organization learned. And being overstressed is not just shrinking our brains, it is making us sick!
Slowing down and getting creative with life's challenges, and approaching them is fresh ways, has a powerful impact on your life and the results you get.
I know for myself, I naturally step back, reflect, reprioritize my life, and come up with creative solutions while on vacation. Unfortunately vacations are not as frequent enough so scheduling time each week to pause, reflect and make space to creatively address the challenges in my life makes a big difference.
2. Creativity brings new results
Where in your life or leadership are you feeling stuck? Where are you not getting the results you desire? Where do you feel dissatisfied? That's a place in your life that is crying out for a double dose of creativity! We all know that continuing to do the same thing will produce the same results, yet it is easier to do what we know rather than venture out and try a new and inventive ways of engaging with life.
It is time to mix things up! What opportunities have passed you by simply because you lacked creativity?
3. Creativity forces you to grow
Implementing creativity forces you to step out of your comfort zone. In order to operate in a creative way, you must be comfortable with trying new things, be willing to fail, and open to learning from your failures. It takes a secure person – one sure of what God's purposes are for their life and clarity around their values, to experience this kind of growth.
4. Creativity encourages you to dream
There are no dreams without creativity. When was the last time you imagined what could be in your life? Without a dream or vision you will remain right where you are!
5. Creativity gives you permission to challenge your assumptions
It is human to have assumptions, but assumptions are often blocking your creativity. If you are 100% satisfied with where you are – great! If you want to keep moving forward in the direction God has for you, begin to challenge your assumptions, ways of thinking, and beliefs. Some will survive and others will disappear making more space for creativity to thrive in your life.
6. Creativity begets creativity
Applying creativity in little ways opens the door to more and more creativity in your life. It is like working a muscle. As you begin to get results you will be motivated to introduce creativity to other areas of your life!
So, where in your life would a dose of creativity benefit you most? Which area of your life is stagnant and in need of some intentional creativity?
Relationships?
Have you fallen into some predictable patterns in how you spend time with those you love? What new ways can you invest in your relationships? Have you carved out enough time to nurture your relationships in the way that they need in order to be healthy?
Leisure?
Yes, you need leisure in your life! Blocks of time relaxing and engaging in activities that fuel your soul.
Work?
Your business, job, ministry, volunteer role – whatever you do, have you figured out how to keep it in a realistic time frame or are you working too much? What do you need to let go of in order to infuse creativity in your work? What needs to change to get the results you desire? The goal is not to work harder, but much smarter – that requires creativity!
Finances?
Does budgeting make you grumpy? How can you approach things more creatively and adjust your mindset on money matters? Maybe money is not an issue, but perhaps getting more creative would allow you to give more money away. Who could you bless?
Intellectually?
Longing to learn, but have limited time? Get innovative about making space in your life for acquiring new information. Maybe it is time to switch up how you go about learning. If reading has been your primary way of learning, try taking a class, participate in a webinar, or go to a conference. What other creative ideas do you have about exercising your brain?
Spiritually?
It is easy to get into a rut with God. How will you keep that relationship fresh?
Physically?
What can you do to weave more creativity into your physical activity or work outs? How can you make getting exercise and staying active more interesting?
Emotionally?
How can you creatively connect with and express your emotions? Journaling? Writing poetry? Painting? Capturing your feelings in a short story? Creating a collage? So many ways to creatively stay in touch with your emotions!
What area of your life would benefit from a dose of creativity? What do you need to change to make space for creativity? Start small and pay attention to how things shift for the better when you give yourself permission to be creative!