4 Tips to Surviving the Tunnels of Life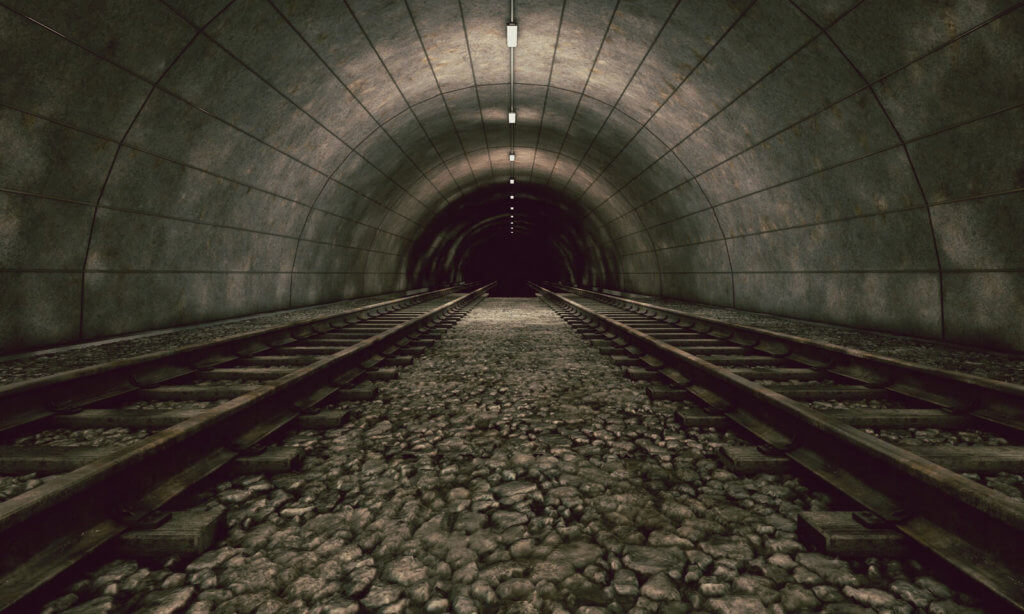 My husband and I have had the opportunity to travel around the world, and there is no better way to broaden your perspective on life! After my oldest son graduated from high school, we decided to take the family to Europe – a fabulous memory making adventure!
We invited our three children to participate in the planning of this trip, allowing them each to pick a country to visit. The plan was to visit three cities and they decided on: London, Rome, & Dusseldorf. We began our adventure in London, and while we were there we spontaneously decided to add another city to the list and visit Paris.
So very early, while it was still dark, we boarded the Eurostar in London and made our way through the Channel Tunnel to France, arriving in Paris a little over two hours later. The idea of traveling almost 24 miles 250 feet below the water – that was mindboggling! As my imagination conjured up the "what ifs," the experience triggered my fears. What if the train got stuck in the tunnel? The tunnel collapsed? Or what if the tunnel filled with water? None of these options excited me!
To date, the Channel Tunnel is the longest undersea tunnel in the world. Almost 75% of 31.4 miles of the tunnel is under water! Yet while the train raced through the tunnel, aside from the complete darkness outside of the train, traveling in the tunnel wasn't any different than plugging along outside the tunnel. The only difference was that the train slowed down from 186 mph to 100 mph inside the tunnel for safety reasons.
The train ride from London to Paris reminds me of my life! There are seasons where things seem to be humming along – the pace is brisk, I am in awe of what I am able to see (and possibly pretend I am in control of) around me, and everything feels right. Then suddenly you plunge into a "tunnel" and everything goes dark, nothing seems to make sense, and life feels disorienting and discouraging.
In reality, nothing has changed at all – in the tunnel I am still on the track. Yet in the tunnel it is dark and discouraging; I feel cut off from all sense of connection and control. And worst of all, it feels like God has abandoned me!
What I have come to realize is that just because I can't see what God's up to doesn't mean that He isn't creatively working on my behalf! In fact, He may be furiously orchestrating things for my good in spite of the fact that I am unable to see even a hint of what He's up to. That's real faith, right?
Faith means being sure of the things we hope for and knowing that something is real even if we do not see it. Hebrews 11:1
The world doesn't stop turning just because you've entered the darkness of the Channel Tunnel – everything keeps on going. And God never abandons us no matter how dim the tunnel you are currently in might be. It is a process, but the more and more I come to know at a deep heart level that He loves me beyond my wildest imagination and wants the best for me, the easier it is to hang on in the tunnel moments (or hours, or days, or months, or years sometimes!).
Whatever "tunnel" you might be traveling through right now – business challenges, work problems, family drama, health issues, or relationship struggles… God is still there, still working, and still madly in love with you!
Upon exiting the tunnel, you are jolted into the blinding sunshine! In that moment you can see what God's been up to on your behalf as your eyes adjust to the light.
If you been through a few "tunnels" in your life, you know they are temporary dark moments. Sometimes even with this head knowledge of the temporary nature of tunnels, your heart can waver! How do you survive the tunnels of life?
1. Stay connected to God
Don't let your feelings get the best of you! Stay in the Word and continue to pour your heart out to God. No reason to hide how you feel – He already knows and wants you to trust Him enough to tell Him yourself! Lean on Him, meditate on His promises, and connect with Him at a deeper level.
It is not in the easy moments that you grow – you grow to trust God in a greater way in the midst of the struggles and in the dark tunnels. And oh how He longs for us to trust Him!
2. Remain obedient
It is no secret that the dark is a scary place! Fear can cause us to do some funky things! Whatever it is that God has called you to be and do, stay true to that. Just keep on keeping on no matter how unproductive it feels in the moment! Don't be tempted to strive or to quit. Just trust that you are on the right path.
3. Invite others to support you
You and I were not intended to do life solo, especially not in the tunnels of life; especially not the tunnels! Share with those close to you and let them know about the "tunnel" you are experiencing. Invite them to pray with you, for you, and to support you through the dark time. There is great power in prayer. And it requires maturity on your part to allow others to help you!
Those dark and difficult seasons are the perfect opportunity to enlist the help of a coach. Not only will a Christian coach help you remain focused on God through the process, but they will also provide new perspectives that can encourage you to grow and mature in ways you might not experience on your own.
4. Count it joy
By far, the hardest part of your tunnel time might be counting it joy! Yet as you train yourself to look for the good in tough times, it will shift your perspective in a positive way. James tells us there are other benefits as well:
Consider it pure joy, my brothers and sisters, whenever you face trials of many kinds, because you know that the testing of your faith produces perseverance. Let perseverance finish its work so that you may be mature and complete, not lacking anything. James 1:2-4
Life is a journey! Along the way, you will encounter tunnels (or trials); moments of darkness when the things that matter to you slow down. It is all a part of the journey. How you navigate those tunnels makes a difference. You can grow, increase your faith, and learn to persevere and come out the other side better prepared for future tunnel experiences. Or you can, operate out of fear, get worked up about all the "what ifs," and miss how your loving heavenly Father has been graciously at work on your behalf. That's exhausting!
I can't imagine our family trip without that adventure in Paris. Even though it was not a part of the original plan, some happy memories were made that day! If my apprehension around under water tunnels had kept me from joining my family I would have seriously missed out!
Trust in the LORD with all your heart and lean not on your own understanding; in all your ways submit to him, and he will make your paths straight. Proverbs 3:5-6
How are you handling the inevitable tunnels of life?
© Can Stock Photo / andreacrisante