3 Ways to Focus and Get in the Zone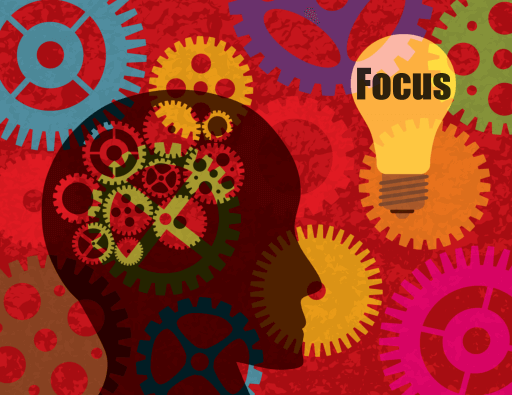 Recently, I was so lost in my thoughts that I actually went right past my turn around point on my walk. As frightening as it may sound, I have had the same kind of experience while driving. If you were to ask my husband, he would say that it also happens when I am working. I get in the "zone" and time flies by! Things can happen around me without me even noticing. That's focus!
When it comes to being focused there are external factors as well as internal factors. You can do everything right to create an environment conducive to concentrating and still lack focus. As long as the thoughts in your head aren't under control, focus will remain elusive.
Intentionally managing your thoughts takes desire, effort, and practice, but it is possible. If you are serious about developing your ability to focus consider the following:
1. Do what you LOVE
When you are engaged in an activity you love focus happens naturally.Unfortunately every passion has some tasks associated with it that just are not as fun or desirable. I feel that way about bookkeeping. When I am coaching I am in my happy place. When I am writing or creating time flies. When it comes to dealing with the accounting side of things, I can always find something else to do. Suddenly I am tired!
Tasks like this are perfect candidates for delegation! If you are not able to delegate, then re-frame those tasks. Instead of thinking "have to" think "get to." Rather than focus on how much I dislike bookkeeping, I must remember the reason I have bookkeeping to do.
Perhaps your current job requires that you to do many things that you are not passionate about. Take time to explore what your dream job would be and begin taking steps towards something better suited to your strengths that would be more fulfilling.
2. Train your brain
Worry is a negative form of meditation. Replaying undesirable scenarios in your head is a form of meditation. Most of us are experts at meditating; we just don't meditate on the right things. When my mind is focused on negative things they grow in my head and cause my mood and energy to spiral down.
Throughout scripture it talks about meditating on God's Word and who God is. It talks about taking your thoughts captive. (2 Cor. 10:5) When my mind is focused on Him, it gives me hope and peace. (Is 26:3) It reminds me of His love and care for me. It encourages me to pursue the things He has called me to do.
For the past couple of years my time alone with God each morning has included ten minutes of meditation. This is a very short time of meditation, but it has been a step of faith, especially on full days. It has required me to trust that God will enable me to get done what needs to get done.
During this meditation time, I have dwelt on a particular aspect of God or a specific thought from Jesus Calling by Sarah Young. Dwelling on a single thought helps me to train my mind to focus. It also blesses me later when I recall that thought as I am going through my day.
Other ways you can train your mind would include memorizing scripture or worship songs.
3. Unpack the boxes!
For the past several months, we have been remodeling our house. It has been a bit of a mess! There have been boxes lining the walls of our bonus room that could not be unpacked. The longer the boxes lingered the less I noticed them. This week one of my goals was to finally unpack those boxes. With those boxes finally cleared away the room feels larger and I have a whole new perspective on that room's potential.
Beliefs can be like those boxes. At one time they were stored in your head for a good reason – to protect you, but now they just get in the way of you seeing your full potential. Once removed, you can get busy with the fun part – decorating with happy, positive, true thoughts!
Perhaps your boxes are fears or past failures that you have not yet unpacked. Maybe they are the negative beliefs that others have planted in your head. Whatever is lurking inside your boxes, investing the time to unpack them and replace them with positive thoughts will increase your ability to focus on what must get done!
How has a lack of focus kept you from fully pursuing what God created you to do? What's one thing can you do to get more focused and move forward?
© Can Stock Photo Inc. / jpldesigns